With little bark but lots of charm, French Bulldogs, also fondly known as "Frenchies", are one of the world's most popular dog breeds.
They easily fit in with families of all kinds and other animals. Lively and loving, you will be hard-pressed to find a more agreeable breed of dog.
This article provides a comprehensive resource of French Bulldog information. Everything from health issues to costs, personality, and diet!
Use this list of contents to jump to the section that is most relevant:
Lifespan
The average French Bulldog will reach a full life stretching between 10 to 12 years. Some have even reached 18 years with great care! It's important to fully understand the importance surrounding selecting a good breeder, providing the right environment for your Frenchie, and even learning the common dangers present to such a breed.
Read more here: What is the Average Lifespan of a French Bulldog?
Weight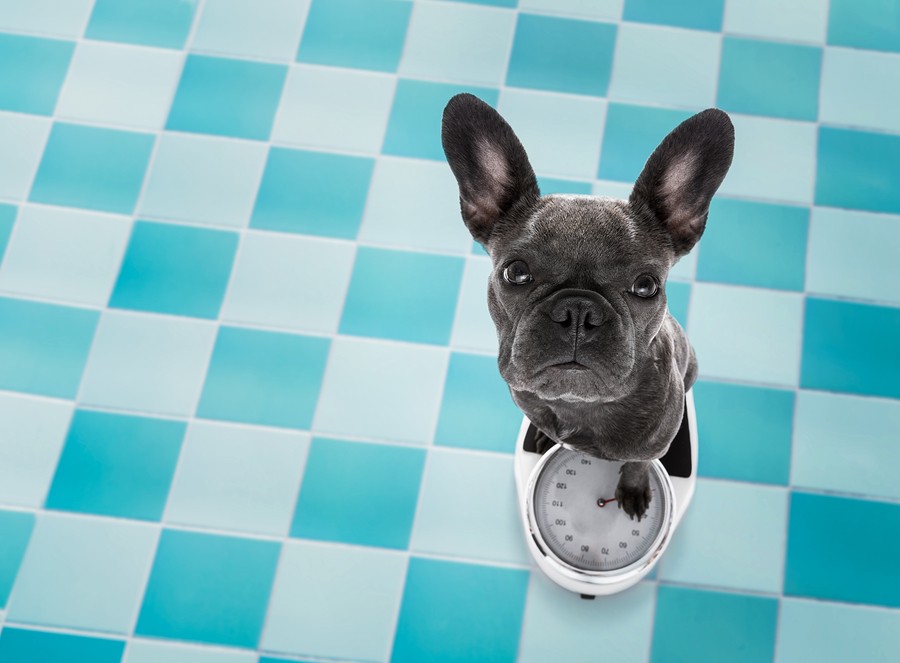 Full of heart and personality, Frenchies come in all shapes and sizes. Ideally, males should be around 20-28lbs while females tend to only reach up to 26lbs. You'll know your darling pet is overweight if she's breathing hard after exercising, not able to groom herself properly, or lacks the proper muscle definition.
Read more here: What Is The Ideal French Bulldog Weight?
Types
The types of Frenchies are just as plentiful as their playful attitudes! They come in many different colors, such as fawn, pied, brindle, and even blue-grey. There are even a number of variations among those categories as well.
Read more here: What Are The Different Types of French Bulldogs? (And Which One Is Right For You)
Shedding
While French Bulldogs do shed, you will find that it varies based on the weather, what you're feeding your dog and even your grooming habits for them. While the breed's coat consists of short, fine hairs, it's still common for some shedding, especially in their younger years.
Read more here: Do French Bulldogs Shed?
Personality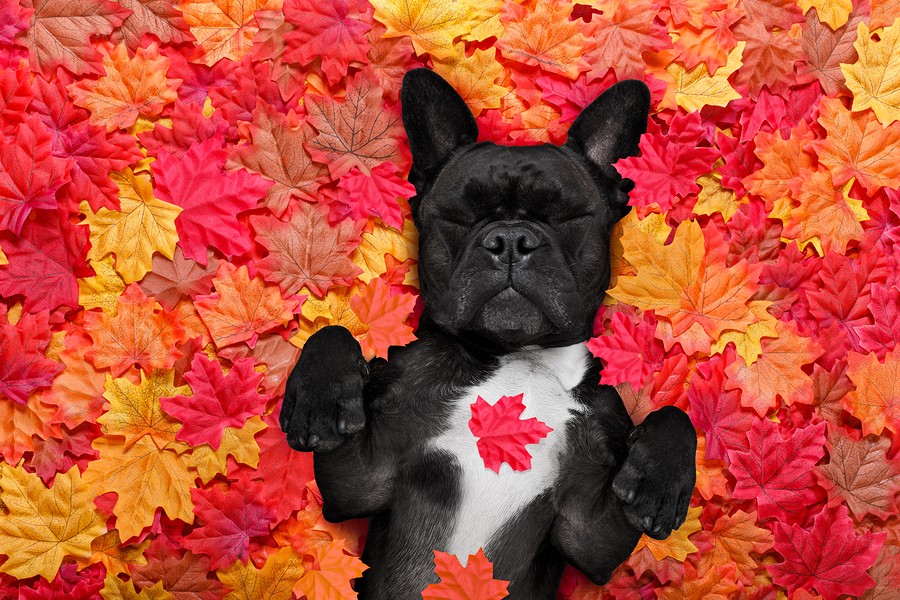 With a distinguishable face and trademark big ears, French Bulldogs are also full of life and rich in personality. They are highly loyal and affectionate, love companionship and children, enjoy games and playtime while being just as comfortable snuggling up to their owners.
Read more here: A Guide to the French Bulldog Personality (The Good, The Bad, and the Not-So-Ugly!)
Temperament
Short and stocky, you will find that French Bulldogs carry a very attractive personality in a dog breed. They are clever pets, who will endlessly adore you and make the perfect companion for any family!
Read more here: What Temperament Do French Bulldogs Have?
Costs and Pricing
Adorability does not come cheap. The cost of acquiring a French Bulldog ranges from $1,400 to as much as $8,500! They are known to be expensive because of the breeding costs associated with them, along with prenatal care and the potential for other birthing complications due to their wide shoulders.
Read more here: How Much Do Frenchies Cost? Your Guide to French Bulldog Pricing and Costs
Health Issues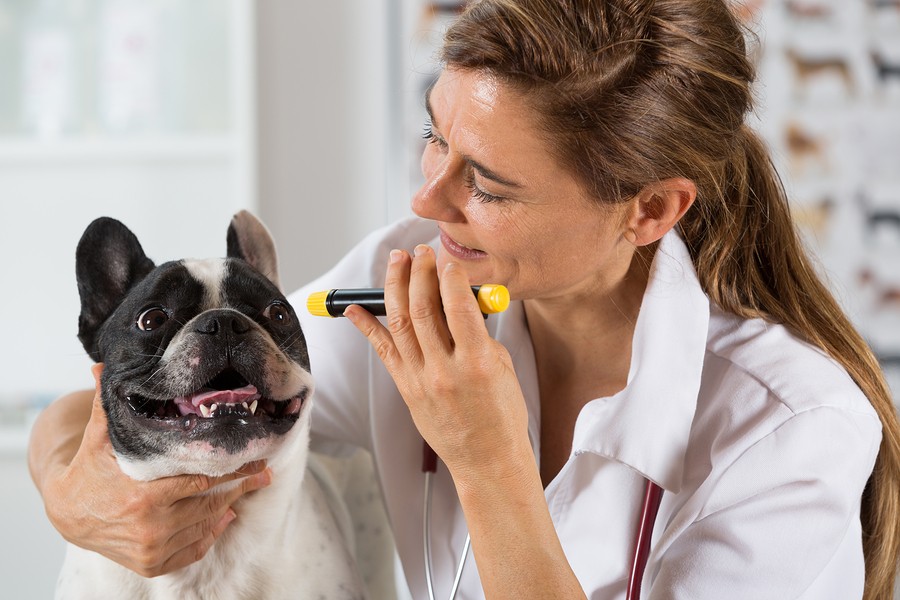 Like any breed of dogs, there exists a number of health concerns surrounding French Bulldogs. The short, stocky breed is known to have breathing problems and be prone to suffering from heat stroke in hotter temperatures. They also have a higher chance of having eye and ear problems, along with food allergies.
Read more here: A Guide to French Bulldog Health Issues for Frenchie Owners and Lovers
Care
The key to a healthy Frenchie is a happy Frenchie! This includes you making sure you have ample space for the dog to play and sleep, provide them with a number of toys and attention, and take both grooming and regular vet visits seriously. It's incredibly important to always make sure your Frenchie is up to date on vaccinations and has routine exams to help identify any health concerns before they become dangerous.
Read more here: A Guide to French Bulldog Care: Tips for Owning a Happy and Healthy Pup
Face
Stocky frame but a squishy face, the French Bulldog has a number of adorable features, the face being one of the primary ones. With short noses and wrinkles for miles, the Frenchie can appeal to many types of owners. But cute takes work, so it's always important to make sure your Frenchie's face and wrinkles are frequently cleaned.
Read more here: What You Need to Know About the French Bulldog Face
Eye Problems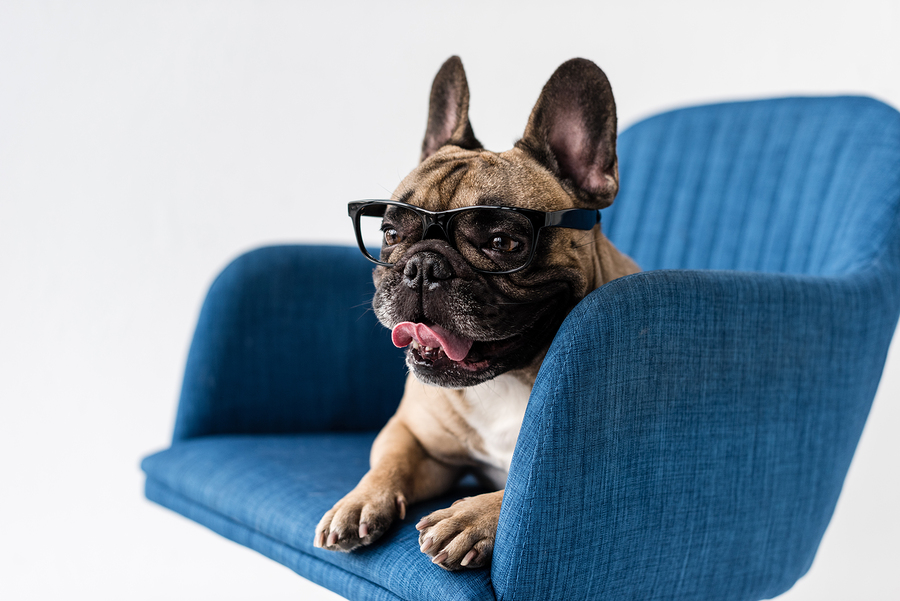 Dry eye, cherry eye, and ulcers are common, yet unfortunate conditions that can occur with your French Bulldog. Because of the structure of their faces and wrinkles, it's not uncommon for these dogs to suffer eye problems, so it's critical to recognize the oncoming signs so corrective action can be taken at the recommendation of your veterinarian.
Read more here: How to Recognize, Treat and Manage French Bulldog Eye Problems
Ears
French Bulldogs are easily recognized by their trademark bat ears, but they are also well known for the various infections and complications that can occur in those ears. Some types of Frenchies have a higher risk of deafness, while all of the breed can easily get ear infections from scratching, often brought on by allergies to the environment or their food. Consulting a vet is the best way to be prepared for any ear concerns and helping to ward them off.
Read more here: French Bulldog Ears: Your Top 4 Questions Answered (Plus a Few Facts)
Dry Nose
The list of health concerns and care don't end with the eyes and ears. In fact, one of the most commonly overlooked issues is the dry nose associated with French Bulldogs. Your best bet in combating this condition is specific ointments or creams that can help keep your pet's nose looking great. Your local veterinarian would be the best option to recommend which product to use for dry nose.
Allergies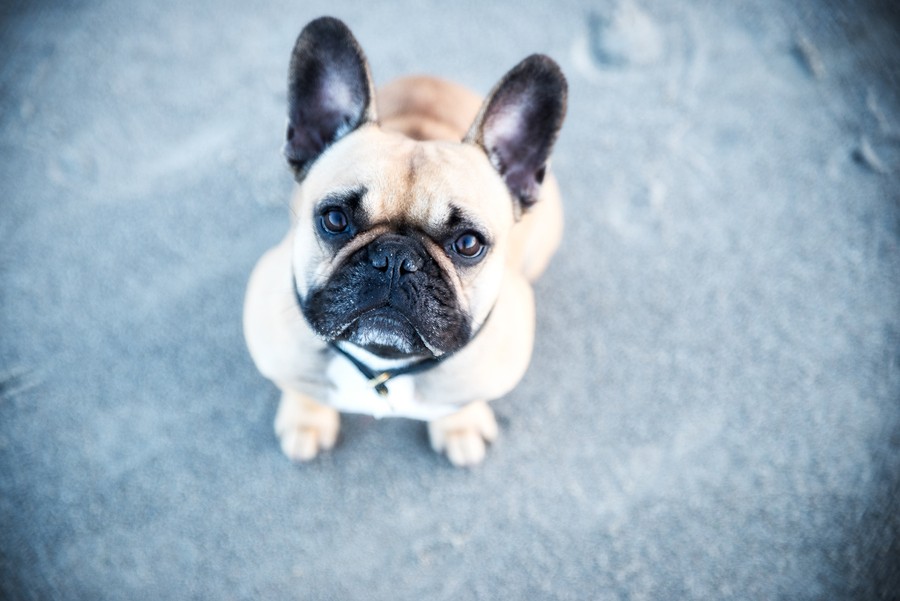 You may find one of the most challenging aspects of your French Bulldog is navigating through the difficulties of overcoming food allergies. This breed has a higher risk of sensitivity to certain foods or ingredients, so it is imperative that you explore the right type of dog food, and be prepared to try new options until you find one that has the best results for your dog.
Read more here: The Most Common French Bulldog Allergies (And How To Treat Them)
Drool
Drool is cool, in the minds of many French Bulldogs. Because of their short faces full of wrinkles, and their small noses and baggy lips, this breed is notorious for heavy drooling and slobbering at times, especially in warmer environments. Despite this fact, it still doesn't take away from their appeal.
Overheating
One of the most dangerous threats to your Frenchie is overheating. Because of their size, wrinkles, and narrow airways, the French Bulldog has a difficult time shedding excess heat and therefore can easily suffer from overheating. It's important to watch for foaming at the mouth, extreme panting, discolored ears, and even throat gurgling – if you notice any of this then seek medical attention for your pet at once.
Read more here: What to Do When Your French Bulldog Is Overheating
Breathing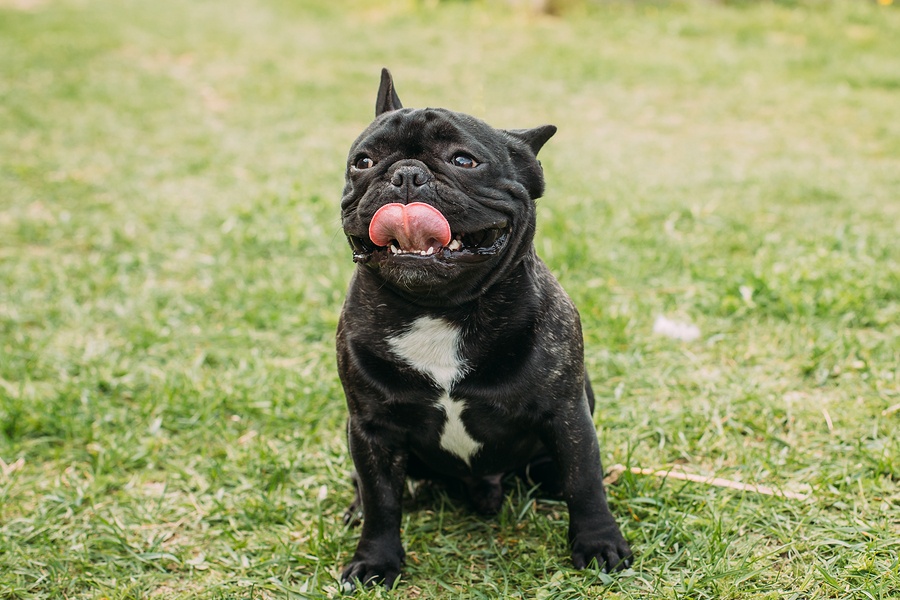 It's not easy, but they do it. Breathing that is. French Bulldogs commonly suffer from breathing difficulties such as having abnormally narrow nostrils, the roof of their mouth being miss-shaped and restricting their airway, and even sacs along the voice box blocking the trachea.
Read more here: What You Need to Know About French Bulldog Breathing
Swimming
While this breed would surely love to swim and enjoy some cool water to help release some of their heat in warmer weather, it's just not possible. A short body and short legs have made it impossible for Frenchies to swim.
Read more here: Can French Bulldogs Swim? Your Questions Answered
Barking
It's simple when it comes to your French Bulldog's bark – it just doesn't exist that much! While they'll sometimes bark or whine or make the appropriate noise when someone comes to the door or a stranger is seen, it's not often that Frenchies bark and when they do, it's not very loud and leaves you wondering if you even heard it in the first place.
Read more here: French Bulldog Barking: How Much Do These Flat-Faced Pups Bark?
Exercise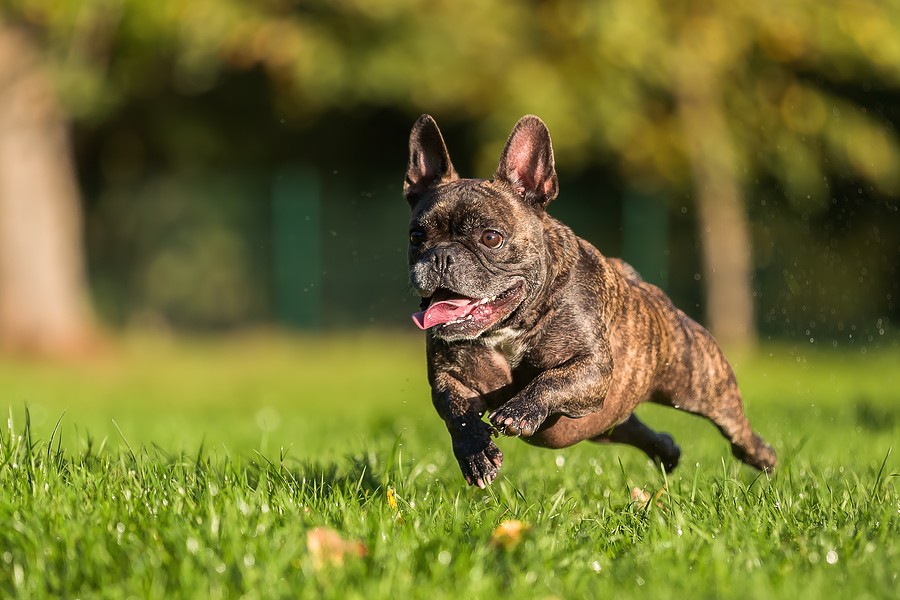 Your French Bulldog would be happily content with little to no exercise, as they typically are low maintenance, have reduced levels of energy, and prefer a lazy day over anything else. But it's still important to have some measure of exercise with your Fenchie, to keep their heart active and joints going strong.
Read more here: How Much Should Your French Bulldog Exercise?
Diet
Your Frenchie's diet is one of the most important aspects of giving them a long, happy and healthy life. Since the breed runs a higher risk of having food allergens, it's important to pursue foods like salmon, sweet potatoes, even some higher premium foods like bison. The reason for this is some of the most common food allergens are beef, lamb, chicken, corn, and wheat. Avoiding those products can help your dog's health and energy tremendously.
Food and Food Bowls
When it comes to food, there is little more important than selecting the right ingredients and the right brand. While some brands of dog food are more expensive, the price of premium meals is easily offset by the lack of vet visits required due to the dangers of food allergies in your Frenchie. It's always best to consult a vet in regards to the best food options for your pet.
As well, while it may not seem an important thing to consider for your French Bulldog, it's actually super beneficial to select the right food bowl for your pet. Because of the breed's smushed face full of wrinkles, there are a number of bowls specifically designed with this kind of breed in mind.
Read more here: The Best Food for French Bulldogs: Health, Allergies, and Brands to Consider and The Top 10 Best Food Bowls for French Bulldogs
Harnesses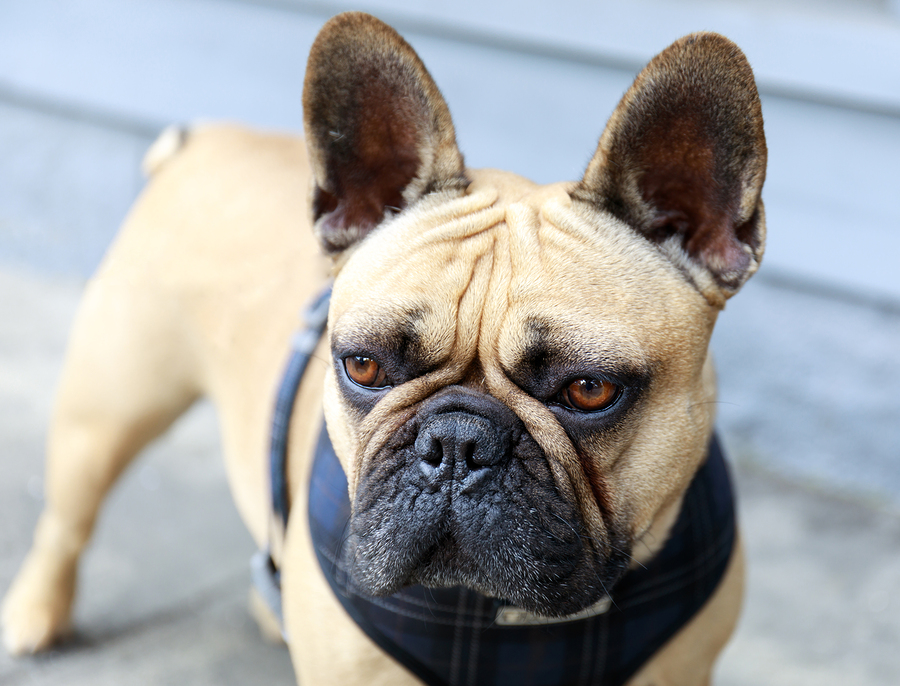 Because this breed is short and stocky and prone to breathing problems, the traditional collar and leash are not typically suggested when taking your Frenchie for a walk. In fact, many local stores sell harnesses designed for these shorter breeds that wrap around the animal's chest, so it keeps them safe and secure but does not put unneeded pressure on their airways.
Read more here: Which Is The Best French Bulldog Harness?
Clothes
The trend of dressing up dogs in clothes and costumes is not going anywhere. Arguably it's only gotten more popular over the years. French Bulldogs have not escaped that tradition, and being a smaller, yet adorable breed, they often make the ideal pet for sporting pet clothing fit just for their size.
Read more here: Dress To Impress: 11 French Bulldog Clothes You Need Right Now
Accessories
No dog outfit is complete without the appropriate accessories. But there's more to offer than just costume embellishments. It's important to find the right kennel or carrier for your dog, in addition to quality of life accessories such as a travel water bowl, car seats to secure them during road trips, even a safe portable pen for them to play in while visiting elsewhere.
Read more here: 10 Essential French Bulldog Accessories For Your Favorite Companion
Toys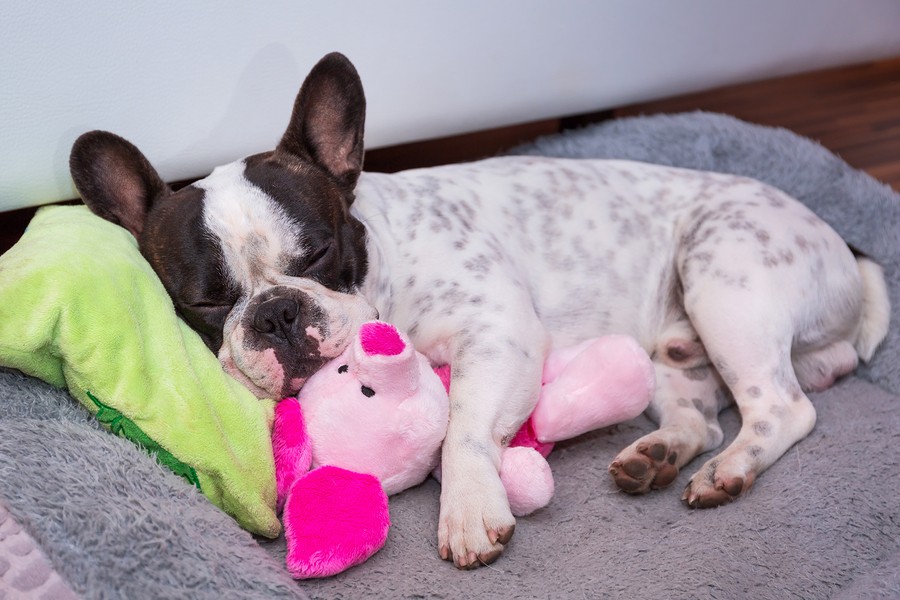 Frenchies are known for their low energy and easy going attitude, but when it comes time to play they don't shy away from it. They love toys that support tug-a-war, and anything like balls or rolling toys that they can chase and fetch endlessly. They even enjoy toys that force them to outsmart in order to get a snack out from inside of it, so there's an instant reward for their clever play.
Read more here: The 8 Best French Bulldog Toys To Keep Your Pup Excited, Happy, and Occupied
Conclusion
Due to the long list of potential health concerns, some people may think that a French Bulldog is not the best option for a pet. But for those that love this breed, the pros far outweigh the cons!
You won't find a more loyal, loving and lively dog that will instantly capture your heart and never let go.
Will is the proud co-owner of Frankie, a Female Brindle French Bulldog, with his wife Michelle. We share our Frenchie experiences with the world to help health-conscious French Bulldog owners who want a happy, healthy, and long-living dog.