At a height of 11-13 inches and under 28 pounds, French Bulldogs, or Frenchies as they are called, are one of the most irresistible, playful, and cutest breeds.
With their wrinkly face, long pointy ears, and snorty piggy sounds, Frenchies are adorable.
According to the American Kennel Club, French Bulldogs make wonderful family companions because they are intelligent and loyal. However, they are also stubborn and require a little patience during training – but for Frenchie lovers this is all apart of the package!
If you are looking to adopt a Frenchie, then you'll have to decide which French Bulldog is for you, so we've put together this post of the most common types of French Bulldogs:
Fawn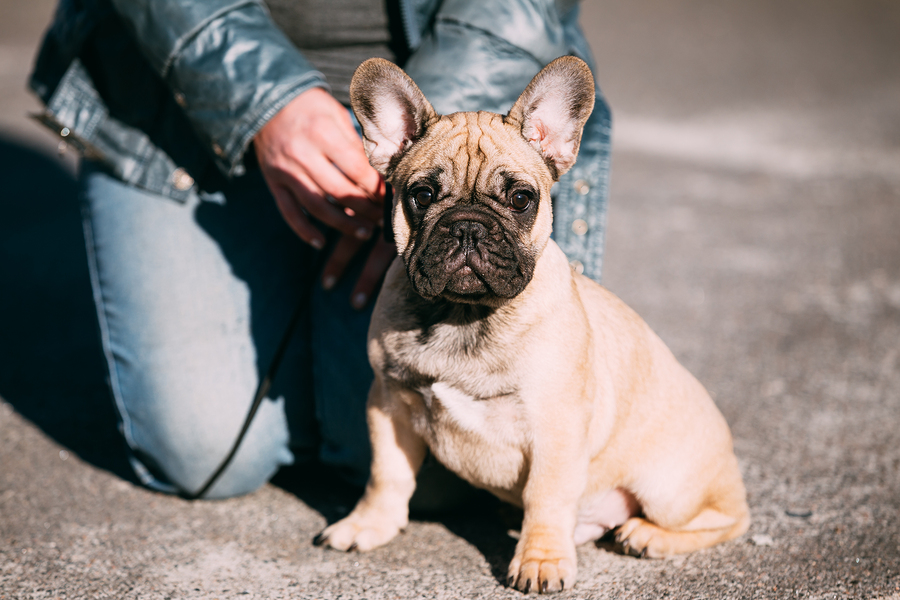 Fawn Frenchies have elegant solid coats that range from cream, light tan, golden tan and reddish tan. Dark reddish Fawns are referred to as red-fawn.
Fawn French Bulldogs have a smooth color all around and do not have a brindle pattern.
Pied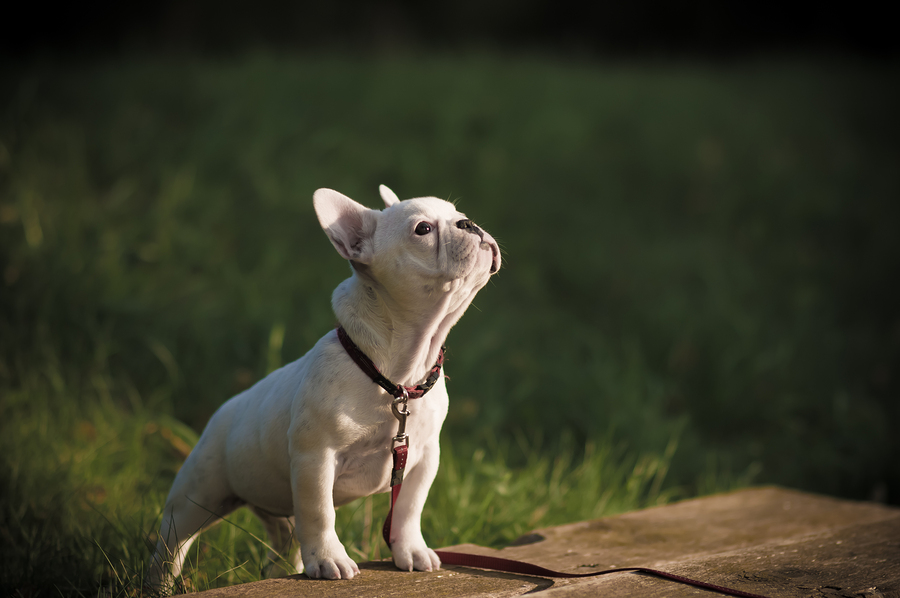 Pied Frenchies are white/eggshell colored with one or more patches of a dark color. Sometimes Pied Frenchies have one patch that stands out and gives the Frenchie their personality.
The most common patch is usually around one of the eyes.
Brindle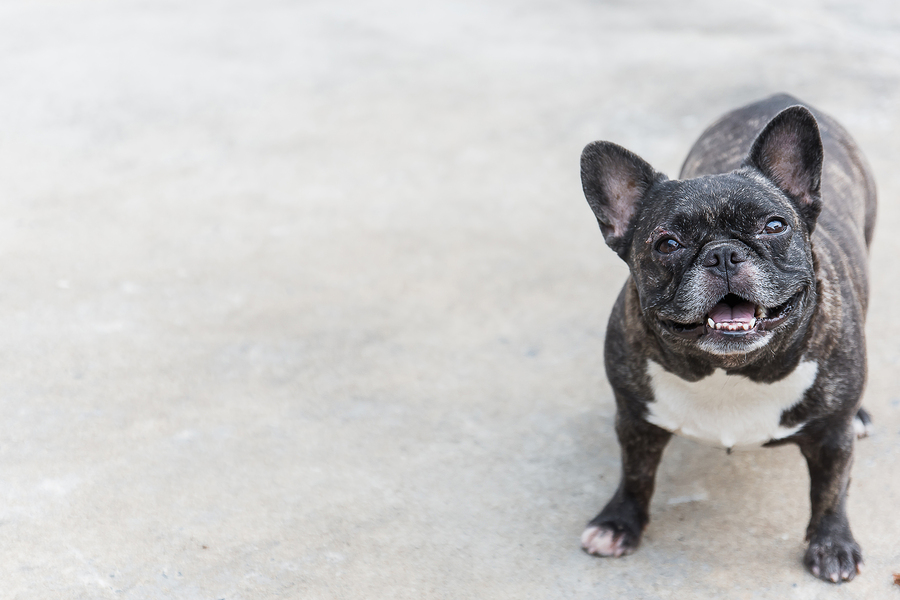 Brindle French Bulldogs have a predominantly dark coat with light hairs spattered and mixed in. The chest, head, neck or toes of most Brindle Pied French Bulldogs are decorated with white. Strong Brindle French Bulldogs, on the other hand, have a muddle of brown and tan coloration which makes them look like a sultry little walking carpet.
Frenchies are actually one of the top brindle dog breeds!
Brindle Frenchies have a variety of patterns:
Seal Brindle Frenchies have very light white hair that at times looks invisible. Because of this, sometimes these Frenchies are mistaken for pure black.
Tiger Brindle Frenchies have an abundance of light hairs in a cluster and resemble the coat of a tiger.
Black Brindle is perhaps the most common color of Frenchies. These Frenchies are also the most popular types among its breed.
Brindle Pied Frenchies are mostly white with a variety of patches of black or a darker shade throughout their coat. Some Frenchies have the dark shade in one eye or a small spot on one of their feet. Other Brindle Pied Frenchies have black around their face and back, while others look like little cows with multiple separate patches.
Blue/Grey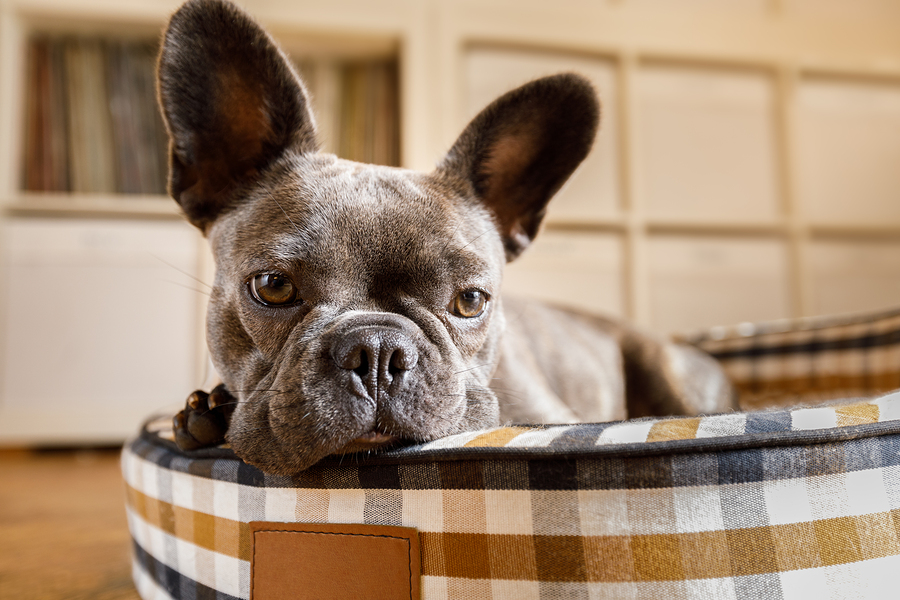 Blue/Grey Frenchies are very rare. These French Bulldogs are the result of a diluted gene inherited from both their parents. The diluted gene turns the pigmentation of the black color into a blue-grey pattern.
Blue/Grey Frenchie's coats are also covered with a diversity of brindle that complements their light to medium brown eyes.
Which French Bulldog is right for you?
Regardless of the color or pattern variety, here are a few characteristics that all Frenchies share:
Frenchies Shed. If you suffer from allergies or have a carpeted home, you'll have to consider that Frenchies shed a great amount of hair even though they are short-haired dogs.
Frenchies are Gassy. If you don't mind the intermittent scent of gas permeating throughout your home, then you'll have no problem with a Frenchie! Unfortunately, their gassy nature is a commonality expressed by all French Bulldog owners.
Frenchies Are Allergy Prone. Frenchies are very delicate and at times develop allergies to certain foods. However, just like humans, a change in diet usually takes care of that problem.
But who cares right? After all, they are the cutest dogs on the planet!
Frenchies are adorable and possess their own quirky personalities. They do well in small spaces and don't require excessive exercise.
Just looking at their cute wrinkly face, droopy eyes and playful demeanor will make you fall in love.
Will is the proud co-owner of Frankie, a Female Brindle French Bulldog, with his wife Michelle. We share our Frenchie experiences with the world to help health-conscious French Bulldog owners who want a happy, healthy, and long-living dog.