Frenchies are sweet and loyal companions, but they have a unique problem when it comes to managing their body temperature.
Put simply, they can't stand any excess heat, and if they do overheat it can cause severe health problems or even death.
As such, precautions should be taken by Frenchie owners during the intense summer months.
Why do Frenchies overheat?
Because Frenchies are bulky in build and stature, and they have a compacted airway for breathing, heat can be difficult for them to endure. And, while all dogs suffer in extreme heat, very high temperatures can be deadly to French Bulldogs.
That is why it is crucial that you protect your pal at all times by providing plenty of fresh water and limitless access to shade.
How do you know if your Frenchie is overheating?
There are several ways to observe whether or not your Frenchie is overheating. They may be experiencing any of the following or a combination of several of these symptoms:
Foaming at the mouth
Exhaustion from struggling to breathe
Extreme panting with possible heaving
A loose and floppy tongue that is discolored
Flushed and red skin inside the ears
Throat gurgling
If your dog is experiencing any of the above symptoms, here are some options you can try to cool them down:
Option #1 – Let them into a kiddie pool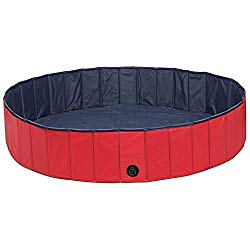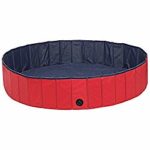 If you have a Frenchie running around your yard, you will definitely need to get a wading pool. A kiddie pool is a cheap and effective way to get the job done. You will only need to fill it about 4 inches deep. If your dog is the adventurous type, they will love playing in the pool and using it to cool down.
Just remember to keep it clean and free from pests by dumping out the water regularly. You can clean it easily with a bit of diluted vinegar to prevent algae growth and to remove any muddy paw prints left behind.
By providing your Frenchie access to a safe pool they will use it when they need to cool themselves down. Just remember, French Bulldogs can't swim! So make sure the pool only has a small amount of water in it.
Our favorite is the foldable dog pool from NACOCO, available from Amazon.
Option #2 – Hold an ice pack on their stomach
If you see that your buddy is having a severe heat-fueled attack, a good way to regulate temperature in a pinch is to strap an ice pack to their chest or stomach. While they may fight you at first, they will realize that the severe heat is being hampered by the coolness of the ice and eventually come around. You can also rub the ice pack over their head and between their ears for maximum effect.
Option #3 – Crank up the air conditioner
Frenchies will need a cool place to play and sleep indoors in the summer, and as such, an air conditioner is a must. It should be placed in a well-ventilated room where your dog will feel comfortable spending the majority of their time. Tile floors can also aid in the cooling process since they absorb the cold.
Option #4 – Use a fan and water spray combo
You can use a spray bottle and an oscillating fan to regulate your Frenchie's temperature. Just be sure that you get a bottle that provides a light mist when sprayed, rather than a large squirt of water.
Simply douse your pup's belly for a few seconds, and then use your fingers to open their coat up by spreading the fur. This opens up airflow to their body. Then, place them in a room with a rotating fan set on the highest setting possible. This combination should lower their temperature in a matter of minutes.
Option #5 – Let them lick an ice cube
On the hottest of days, allow your Frenchie a couple of ice cubes to suck on or gnaw at. Doing this in conjunction with a steady intake of fresh, cool water will enable the Frenchie to regulate their heat tolerance while simultaneously providing a refreshing treat. While many owners feel this is something that should be done only when their pal is outside, it also helps a dog maintain a near-perfect temperature while inside.
Option #6 – Accessorize with a cooling vest or bandana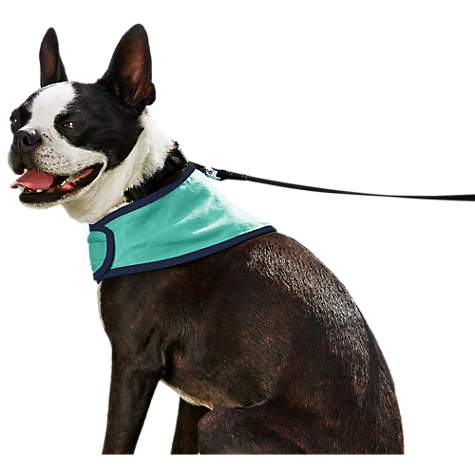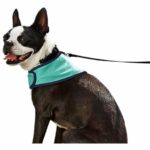 The Good2Go Cooling Dog Bandana and Vest are a lightweight way to provide your pup with some relief from the sweltering weather. Skip refrigeration and simply dip them in water to activate. These Frenchie accessories are ideal for getaways like camping, beaches, backyards and more.
Wrapping up
Your Frenchie is an awesome companion and they deserve the best care in return. By choosing one or more of the options above, you can easily regulate their temperature and keep them comfortable all summer long.
Will is the proud co-owner of Frankie, a Female Brindle French Bulldog, with his wife Michelle. We share our Frenchie experiences with the world to help health-conscious French Bulldog owners who want a happy, healthy, and long-living dog.