Looking for a harness for your French Bulldog?
You're in the right place…
French Bulldogs are known for their short bodies and flat faces. Due to their body structure, Frenchies suffer from a few medical issues including difficulty breathing.
Since they have flat faces and breathing problems, harnesses are an excellent choice as opposed to a collar and leash.
However, not all harnesses are created equal…
Before you go to the store and purchase the first harness you see, it's best to be informed on the different types of harnesses and the benefits of them for French Bulldogs.
There are a wide variety of harnesses available for Frenchies of all sizes, but generally, there are two basic types of harnesses, mesh, and nylon. So let's look at both types.
Nylon French Bulldog Harnesses
Nylon harnesses are similar to that of a collar. The width of the straps is typically an inch or so wide with the texture and feel of nylon rope. Some of the advantages are that they are easy to clean, adjustable, and very sturdy. These can also be more affordable than mesh harnesses, depending on the brand.
One disadvantage of the nylon harness is that it can be a bit uncomfortable if left on for an extended period of time. Some people have noticed they dig in under the legs and cause discomfort for your Frenchie.
Another disadvantage is that this type of harness is similar to the thin flat rope of a collar, which means that jumping and pulling can still be an issue.
A nylon French Bulldog harness doesn't give as much security as the mesh variety. Sometimes it can be hard to control your dog as only parts of the chest are secured. Some owners complain that their pup is even able to slip out of the harness due to the thinner straps.
Mesh French Bulldog Harnesses
Mesh harnesses have thicker straps than the nylon alternative and are slightly better at securing your Frenchie around the chest.
Since they have extra fabric, they typically cost a little more than nylon harnesses. But many Frenchie owners think this extra cost is worth it.
The mesh harnesses are usually more comfortable for your pup and help with breathing problems. The straps aren't as thin and most are padded giving extra comfort around the chest area. Instead of digging into your dog's skin or under their legs, they give a sense of comfort for longer periods of time.
Our Harness Recommendation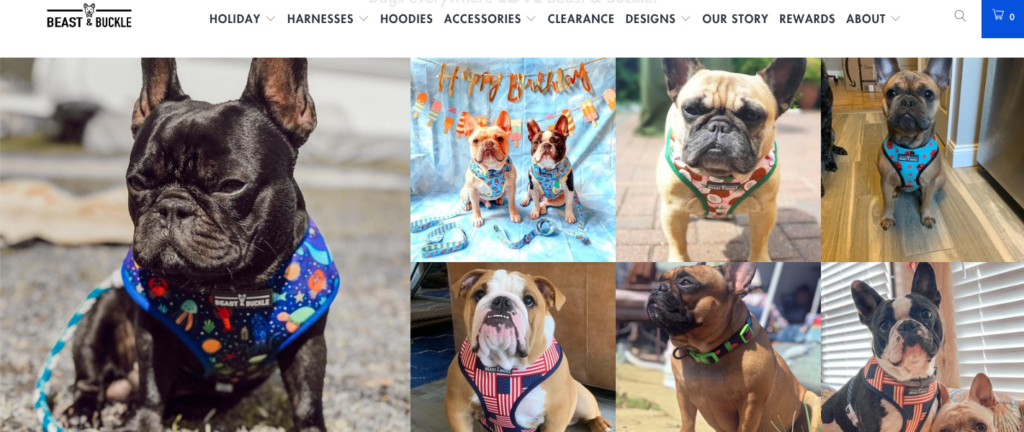 If you're looking for a walking harness for your Frenchie, check out Beast & Buckle.
The main thing I love about Beast & Buckle is their range of unique and funky designs. But it's also a bonus that they donate 5% of sales to animal rescues, too!
When it comes to their harnesses, here are some of the key benefits:
Perfect fit – the adjustable straps on the neck and back allow you to find your ideal fit, even if you've had trouble fitting your Frenchie in a harness before.
Easy on, easy off – the adjustable neck straps loosen enough to allow you to put the harness on without touching your Frenchie's head or ears.
Built for comfort – made with padding and adjustable straps to make sure your Frenchie look good and feel good
Premium quality – made from high-quality materials, with secure buckles and a sturdy D-ring that supports all standard leashes
For Frenchies – the founder of Beast & Buckle has a French Bulldog himself, in fact, that was the inspiration for the company. All of their harnesses are designed specifically for Frenchies
See the full Beast & Buckle harness range here.
Will is the proud co-owner of Frankie, a Female Brindle French Bulldog, with his wife Michelle. We share our Frenchie experiences with the world to help health-conscious French Bulldog owners who want a happy, healthy, and long-living dog.