French Bulldogs are best known for their short bodies and flat faces. Due to their body structure, Frenchies suffer from a few medical issues including difficulty breathing.
Since they have flat faces and breathing problems, harnesses are an excellent choice as opposed to a collar and leash.
Before you go to the store and purchase the first harness you see, it's best to be informed on the different types of harnesses and the benefits of them for French Bulldogs.
There are a wide variety of harnesses available for Frenchies of all sizes, but generally, there are two basic types of harnesses, mesh, and nylon. So let's look at both types.
Nylon French Bulldog Harnesses
Nylon harnesses are similar to that of a collar. The width of the straps is typically an inch or so wide with the texture and feel of nylon rope. Some of the advantages are that they are easy to clean, adjustable and very sturdy. These can also be more affordable than mesh harnesses, depending on the brand.
One disadvantage of the nylon harness is that they can be a bit uncomfortable if left on for an extended period of time. Some people have noticed they tend to dig in under the legs and cause discomfort for your Frenchie.
Another disadvantage is that this type of harness is similar to the thin flat rope of a collar, which means that jumping and pulling can still be an issue.
A nylon French Bulldog harness doesn't give as much security as the mesh variety. Sometimes it can be hard to control your dog as only parts of the chest are secured. Some owners complain that their pup is even able to slip out of the harness due to the thinner straps.
Mesh French Bulldog Harnesses
Mesh harnesses have thicker straps than the nylon alternative and are slightly better at securing your Frenchie around the chest.
Since they have extra fabric, they typically cost a little more than nylon harnesses. But many Frenchie owners think this extra cost is worth it.
The mesh harnesses are usually more comfortable for your pup and help with breathing problems. The straps aren't as thin and most are padded giving extra comfort around the chest area. Instead of digging into your dog's skin or under their legs, they give a sense of comfort for longer periods of time.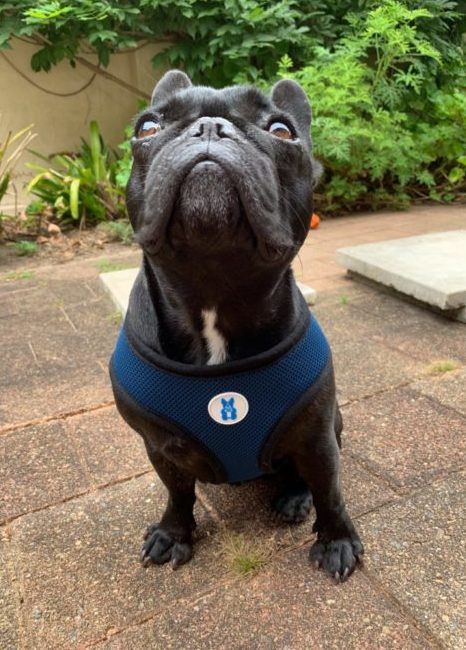 If you're looking for a mesh walking harness for your Frenchie, check out the Frankie Harness.
What makes the Frankie walking harness great for French Bulldogs? Here are 6 reasons:
Stress Distribution. This harness distributes any pressure generated from the pulling of the leash across your Frenchie's chest and shoulders, rather than on their neck and throat.
Breathable. The mesh polyester material makes this harness breathable so that your Frenchie doesn't get too hot while they are wearing it.
Comfortable. The soft cushioned lining and mesh fabric are lightweight and extra comfortable for your pup.
Adjustable. If your Frenchie drops a few pounds (or puts on a few) the chest clip can be adjusted accordingly.
Unique. This harness is made just for Frenchies, so you can show off your love for the breed by strutting around with an iconic French Bulldog on your dog's chest!
Affordable. We priced this harness at a fair and affordable price when compared to other harnesses on the market, so our Frenchie community don't feel the squeeze.
Find out more and buy the Frankie Harness here.
Will is the proud co-owner of Frankie, a Female Brindle French Bulldog, with his wife Michelle. We share our Frenchie experiences with the world to help health-conscious French Bulldog owners who want a happy, healthy, and long-living dog.