One of the things that most people want to know before they choose a breed, is how noisy that breed of dog tends to be.
This is especially relevant when choosing a small dog breed because they often live in apartments and other types of small housing.
So what about Frenchies…
Do French Bulldogs bark?
The short answer is: yes. All dogs naturally bark and dogs have been selectively bred for certain functions such as alerting to strangers near the house, as well. Most French Bulldogs bark at least occasionally.
How much do French Bulldogs bark?
This depends on the dog. However, as a breed, Frenchies are less barky than many other small breeds. Not all Frenchies that don't bark are quiet, though – they are renowned for their ability to make all sorts of funny noises, such as snuffles, growly 'talking', excited yelping, and more.
The Frenchie bark is not typically described as 'yapping.' They do have a higher-pitched tone than a full-size bulldog, but they tend to have a much deeper, gruffer voice than many small breed dogs.
In one survey, 85 percent of people said that their French Bulldogs did not bark a lot. Of course, what you consider 'a lot' may be different than what the next person does.
Why do French Bulldogs bark?
The majority of people surveyed said that their Frenchies barked at people coming to their door, and at people or animals that could be seen outside through windows or fences. These are both very natural canine instincts. Dogs bark to alert the rest of the pack that someone is out there. This can be in a friendly, excited way, a frustrated way, or a scared way, depending on the dog.
Barking is also self-rewarding to a lot of dogs – that is, it is fun to do without necessarily any reason. Frenchies are not especially barky dogs, but like all dogs, they may learn to bark in order to relieve stress or boredom.
How do I stop my French Bulldog barking?
This depends on the kind of barking that is going on. Most people appreciate that their dogs bark when someone is at the door, or if a stranger is on their property. In these cases, the appropriate response is usually to acknowledge the situation, tell the dog they are good for barking a few times, and then tell them 'quiet' or 'enough'. If they settle down, they get a treat (or another reward). If they don't, they can get a timeout in a boring room alone for 30 seconds.
Excessive barking caused by boredom, or barking out the window at passing people and animals, requires some management. You may need to invest in a dog walker, spend more time exercising your pup or buy some toys that provide mental stimulation. You might also need to close the blinds sometimes.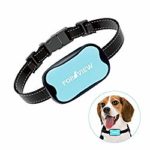 Another option is to use a safe and humane anti-bark collar – for example, Pop View's has over 650 positive reviews on Amazon.
To teach your dog to be quiet on cue, choose a time when they are barking a little, but are not so excited that they cannot listen:
Say your dog's name, and then 'quiet!'
Hopefully, your dog will look at you and go 'huh?' as they wonder what you want.
Produce a treat from behind your back and reward your dog for their silence, even if it is only temporary.
If your dog doesn't pause, wave the treat under their nose, wait until you have their silent attention for just a second or two, and then praise and reward them.
Practice this until your dog immediately shuts up and looks at you when you say the word 'quiet'.
Then, start to practice saying it from a few feet away, and eventually, across the room.
Start to ask for longer and longer periods of quiet before rewarding.
Phase out the food treats, but always acknowledge your dog's proper response with something like 'good dog!' or 'thank you!'
Wrapping up
Anyone who thinks that their dog should never bark should probably not own a dog. However, most people would like it if their dog didn't bark too much. For the majority of people, Frenchies fit into this category. While an individual French Bulldog might occasionally bark a lot, the breed as a whole tends to be on the quieter side.
Will is the proud co-owner of Frankie, a Female Brindle French Bulldog, with his wife Michelle. We share our Frenchie experiences with the world to help health-conscious French Bulldog owners who want a happy, healthy, and long-living dog.