As a Frenchie owner, you know that these slobbery, fluffs of fur are more than just pets. They're family.
Just like any member of your family, you want what's best for your furry friend, especially if they have any allergies or if certain types of food don't necessarily digest well for them.
This article will look at the best food for French Bulldogs, assess their most common food allergies, and finally, put forward a couple of brands we recommend that will ensure a healthy diet for your Frenchie.

Health Food for French Bulldogs
Your French Bulldog's weight is an important factor to their health. The typical French Bulldog, weighing around 25 pounds, should have a calorie intake of about 500-600 kcal a day. But for older Frenchies this figure may drop, and for overly active bullies and puppies, you may need to feed them a few more calories because of the extra energy they burn off.
Since bulldogs reach their adult size quickly, ensuring that the food they're taking in is beneficial to their health as well as their weight and height is crucial. Make sure that the food you're supplying to them is packed full of nutrients. Try to avoid foods that contain preservatives and fillers, since those can harm dogs or simply add to overall weight gain. And be aware that wheat products are the main culprit of flatulence in Bulldogs!
Read the ingredients list to ensure that the protein being used in your Frenchies food is from meat and not plants. Whole meat is the best, which includes: chicken, beef, fish, and lamb. Dogs can't easily process protein that comes from plants, so meat protein is the best method to ensure that they won't have digestive problems later on in life.
Other key ingredients to look out for are foods that contain a decent amount of fat, particularly chicken fat or fish oil that keeps their fur and skin healthy. Also, puppies should have Docosahexaenoic acid, or DHA, which aids in eye and brain development. And older dogs should take in MCFAs which stands for medium chain triglycerides since they keep your Frenchie feeling young and active.
What foods are French Bulldogs allergic to?
An unfortunate part of having a French Bulldog is that they often develop food allergies. Some of the allergies they can develop are over food items like corn, beef, milk, cheese, and other dairy products. As well as chicken, lamb, fish, chicken eggs, wheat, and soy. Not all Frenchies will have these allergies, but others will have them all!
Just keep a close eye on your Frenchie to see how they do when first starting out with these foods. If they show signs of allergies such as scratching or licking a lot, breaking out in red blotches or vomiting – you may need to find a new type of food.
Corn, in particular, can cause hives on your dog's skin, or form other skin irritations. Keep in mind that some allergies can come from the environment your pup lives in, so if changing the food doesn't seem to be working, consider the pollens, grass, and general makeup of their surrounding environment.

The Best Food for French Bulldogs
Novel proteins seem to work well for warding off allergies, things such as Rabbit, Elk, Kangaroo or other super-lean meats. These meats cooked with some veggies make for a great custom meal. (Thanks to Trish from our community for this tip!)
The best brand of dog food we have found on the market, if you don't want to make it yourself, is the Pet Plate meal plans.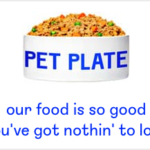 Pet Plate is a meal delivery service that offers vet-designed, human-grade meals with real ingredients. All of their freshly-cooked meals are made with USDA-certified meats and fresh produce.
Some of the major benefits of using Pet Plate instead of kibble are:
Your pup will have a healthier coat.
There will be less itching because Pet Plate is allergy-friendly.
Your pup's poops will be more consistent and easier to pick up.
You won't have any issues with gaining weight, as the meals are portioned appropriately.
Get started with Pet Plate for less than $3 a day for small dogs.
Your Frenchie, Your Rules
Ultimately, you know your Frenchie best. If you notice something is wrong, try changing their diet or consult with your veterinarian.
Keeping the information described above in mind, however, should lead to a long, healthy life full of mischevious adventures for you and your Frenchie.
Will is the proud co-owner of Frankie, a Female Brindle French Bulldog, with his wife Michelle. We share our Frenchie experiences with the world to help health-conscious French Bulldog owners who want a happy, healthy, and long-living dog.