French Bulldogs make everyone fall in love with them with their cute, droopy faces and larger than life personalities.
So if you are lucky enough to own such a wonderful dog, you want to ensure that you are keeping them healthy and safe.
One of the biggest concerns with owning a French Bulldog is maintaining an ideal weight. Both male and female French Bulldogs can fall into poor habits, just like anyone else, and quickly become overweight. This can lead to health issues down the track.
The most important thing for an owner to do is pay attention to your dogs weight and stay diligent before it turns into a problem.

What is the ideal weight for a male French Bulldog?
Male French Bulldogs should weigh between 20 – 28 pounds (9 – 13 kilograms) and be a height of 11 – 12 inches (28 – 30 centimeters). They generally weigh slightly more than females.
What is the ideal weight for a female French Bulldog?
Female French Bulldogs should weigh between 18 – 26 pounds (8 – 12 kilograms) and be a height of 11 – 12 inches (28 – 30 centimeters).
However, for both male and female Frenchies, the ideal weight is dependent on a number of other factors. Such as genetics and body shape.
How do I know if my French Bulldog is overweight?
More than half of the dogs in the world are overweight, and that makes it very likely that your French Bulldog could be overweight, too.
There are three basic signs of a French Bulldog being overweight:
heavy breathing after little exercise
inability to groom itself properly, and
no muscle definition.
French Bulldogs are playful dogs. If you notice that even a little bit of play makes your Frenchie tired, that could be a sign that it's time to lose weight. Of course, Frenchies are known to have difficulty breathing, so these symptoms may not necessarily be signs of a weight problem. If you're unsure, it's best to seek advice from your vet.
Dogs need to be able to reach certain parts of their body in order to groom themselves. If your dog can't reach the back of its paw, this is another sign that the dog needs to lose some weight. Again, because of their unique body type some Frenchies can't reach certain parts of their body anyway! So don't jump straight to the conclusion that your dog is overweight.
Take a look at your dog for obvious physical signs of being overweight. Do you notice any rolls? Frenchies are known for droopy faces and athletic bodies. If your dog looks more pudgy than well-defined, it's time to put your dog on a diet.
The below visual from Wiley gives you a good guide on how your dog should look from different angles. Yes, this is a larger breed of dog in the image, but many of the same principles hold strong with French Bulldogs. For example, the "Ideal" dog in this image has a slight contour of the stomach just before the legs, and even though the ribs aren't visible, there isn't a lot of excess fat around them. This is how your Frenchie should look too.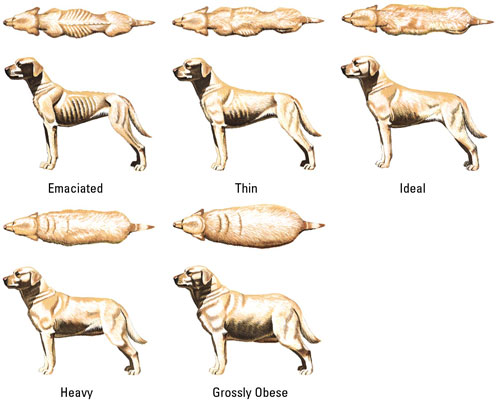 How do I know if my French Bulldog is underweight?
Most French Bulldog owners worry about their dog being overweight, but you also want to ensure that they are not underweight too.
Look at your dog's rib cage. You should be able to feel each individual rib, but you shouldn't be able to see each rib too easily. The "Thin" and "Emaciated" images from above show you what this would look like.
It's important to note that puppies may be skinnier than adults because of their increased activity.
What are the health implications if my Frenchie is over or underweight?
Overweight Frenchies are vulnerable to a variety of different diseases including diabetes and heart disease. An overweight Frenchie, who is already known for having breathing issues, may experience even more respiratory issues with increased weight. They may also experience joint problems. These problems will start sooner than you may think. While five pounds may not seem like much, remember that this is the equivalent of an additional 40 pounds on a human.
Your French Bulldog being underweight can be a sign of an even bigger issue. They could have parasites or a serious disease, such as kidney disease or a gastrointestinal disease. But of course, there are LOTS of innocent reasons that your dog is underweight too. Speak to your vet for medical advice if you are worried.
How do I get my Frenchie to lose/gain weight?
Naturally, the first thing to do is to feed your dog more if it's underweight and feed it less if it's overweight. Alternatively, you could try them on a different type of food that will help with weight loss/gain, depending on your situation – such as salmon, turkey, or another novel protein.
You can also help your dog by giving it more exercise if its overweight. Remember that French Bulldogs are social creatures, so getting them together with other dogs can increase their energy as well.
One of the best things you can do to get your French Bulldog to the perfect weight is to take your dog to a veterinarian and get expert advice about your concerns. They may be able to give you special food or other tips. They will also be able to diagnose any serious problems that your dog might be experiencing. This is especially important if extra exercise and changing eating patterns do not work.
Our recommended food for Frenchie weight management is the Pet Plate meal plans. Pet Plate is a meal delivery service that offers vet-designed, human-grade meals with real ingredients. All of their freshly-cooked meals are made with USDA-certified meats and fresh produce.

Wrap up
Frenchies are one of the greatest joys in the world. And if you are blessed to have a French Bulldog as a pet, you will want to keep your buddy around for as long as possible.
One of the best ways to do this is to make sure that your dog maintains a healthy weight. While we all like to indulge at times, this doesn't mean that you should let your Frenchie get overweight from laying around all day!
Will is the proud co-owner of Frankie, a Female Brindle French Bulldog, with his wife Michelle. We share our Frenchie experiences with the world to help health-conscious French Bulldog owners who want a happy, healthy, and long-living dog.