With those curious eyes, inquisitive ears, and endearing snuffles, what's not to love about the French Bulldog?
Cousin to the huskier Bulldog, they were bred in England and made their way over to France as companions and fierce ratters. That bat-eared silhouette makes them instantly recognizable, and 15 million Instagram Frenchie posts prove their enduring popularity.
There's a price, however, for all that cuteness. You might often hear the distinctive signs of the breed's respiratory issues and not understand the cause or what can be done to ease symptoms.
Why do French Bulldogs have breathing problems?
All those distinctive sniffles, snuffles, and snorts (as endearing as they may be) commonly occur in both the canine and feline flat-faced breeds. The shortened snout, which was encouraged during breeding selections to create the adorable smooshed face, resulted in some anatomical limitations. Unfortunately, as the breed's skull shrunk the structures inside didn't follow the same path.
Common problems of this include:
abnormally narrow nostrils that restrict air flow (stenotic nares)
the soft, back roof of the mouth is too long and obstructs the airway (elongated soft palate)
a restrictive windpipe (hypoplastic trachea)
sacs along the voice box blocking the trachea (everted laryngeal saccules)
Collectively these respiratory related problems shared by short-muzzled pets are called Brachycephalic (Short Head) Airway Syndrome. Not every dog presents with all the above. Just like their personalities, each Frenchie's anatomy is unique, but seek to understand your pup's makeup and have an open dialogue with your veterinarian.
How do you diagnose French Bulldog breathing problems?
Particular signs coincide with Brachycephalic Airway Syndrome (BAS). Symptoms can range from mild to severe, especially if multiple problems exist.
The symptoms to watch out for are both visual and auditory. For an easy point of reference, consider known human afflictions such as snorting, gagging, coughing, snoring, apnea, labored respiration, and vomiting. A dog with a very noisy, raspy and rapid respiration rate will make distinct sounds. For animals with narrow nostrils, for example, it's easier to inhale through the mouth rather than the nose.
In short, dogs with cute, squished faces are mouth breathers.
In addition, because French Bulldogs are compact, they are more easily affected by high temperatures and problems associated with weight gain. A pet with varying degrees of BAS may collapse after exercise, gag on drool, vomit after eating or even pass out. Some French Bulldogs have large tongues and that can exacerbate the difficulties of a narrow airspace.
If you have any concerns or notice episodes getting worse and witness other issues such as collapsing and lethargy, consult with your vet right away. Noisy breathing is common, but not normal. Treatment plans are available to help your furry friend breathe easier and live a long, more energetic life.
How do you treat French Bulldog breathing problems?
Treatment depends entirely on the severity of the problems present. Watching your pup's weight can help since an overweight Frenchie is more likely to present respiratory distress. These little guys are also not heat-tolerant, and the more restricted their airway the quicker they become distressed. Air conditioning, access to cool water, and avoiding high summer heat will go a long way to avoiding fainting episodes due to physical stress, heat stroke, and swollen air passages.
Other simple changes such as using a harness around the chest rather than a collar around the neck to avoid pressure on the windpipe can alleviate mild symptoms. Allergic reactions that cause overproduction of mucous or swelling in the throat may be eased by medications or dietary alterations.
Surgery is an option for French Bulldogs that have pinched nostrils, elongated palates, or swollen saccules. The outcomes depend on the number of issues present, the age of the animal, and the severity of the situation. Unfortunately, the nature of flat-faces means that such pets are also susceptible to problems with anesthesia. A veterinarian, therefore, will perform a full examination after diagnosis, take x-rays, and assess overall health before forming a plan for the patient.
Whether surgery is the route to go depends upon a lot of factors. In some cases, it can make a profound impact on comfort and longevity. Though prognosis will favor a young dog, older animals can still benefit from corrective procedures.
The Frankie Harness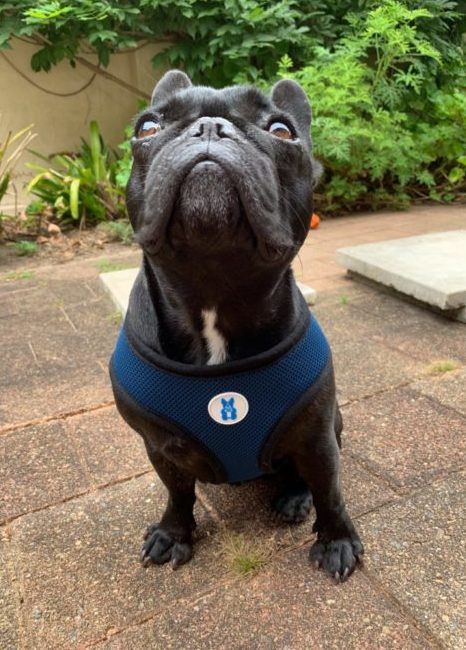 If you're looking for a walking harness for your Frenchie, check out the Frankie Harness.
What makes the Frankie walking harness great for French Bulldogs? Here are 6 reasons:
Stress Distribution. This harness distributes any pressure generated from the pulling of the leash across your Frenchie's chest and shoulders, rather than on their neck and throat.
Breathable. The mesh polyester material makes this harness breathable so that your Frenchie doesn't get too hot while they are wearing it.
Comfortable. The soft cushioned lining and mesh fabric are lightweight and extra comfortable for your pup.
Adjustable. If your Frenchie drops a few pounds (or puts on a few) the chest clip can be adjusted accordingly.
Unique. This harness is made just for Frenchies, so you can show off your love for the breed by strutting around with an iconic French Bulldog on your dog's chest!
Affordable. We priced this harness at a fair and affordable price when compared to other harnesses on the market, so our Frenchie community don't feel the squeeze.
Find out more and buy the Frankie Harness here.
Now you know the French Bulldog's secret
It's been suggested in studies that about half of the members of short-faced breeds present with BAS, however, there is no definitive way to predict it. Research conducted at the Department of Veterinary Medicine, University of Cambridge suggests that nostril size was significant, and a yearly assessment of risk factors is good practice.
You have the knowledge to help your slobber-prone friend gather up all that oxygen a little easier. Listen for signs of distress, watch heat and weight, switch to a harness leash, and bring any concerns or thoughts to your vet.
After all, a Frenchie needs all the extra energy to jump on your lap and chew your shoes!
Will is the proud co-owner of Frankie, a Female Brindle French Bulldog, with his wife Michelle. We share our Frenchie experiences with the world to help health-conscious French Bulldog owners who want a happy, healthy, and long-living dog.