French Bulldogs are quickly becoming a favorite breed. Their adorable faces, perky ears, and loving personality make them a great choice of pet.
However, Frenchies need special care to keep them happy and healthy. Along with a loving home, they need a good amount of exercise and the proper diet.
French Bulldogs have a high risk of obesity, which can cause several other health problems. They are prone to allergies which makes choosing the right food difficult. And they also need different nutrients at different ages, so it's important to consider your dog's age while you are choosing their food.
In this article, we'll look at the recommended French Bulldog diet based on these criteria.
Activity
Is your Frenchie a couch potato or an Olympic runner? Frenchies can have a wide range of energy levels and metabolisms, so you need to pay attention to how active your pup is and how much they weigh.
When shopping for dog food, avoid preservatives and fillers. These can contribute to your pet's obesity without adding any valuable nutrients to their diet. Try to find foods that have plenty of protein from meats such as fish, lamb, beef, or chicken, though watch for allergies!
You'll also want food with plenty of fat, which is great for their fur and skin. Natural ingredients will always be healthier for your pet, and many French Bulldog owners have found that making their own food out of fresh meat and vegetables has a more positive effect on their dog's health.
Allergies
Unfortunately, French Bulldogs are prone to all kinds of allergies. French Bulldogs often break into hives when they eat corn. Allergies can also take the form of excessive scratching or licking, as well as vomiting or other symptoms. If your dog is acting strangely, take them to the vet for a checkup.
Some other ingredients that can cause allergies are dairy products, eggs, wheat, and even beef and chicken. Ask your vet for a food suggestion and pay close attention to your pet whenever you try changing food.

Age
Puppies are growing quickly and have a lot of energy. They are at an age of exploring and discovering and need a lot of nutrients and protein to help them grow. One of the elements you should look for in puppy food is Docosahexaenoic Acid. This is a must for French Bulldog puppies, who need it to develop healthy eyes and brains.
Older French Bulldogs also need special food. However, the kind of food you need for your senior Frenchie depends on their level of activity and health. If your dog is still active and has a high metabolism you'll want a senior dog food with extra protein. However, if your dog is overweight you'll want to cut back on protein and encourage more activity.
Our Recommendation
Novel proteins seem to work well for warding off allergies, things such as Rabbit, Elk, Kangaroo or other super-lean meats. These meats cooked with some veggies make for a great custom meal. (Thanks to Trish from our community for this tip!)
The best brand of dog food we have found on the market, if you don't want to make it yourself, is the Pet Plate meal plans.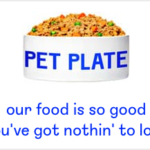 Pet Plate is a meal delivery service that offers vet-designed, human-grade meals with real ingredients. All of their freshly-cooked meals are made with USDA-certified meats and fresh produce.
Some of the major benefits of using Pet Plate instead of kibble are:
Your pup will have a healthier coat.
There will be less itching because Pet Plate is allergy-friendly.
Your pup's poops will be more consistent and easier to pick up.
You won't have any issues with gaining weight, as the meals are portioned appropriately.
Get started with Pet Plate for less than $3 a day for small dogs.
Wrap
Keep in mind that a healthy dog needs more than just good food. Frenchies can be low energy, but that doesn't mean they don't need exercise.
Balance a healthy diet with a healthy level of activity. Take your Frenchie to the park or for short walks, and always keep an eye on their weight and overall growth.
Watch for negative allergic reactions and switch foods if you need to, though be aware that an allergy could be caused by outside factors rather than food!
Look for natural ingredients and avoid preservatives and additives which cause obesity. It may take some trial and error, but when you find the perfect food your French Bulldog will thank you.
Will is the proud co-owner of Frankie, a Female Brindle French Bulldog, with his wife Michelle. We share our Frenchie experiences with the world to help health-conscious French Bulldog owners who want a happy, healthy, and long-living dog.