If you own an irresistible, friendly little French Bulldog, you know how happy, lively and loving they are.
In fact, Frenchies have gone from number 76 in dog popularity to number 4 in the past 20 years.
From the tip of their bat-like ears to their stubby little tails, they always seem to be smiling but don't let that comical smile fool you. You'll soon find out that your Frenchie needs the training to make them the wonderful, easygoing pet you want them to be.
To help you out we've put together this guide to French Bulldog training. Enjoy!
How to Potty Train Your French Bulldog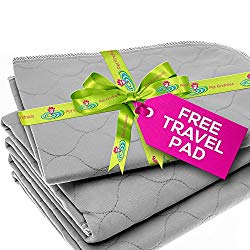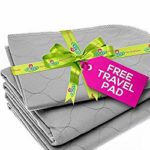 The first thing you want to do when you bring your French Bulldog puppy home is start potty training. So, be prepared with a supply of puppy pee pads. You can find these in either disposable or washable pads.
Keep in mind that Frenchie puppies pee a lot so you might want to get washable pads, so you don't have to keep running out to the store. The Pet Kindness washable pee pads are absorbent for nighttime use when you can't bring your puppy outside. Hopefully, you'll have your sweet little Frenchie housebroken within a few weeks.
Here are a few tips on how to potty train your Frenchie:
Teaching your puppy to relieve themselves outside takes a little patience. The easiest way to do this is to bring your puppy outside about every half hour if you can. This way, they won't have an accident on the floor and will associate peeing and pooping with the outside.
Bringing your Frenchie to the same area each time they need to go potty is the quickest method for housebreaking. Just stand in the same spot and wait for them to do their business.
You can also add a cue like "go potty" and then your puppy will learn that they should go as soon as you say the cue.
Always give them a treat when they go potty outside, using the same praise such as, "good potty" or "good job." Act very excited and give your Frenchie lots of praise, then bring them back inside. Continue to do this, gradually dropping the treats and only using praise.
If you're training your puppy or adult French Bulldog to go indoors on pee pads, use the same potty training method as above. Just bring them to the pads, instead of outside.
Every dog learns at their own pace, so be patient and persistent. The time you spend potty training is well worth the effort.
How to Socialize Your French Bulldog
Socializing your Frenchie is an important part of training. Frenchies are naturally friendly and sociable, but they are also protective of their owners. For this reason, you want to make sure your Frenchie is comfortable around other dogs and people. You can start socializing your puppy as early as three weeks old and they should be comfortable around other dogs by four months old.
The simplest way to socialize your pup is to go for walks in public places where they can meet other dogs. Start with a short leash, so you have complete control of your lively, little fellow. When you see another dog walker approaching, ask if your Frenchie can say, "Hi." Let them sniff for a minute and continue on your way.
If your pup greets the other dog in a friendly way, reward them with a treat and praise. Expose your Frenchie to all types of places, people, sounds and animals, and you'll have a friendly, confident, well-rounded pup in no time.
Bonus French Bulldog Training Tips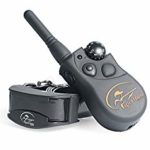 Frenchies are very cooperative little dogs and learn quickly with positive training. These sweet dogs thrive on your love and attention, and you want training to be a happy experience for both you and your puppy. Positive training is a great way to bond with your Frenchie, creating a lifelong, loving relationship.
Because French Bulldogs are so loyal and protective of their families, they can develop a barking habit. If you have trouble getting your Frenchie to stop barking at everyone that passes by, you might consider a dog-training collar. These collars are very effective for stopping unwanted behaviors and accelerating the training process. The SportDOG collar has over 1,200 positive customer reviews on Amazon if you're looking!
Looking to take your French Bulldog training to a new level? Check out these tips on getting them to roll over on cue!
French Bulldog Training Mistakes to Avoid
Your French Bulldog's flat, pudgy face, and folds of skin make them look adorable, but these features can cause breathing discomfort. Keep this in mind when you're training your Frenchie. Because your dog's nostrils are almost closed, it's hard for them to keep up with long training periods or exercise.
Avoid the following activities to keep your Frenchie happy and healthy during training:
Extended training periods
Training in the hot weather
Getting overheated
Training in cold weather
Any types of water activities
Shouting at your Frenchie
When you take the time to train your Frenchie, you'll enjoy a loving companion who is funny, smart, loyal, and your best friend. Above all, have fun with your Frenchie with training that enriches your relationship and builds confidence in your pup.
Will is the proud co-owner of Frankie, a Female Brindle French Bulldog, with his wife Michelle. We share our Frenchie experiences with the world to help health-conscious French Bulldog owners who want a happy, healthy, and long-living dog.