French Bulldogs are a very popular dog for a variety of reasons.
They are smart, (somewhat) clean, and extremely loyal to their owners.
Plus, Frenchies aren't too high maintenance for people who live active lives and don't need a lot of space, so are great for apartment living.
Just like any dog, you will have to potty train your new puppy. This is one of the hardest parts of the training process because it can be frustrating, for owner and pup alike, and it also gets kind of messy!
French Bulldogs, in particular, are quite a stubborn breed. Once they learn something they will stick with it forever, but that initial learning phase can be a challenge.
Here are some tips to help you potty train your new French Bulldog.

French Bulldog Potty Training Tips
Create a regular schedule
Life can be quite hectic, but that doesn't mean that we can't create a schedule in the midst of all of the chaos. Take your puppy out at the same times throughout the day. For example, take them out first thing in the morning, after eating and drinking, after being in their crate or room, and before bed. It's also important to feed your dog at the same times so they start to create habits… one of which is relieving themselves outside!
Use puppy pee pads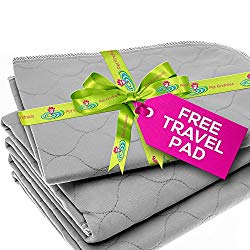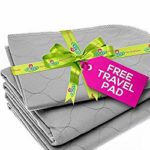 It doesn't matter how great of a puppy you have or how great of a trainer you are, there will inevitably be an accident during the potty training period. Don't get upset by planning in advance. Utilize puppy pee pads. These pads will give your puppy a place to pee in case they need to go at a time out of the regular schedule. The pee pads catch the urine so that it doesn't get into your carpet and floor. This makes clean up much easier, and prevents the odor from penetrating your home!
Keep in mind that Frenchie puppies pee a lot so you might want to get washable pads, so you don't have to keep running out to the store. The Pet Kindness washable pee pads are absorbent for nighttime use when you can't bring your puppy outside. Hopefully, you'll have your sweet little Frenchie housebroken within a few months.
Teach the "Go Potty" command as early as possible
It can be difficult to teach a dog a new command, so you want to start the "go potty" command as early as possible. When your pup starts to do their business, tell them to go potty and praise them when they are done. The goal is to associate the action to the command so that they will perform the action when you say the command.
Looking for more help? Pupford Academy has a top-of-the-line puppy training course to help you out.
Are French Bulldog puppies easy to potty train?
French Bulldogs are not the hardest breed to train, but they're not the easiest either!
Some Frenchies take up to 8 months to potty train, which can be frustrating for the owner. It's important you stay persistent and calm throughout the whole process. Your pup isn't trying to be a nuisance!
Here are some of the challenges that you may notice.
Identifying different signs of having to go
Every dog is unique, just like people. It may take you some time to recognize exactly what actions and sounds are indications that your puppy has to go outside. Look for common indicators, such as barking at the door, pacing, circling, and whining. Not every dog is the same so learn your dog's unique behaviors.
Negative reinforcement
Most people think that if their puppy has an accident (and they will), the dog should be punished to prevent the behavior from happening again. Unfortunately, this is rarely effective. In fact, it can be counter-productive. Puppies, even smart breeds like French Bulldogs, don't have very long memories. They don't understand why they are being scolded. It won't change any behavior, and it will only make the puppy afraid of you.
Check out this article on Bulldog training if you want to learn more about raising a Frenchie.
Wrap
Your new family member will bring you years of joy and companionship for everyone in your household. Of course, you need to get through the initial training period, and these tips will help you speed up the process!
Frenchies actually have high intelligence and enjoy to be clean. Which means that they aren't as likely to have an accident once they are trained as some other breeds.
Will is the proud co-owner of Frankie, a Female Brindle French Bulldog, with his wife Michelle. We share our Frenchie experiences with the world to help health-conscious French Bulldog owners who want a happy, healthy, and long-living dog.