French Bulldogs are stealing the limelight in the United States right now and it's no wonder why. After ranking fourth as the most popular dog in 2017 by the AKC, these little balls of delight are touching the hearts of millions with their silly antics, goofy expressions, and lovable demeanor.
But it isn't all adorable wrinkles, wiggling butts and pinchable cheeks.
You see, the French Bulldog is a brachycephalic breed. According to the American College of Veterinary Surgeons, these breeds are prone to difficult, obstructive breathing due to the shape of their head, muzzle, and throat.
Brachycephalic literally means "short-headed."
If your Frenchie has a history of noisy breathing, especially when they inhale, or if they gag while swallowing, this could be a sign your best bud is suffering from Brachycephalic Syndrome.
So what's a Frenchie lover to do?
Well, there's one main goal to keep in mind and that's to keep your pup healthy, safe, and comfortable.
There are many ways to do this like making sure they are a proper weight and kept cool in the summer. Also be sure to speak with your vet if allergies make it hard to breathe.
There's no doubt you'll eventually want to take your Frenchie out and show them the world but first, they'll need some supplies for these grand adventures. That's right! It's time to go shopping for some fancy gear!
Collars or Harnesses: Does it really matter?
Yes! Because they are prone to Brachycephalic Syndrome, Frenchies can benefit from using harnesses over collars.
Why? Well, you might think that all collars and harnesses are created equal but that's not so. Below, we'll explain why.
Collars
There are so many collars out on the market but not all of them will do well on your French Bulldog. Collars are made to go around the neck by design but for a breed that already has problems breathing this can be detrimental.
Being top heavy and prone to respiratory issues, a Frenchie can feel like they are choking when the collar inevitably presses against their windpipe. This is especially true if your best bud hasn't learned not to pull on the leash yet.
Harnesses
Harnesses, on the other hand, have a multitude of benefits for French Bulldogs and even in this category, you've got options.
Front-Clip
Front clip harnesses are great in that they provide more control than traditional collars and back-clip harnesses over leash pulling and allow for you to better address aggression or other unwanted behaviors.
These can also help your Frenchie avoid accidentally clotheslining themselves as it prevents them from jumping up on passersby.
You do have to pay attention to how much slack you give your Frenchie while using front-clip harnesses though because giving too much may result in their legs getting tangled.
Back-Clip
Back-clip harnesses are the most common type of harness and probably one you've seen the most as they come in so many styles that you'll definitely find the right one for your cutie.
These are so easy to put on and are very comfortable for Frenchies. Unlike the front-clip harnesses, these won't get them tangled up.
Unfortunately, these offer less control if your dog pulls on walks or has other poor leash manners.
But the biggest benefit of these chest harnesses is that they do not put pressure on your Frenchie's throat or obstruct their airways.
A note about head harnesses: Some people swear by head halters but these are usually made for dogs with longer muzzles than your Frenchie's so, unfortunately, this isn't going to work well for them or other short-muzzled breeds.
The Frankie Harness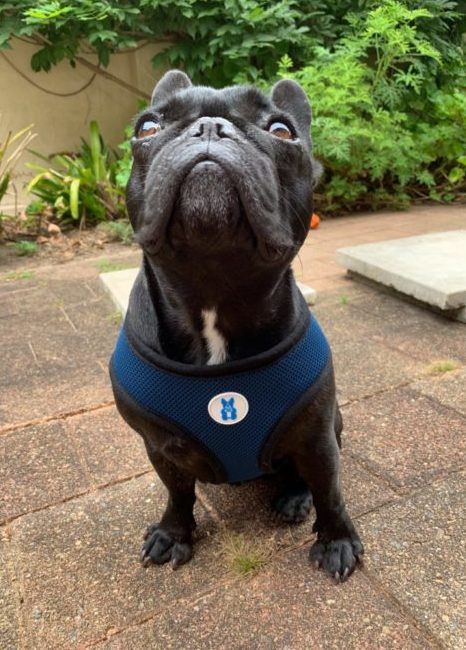 If you're looking for a walking harness for your Frenchie, check out the Frankie Harness.
What makes the Frankie walking harness great for French Bulldogs? Here are 6 reasons:
Stress Distribution. This harness distributes any pressure generated from the pulling of the leash across your Frenchie's chest and shoulders, rather than on their neck and throat.
Breathable. The mesh polyester material makes this harness breathable so that your Frenchie doesn't get too hot while they are wearing it.
Comfortable. The soft cushioned lining and mesh fabric are lightweight and extra comfortable for your pup.
Adjustable. If your Frenchie drops a few pounds (or puts on a few) the chest clip can be adjusted accordingly.
Unique. This harness is made just for Frenchies, so you can show off your love for the breed by strutting around with an iconic French Bulldog on your dog's chest!
Affordable. We priced this harness at a fair and affordable price when compared to other harnesses on the market, so our Frenchie community don't feel the squeeze.
Find out more and buy the Frankie Harness here.
A Final Word
So there you have it, that's why harnesses are so popular among the Frenchie crowd and why yours will be over the moon for one.
Will is the proud co-owner of Frankie, a Female Brindle French Bulldog, with his wife Michelle. We share our Frenchie experiences with the world to help health-conscious French Bulldog owners who want a happy, healthy, and long-living dog.