Ever wondered what your Frenchie is doing while you're out running errands or at work?
No need to wonder anymore, the Furbo dog camera will take all your suspicions away.
Not only can you see what your pup is doing, but you can also toss treats and talk to your dog through Furbo so they don't feel alone while you're out and about.
Like every product, there are pros, cons, and many things to consider before investing. So let's get started.
What is the Furbo?
The Furbo is a dog camera which you can monitor from your smartphone.
With the Furbo, you are able to toss treats from the device, talk to your dog, and of course see what your pup is up to! This camera is also compatible with the smart home device Alexa.
Furbo will even notify you when your dog is barking if you are worried about your pup annoying your neighbors, not that Frenchies bark very much!
Knowing what is going on at home and being able to calm down your dog with the Furbo is a great way to have peace of mind when you can't be at home.
Why would you consider getting a Furbo?
Are you tired of coming home only to see your pup has chewed through half of the furniture? Or maybe you are sick of your neighbors complaining about your dog barking while you're gone? Or maybe you are just worried about your Frenchie when you can't be there for them!
Furbo will help you manage these situations and ease your concerns. With a two-way microphone, quality camera, and treat dispenser, the Furbo makes interacting with your dog easier than ever before – even if you are on the other side of the world!
With this camera, you will feel connected to your home and your beloved pup all day long. With a simple tap on your phone, you have access to see what your pup is up to and allow them to hear a voice they have missed by speaking to them through the app.
Types of people that can benefit from the Furbo:
People who work long hours
New puppy owners
People with mischievous dogs
Dog lovers who don't like spending a minute away from their pups
People who travel for work
Pros of the Furbo
Keep an eye out. There is no need to worry when you have a live feed of your dog's activity at your fingertips. You can go to work stress-free knowing that you can check on your dog anytime you're away. Most of the time they'll probably be sleeping anyway!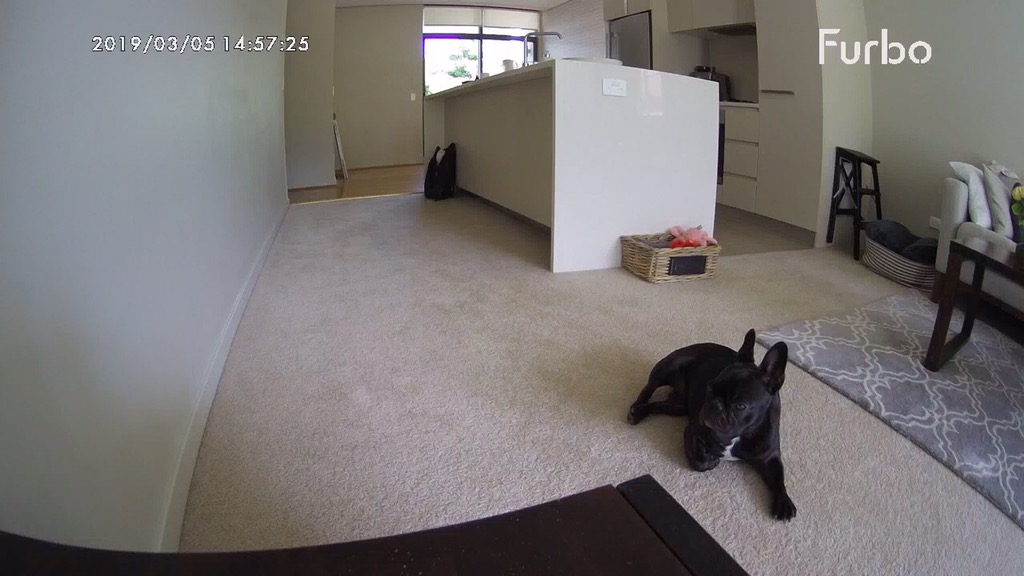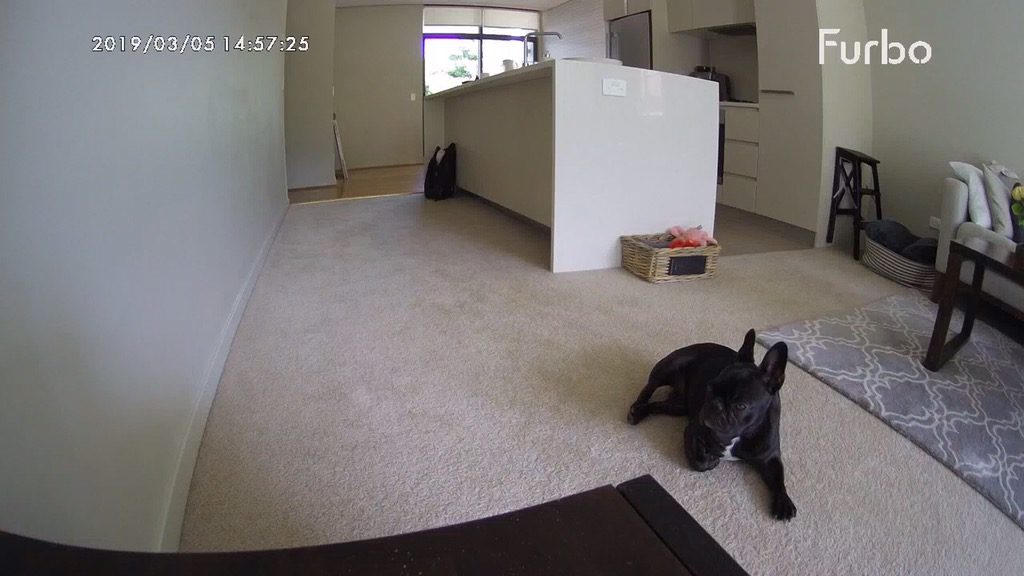 Praise your dog with a treat. The treat tosser is a great way to praise your dog when he or she is laying down or playing with a toy. Brighten up your dog's day while you're away with a couple of treats to let them know you're thinking about them. Although, Frankie won't leave Furbo alone once she gets a taste for the treats! It's her new best friend: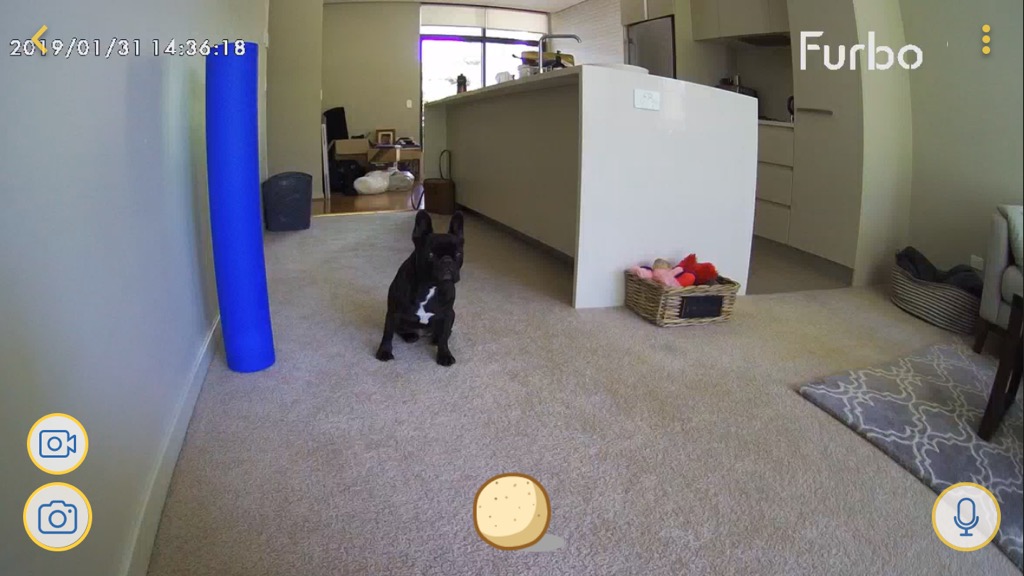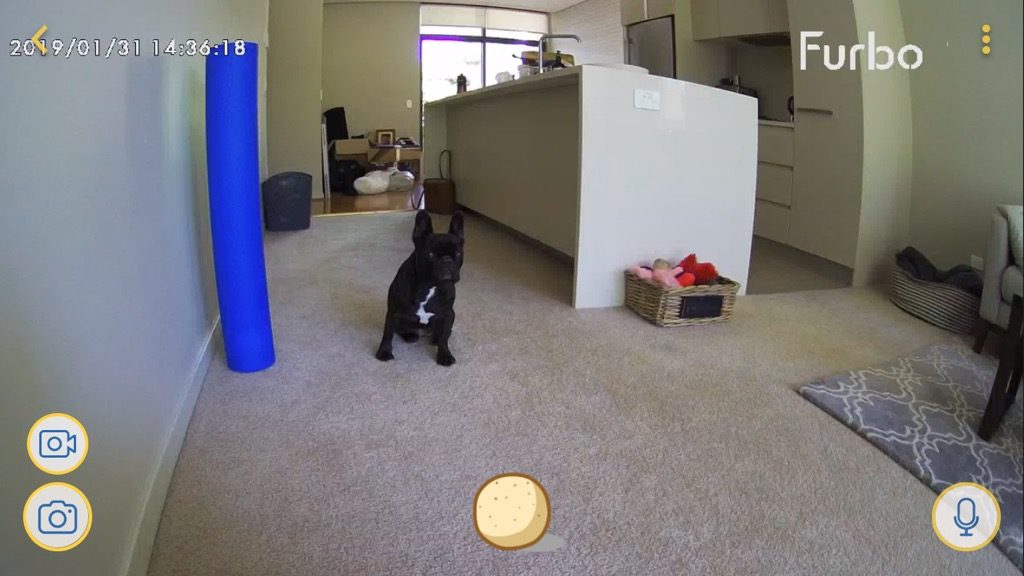 Soothe them with your voice. The two-way microphone makes calming your dog down the easiest it's ever been while you're away. There is no need to rush home to check on them when you can communicate through the app. Even if they are in a different room in the house, your voice will get their attention!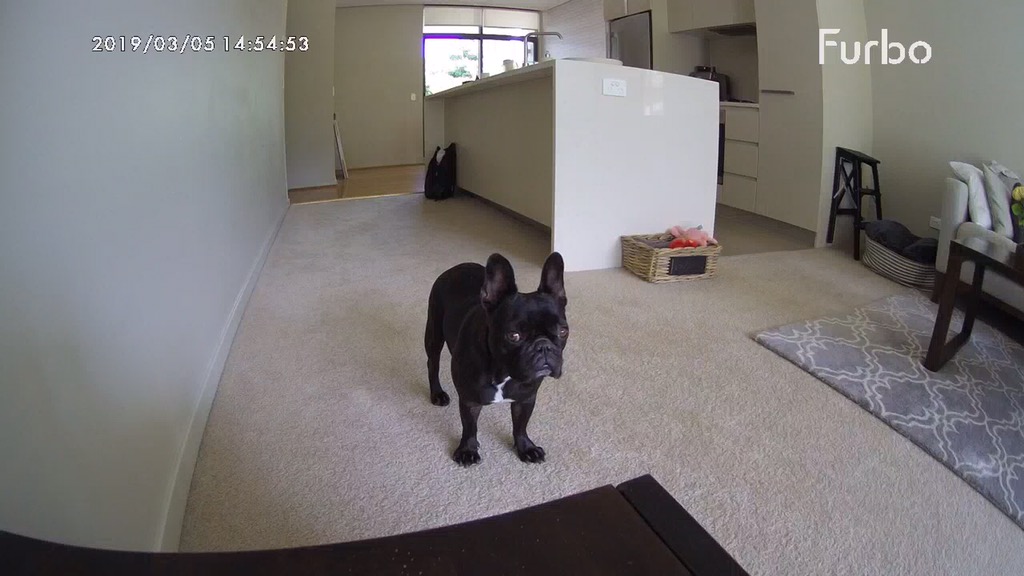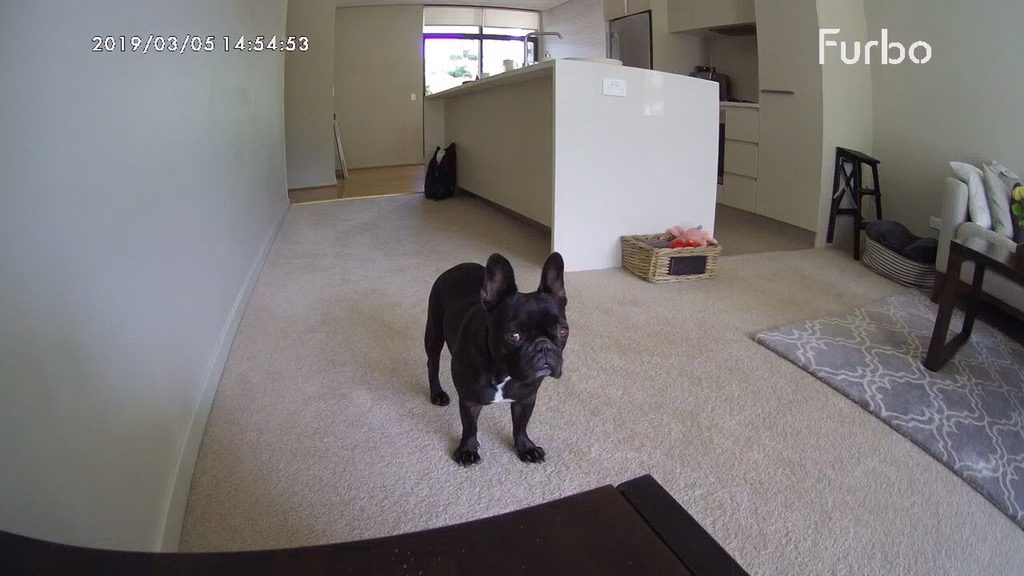 Take dog selfies. Bored at work or on a break? Open up your Furbo app and take some dog selfies. Use the microphone to tell your dog to do your favorite tricks and capture all the cutest moments. After the photo shoot, toss them a treat!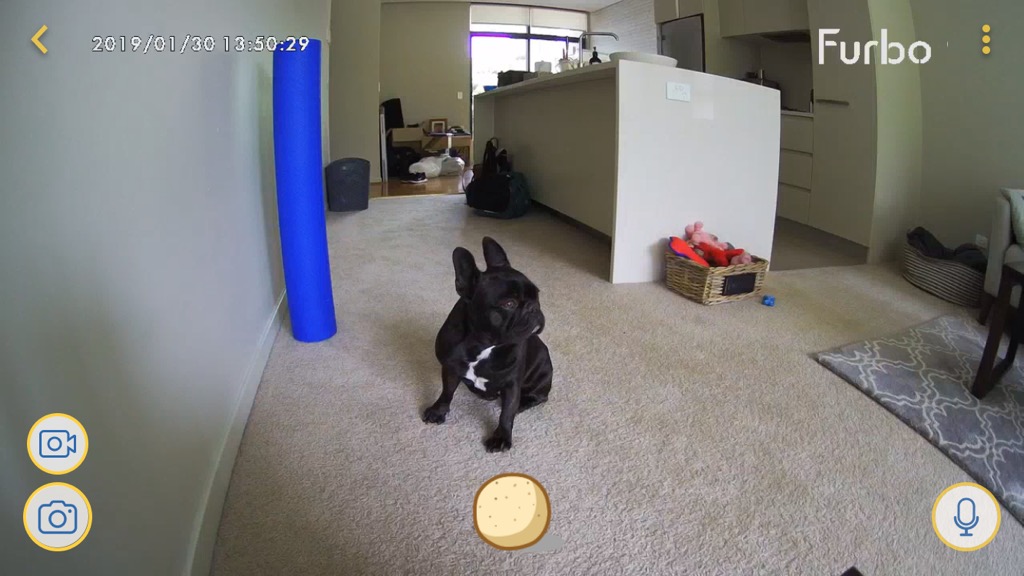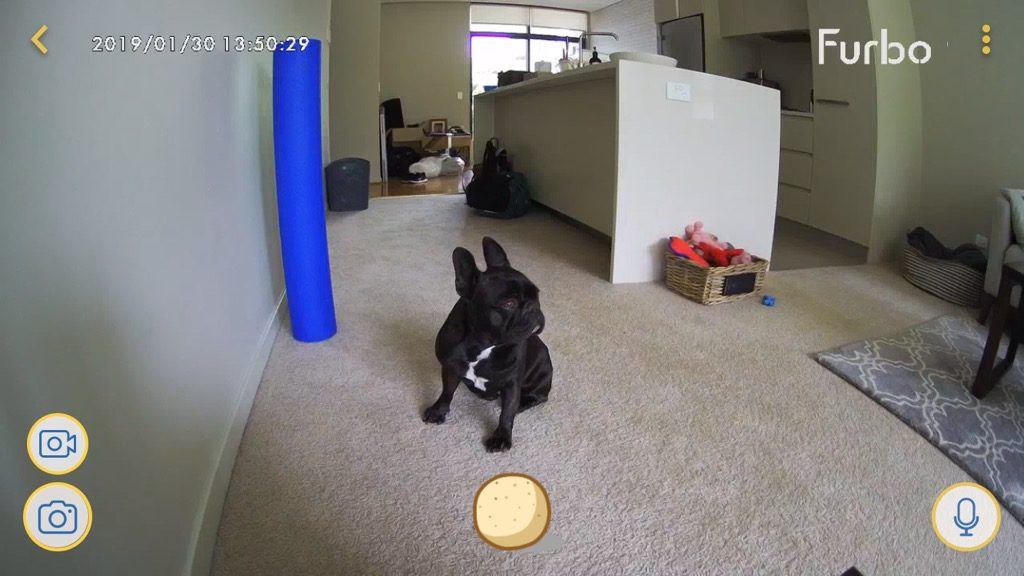 Night vision camera. If you work late nights or graveyard shifts, no need to worry. The Furbo has a night vision camera so you can still be aware of what your furry friend is up to.
Bark censor. Never have your neighbors complain about barking again. With the bark censor, the app will notify you after it picks up a bark from your pup. Hop on the app and soothe your dog by talking to them.
Cons of the Furbo
Range and restrictions. If you have a big house it may be difficult to see where your dog is at all times. Confining your dog to a certain space while you're gone could easily solve this problem, but you may not want to do that.
Price. While Furbo is a great investment, it's not cheap. Depending on where you live you are looking at paying hundreds of dollars for this dog camera, but we think it's worth it!
More treats than they need. Being able to serve your dog treats at your fingertips can be fun and exciting for both you and your pet. But this may result in your dog eating more treats than it really needs each day
Too involved. You could become too involved with the app. You may get caught up checking in on your pet more than is needed because you are constantly curious about their well being. This can result in wasted time or time away from work, not to mention a growing reliance on the interaction on your dog's part. They need to be independent!
All-in-all, we believe the Furbo is a great product that makes being a dog owner who needs to be away from home less concerning. There have been very few complications with the Furbo which is reflected in over 2,000 positive reviews on Amazon!
Where can you buy the Furbo?
You can purchase the Furbo on Amazon here.
Wrap
The Furbo is truly a one of a kind product. You will never have to go another day wondering what is going on at home, or why your neighbor is complaining about your dog barking again. With the easy to access app and all the features, you and your dog will both be happy while you're away at work or running errands.
Will is the proud co-owner of Frankie, a Female Brindle French Bulldog, with his wife Michelle. We share our Frenchie experiences with the world to help health-conscious French Bulldog owners who want a happy, healthy, and long-living dog.