Maybe it's the big ears and the even bigger chests. Maybe it's the slobbery kisses or the 3 AM attacks on your toes. Whatever your reasons for loving Frenchies, here are just a few amazing French Bulldog items to decorate your home, office, and more!
1. Hope You Like Frenchies Doormat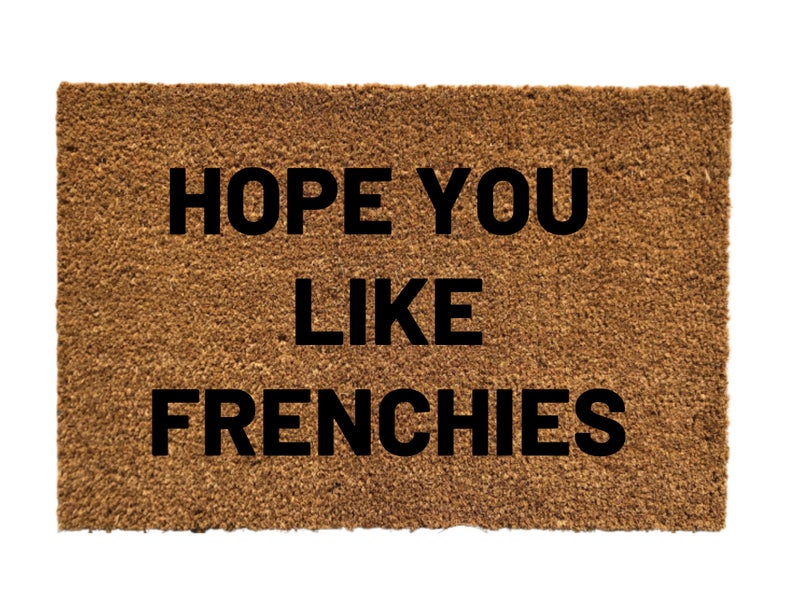 Let your guests know exactly what they're in for with this funny and oh-so-relatable doormat. It says "Hope You Like Frenchies," and it's available in multiple sizes that range from 16 x 24 – 24 x 36 inches. The material is a blend of coir and polyethylene with a rubber backing to prevent slips and slides. As a bonus, each doormat is hand-painted with love!
---
---
2. Black Hard Enamel French Bulldog Pin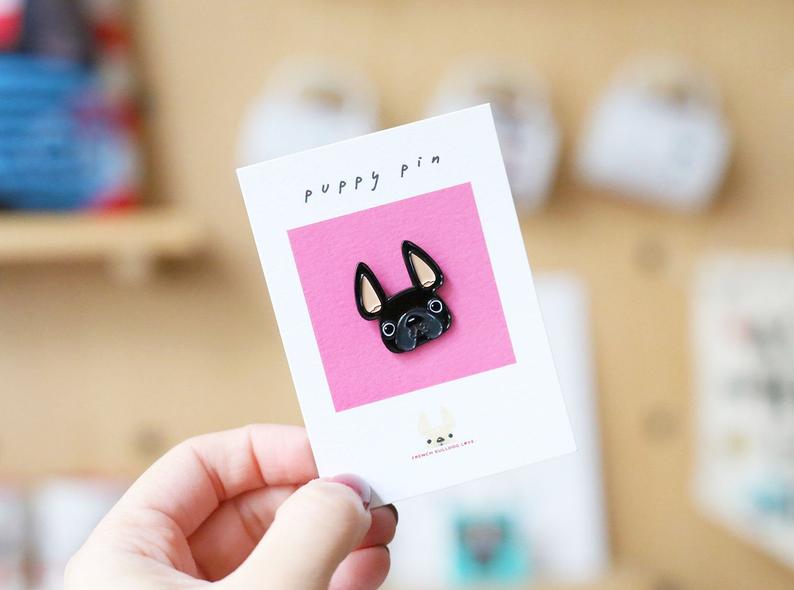 French Bulldog pins come in all shapes and sizes, but this one is uniquely positioned at the intersection of "cute" and "classy." It's made with a lustrous hard enamel that gives it a look of high quality, but the expression on the Frenchie's face is pure kawaii. Stick it on a harness; let it accentuate a hat or handbag; use it as a symbol of dog ownership around the office. There are lots of ways to bling out with a pin like this one.
---
---
3. The Book of Frenchies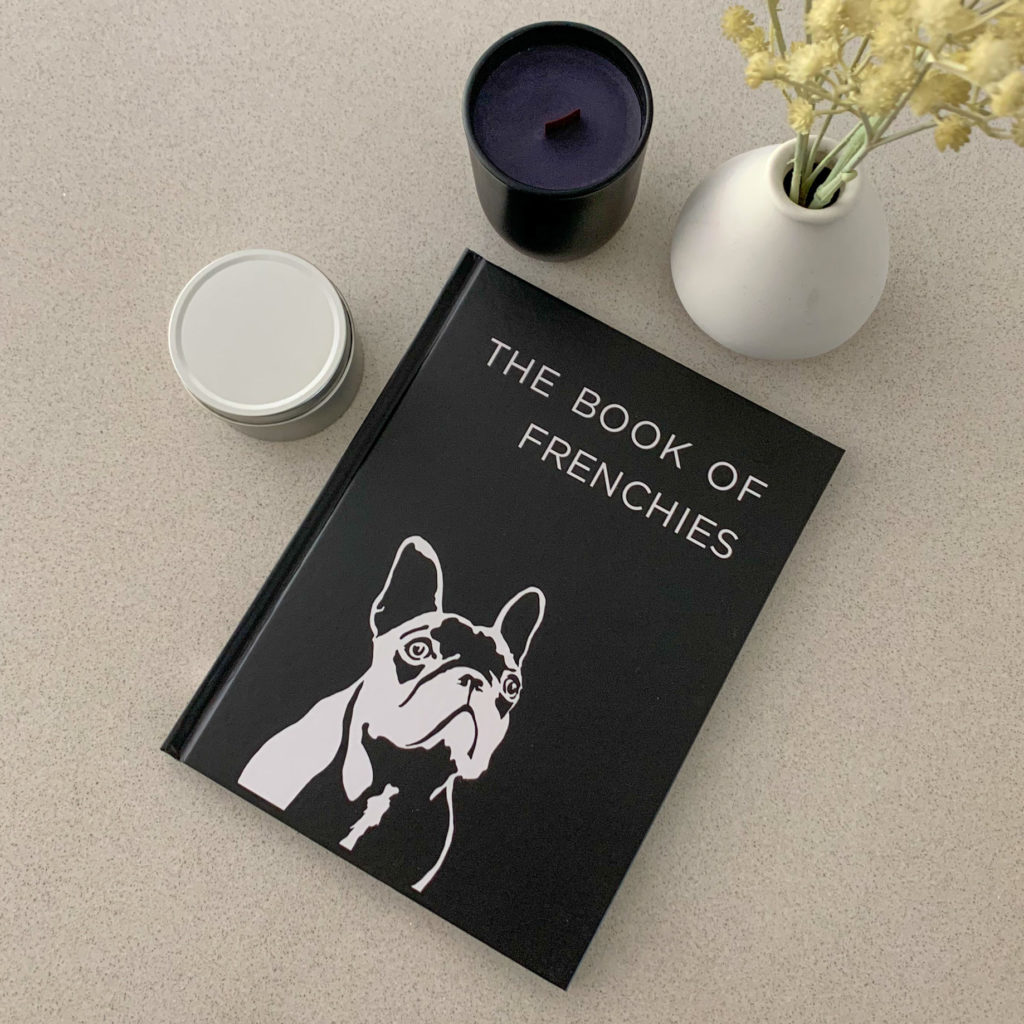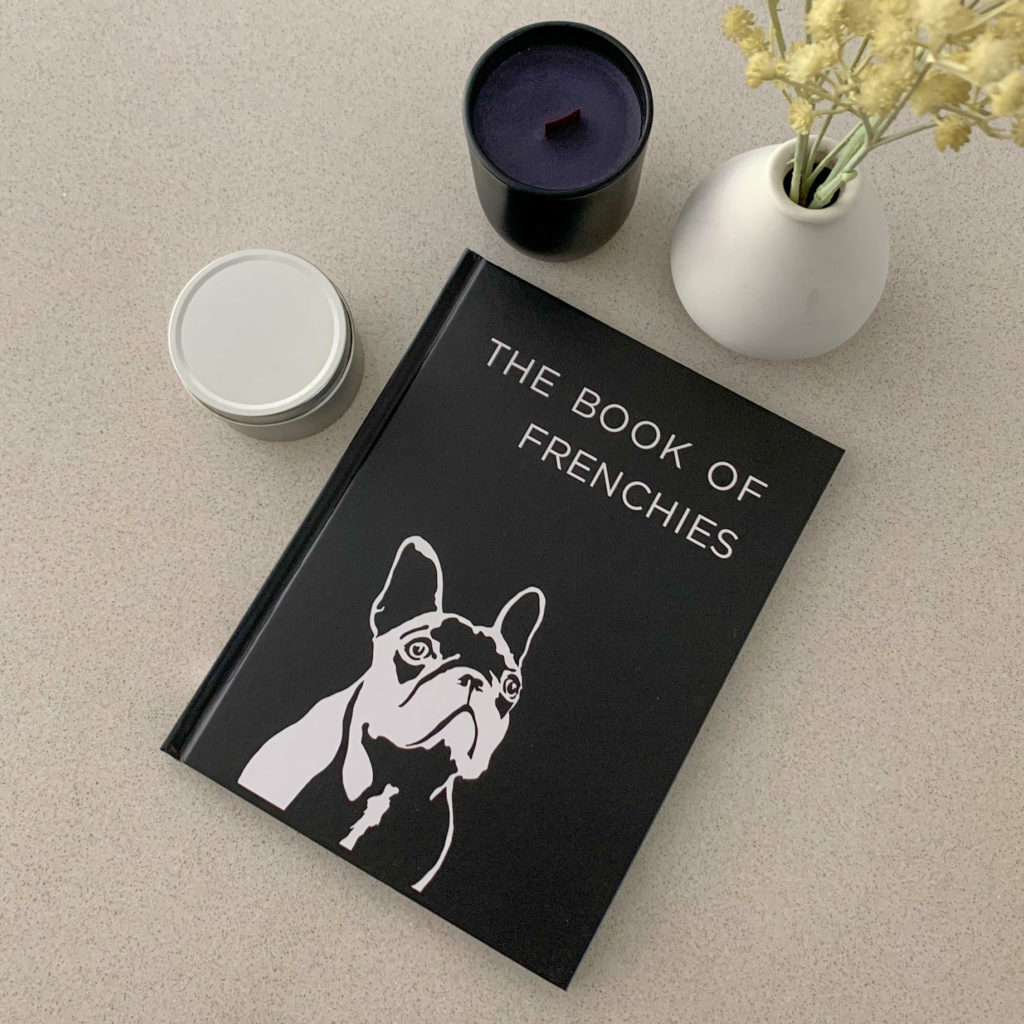 Coffee table books can bring a real sense of sophistication to your home decor, and with its black matte hardcover and minimalist print, The Book of Frenchies definitely applies. It's even better when you flip it open and reveal more than 100 pages of full-color photos! The Book of Frenchies is sure to become a talking point among your guests as well as a stylish and chic home accessory.
---
---
4. French Bulldog "Growing Up" Printable Wall Art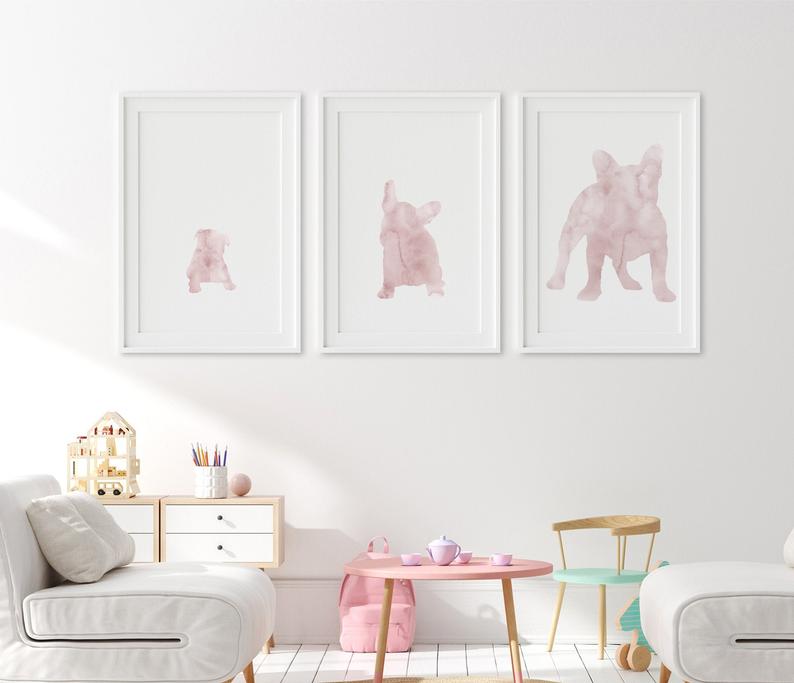 There's something special about watching a small, pint-sized Frenchie grow into a big old cuddle bug. This artwork manages to capture the transformation through a panel series of three different stages of a French Bulldog's life. Since they're digital files, you can download them, resize them, change their colors and basically customize them as you see fit. When you're done, print them and put them in frames so that everyone else in your home can enjoy them as well!
---
---
5. Pardon My Frenchie Coffee Mug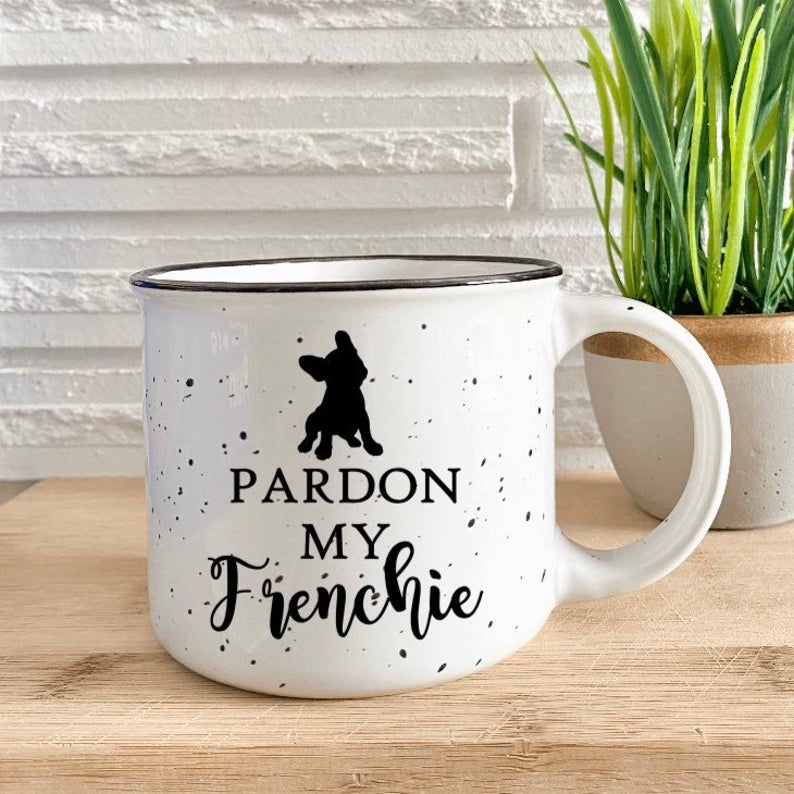 If you're in the market for French Bulldog gifts, you can't go wrong with a "Pardon My Frenchie" mug. Not only will it be a cute, kitschy item to help with caffeine in the morning, but it can also be repurposed as a pen holder or candy dispenser at any time. You could even gift it with some extra goodies stashed inside. The possibilities are endless!
---
---
6. French Bulldog Multicolored Decal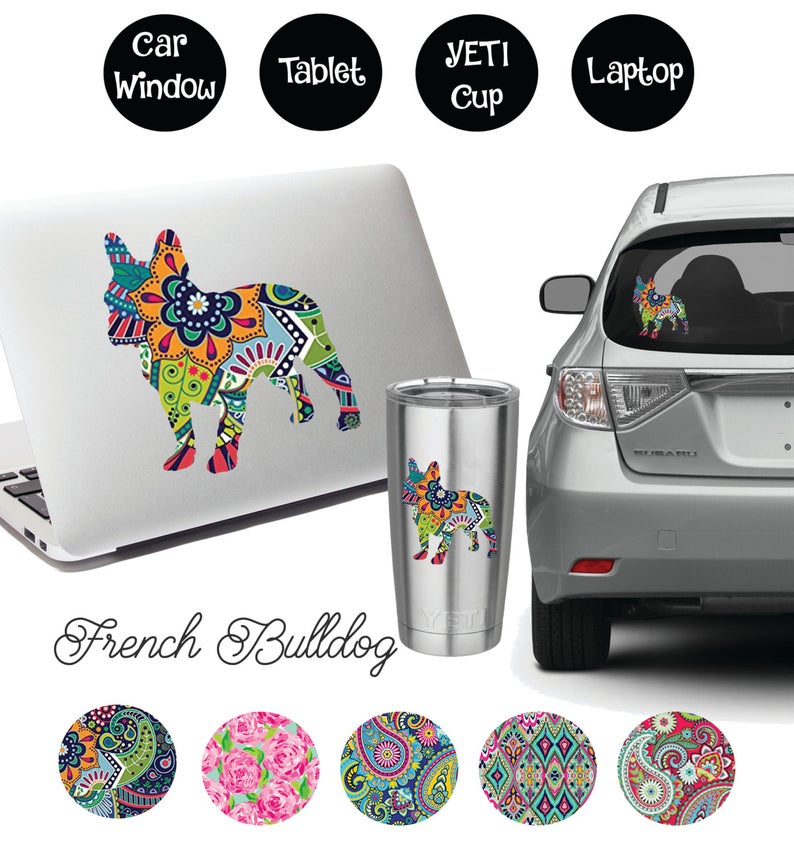 Available in dozens of psychedelic colors, this vinyl decal is sure to be an attention grabber. It's shaped like a French Bulldog, and you can order it in sizes ranging from 2 – 10 inches. You can also customize it with your pup's name for extra pizzazz. Stick it to cars, walls, windows, lockers, laptops, water bottles, and more.
---
---
7. French Bulldog Pajama Set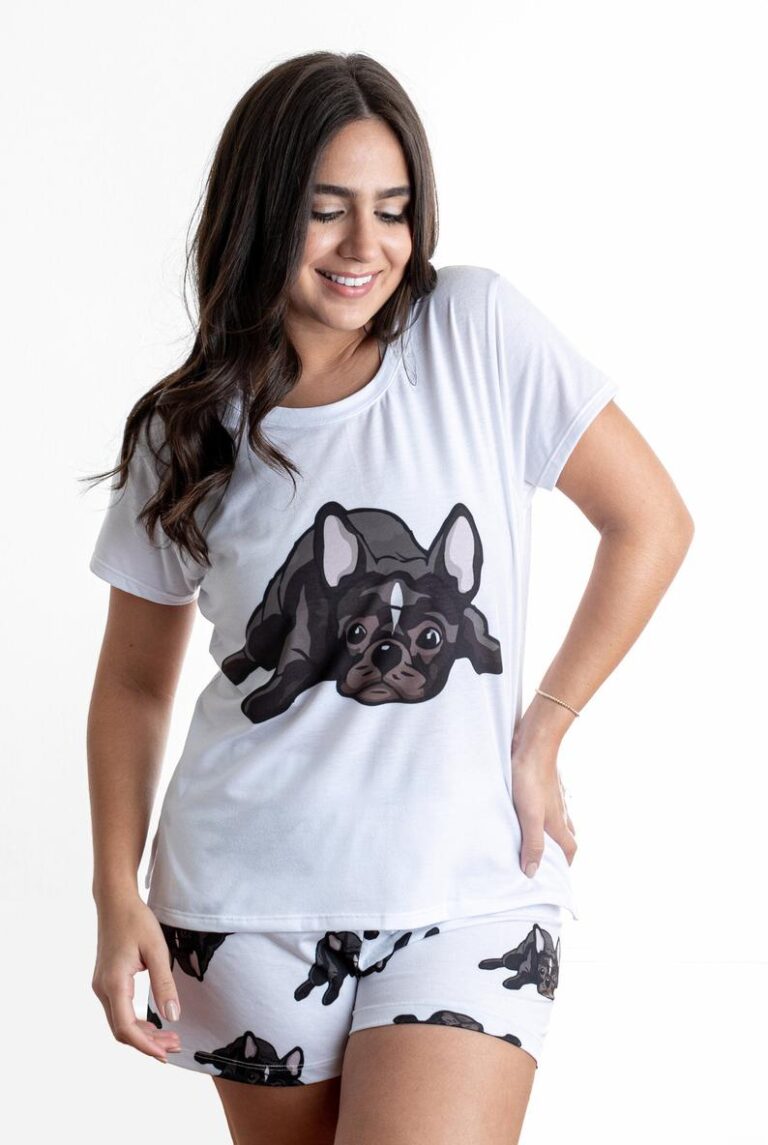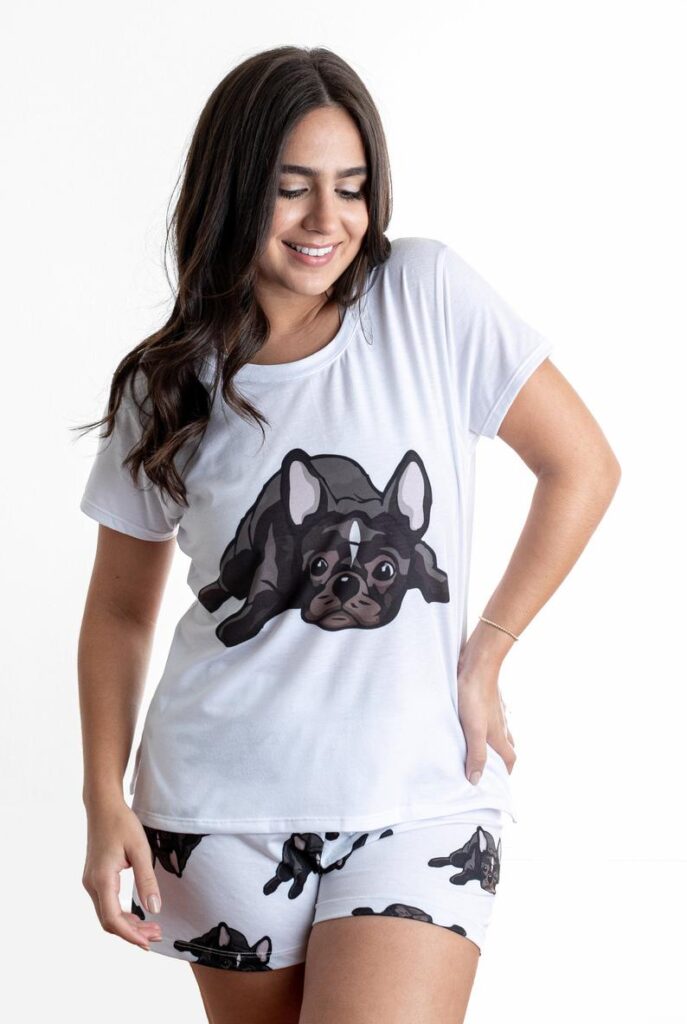 Do you dream of Frenchies? If so, this pajama set will send you into a sleepy landscape filled with soft paws, wet noses, and full-body wiggles. The t-shirt has an adorable pup front and center, and the shorts are printed with an all-over pattern of the same design. Everything is made with the softest of breathable, lightweight fabrics. Ring in the summertime with this set of super-cute Frenchie PJs!
---
---
8. French Bulldog Planner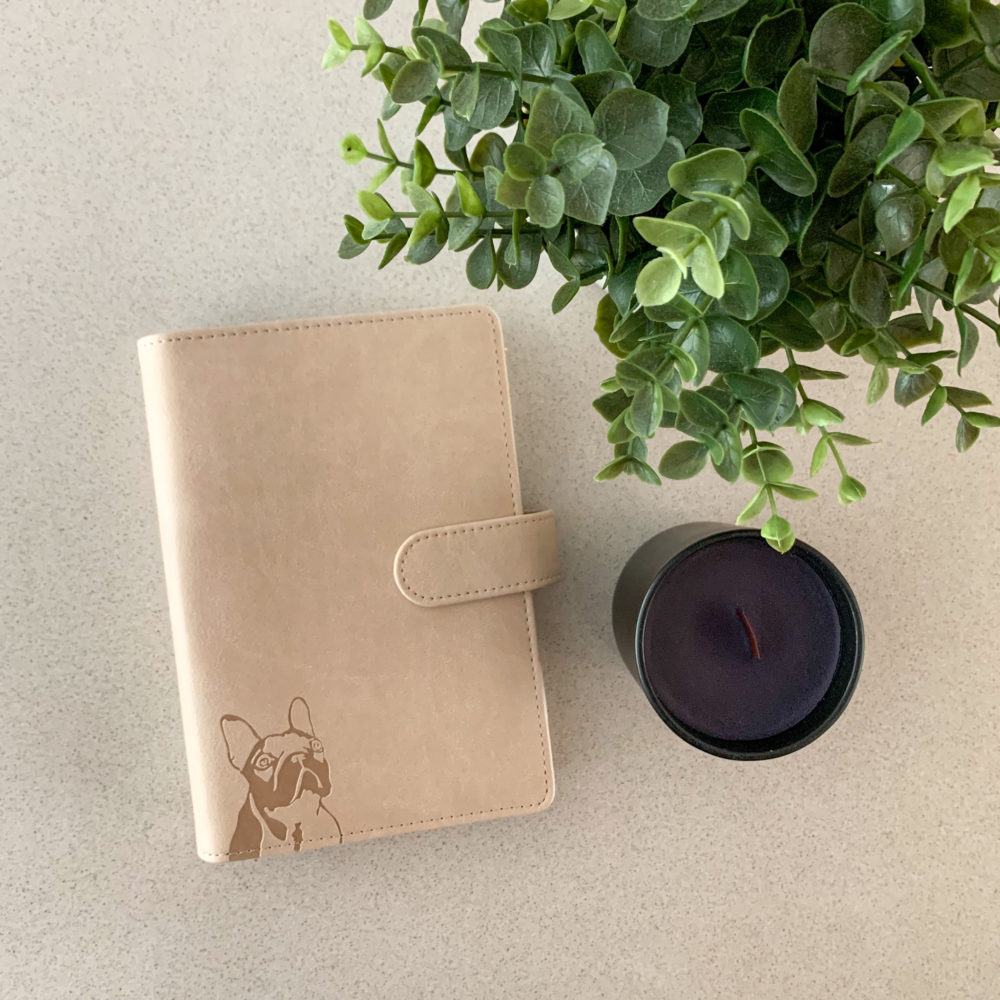 Available in both black and beige, this planner will become your go-to accessory for all of life's appointments, reminders, grocery lists and day-to-day scribbles. It has a sleek, faux-leather cover and a foldover design not unlike a clutch. Inside, you'll find a three ring binder to hold all of your loose-leaf materials as well as pockets, card slots and divider tabs for additional organization. There's even a pen loop so that you'll never be without a writing utensil on the go!
---
---
9. French Bulldog Rolling Pin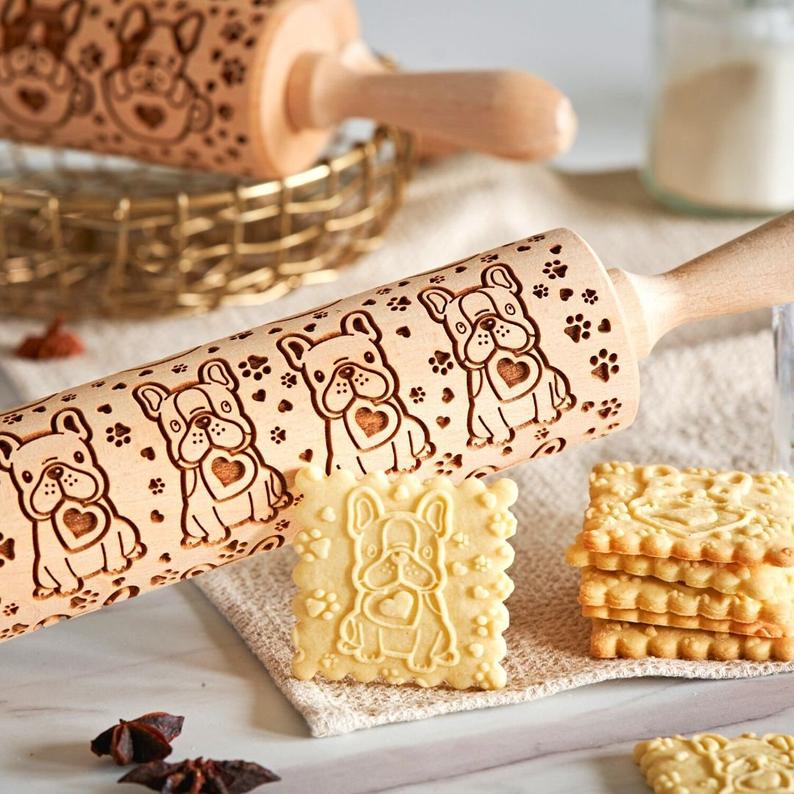 Perfect for the baker in your life, this rolling pin is embossed with different types of Frenchies who are holding heart-shaped sweets and surrounded by further hearts and paw prints. It's an adorable print, and it'll look great as both a whole pattern and an individual decoration for cookies, cupcakes, and other sweet treats. If you're lucky, this gift will also result in some delicious presents sent your way.
---
---
10. French Bulldog Leash Holder With Hook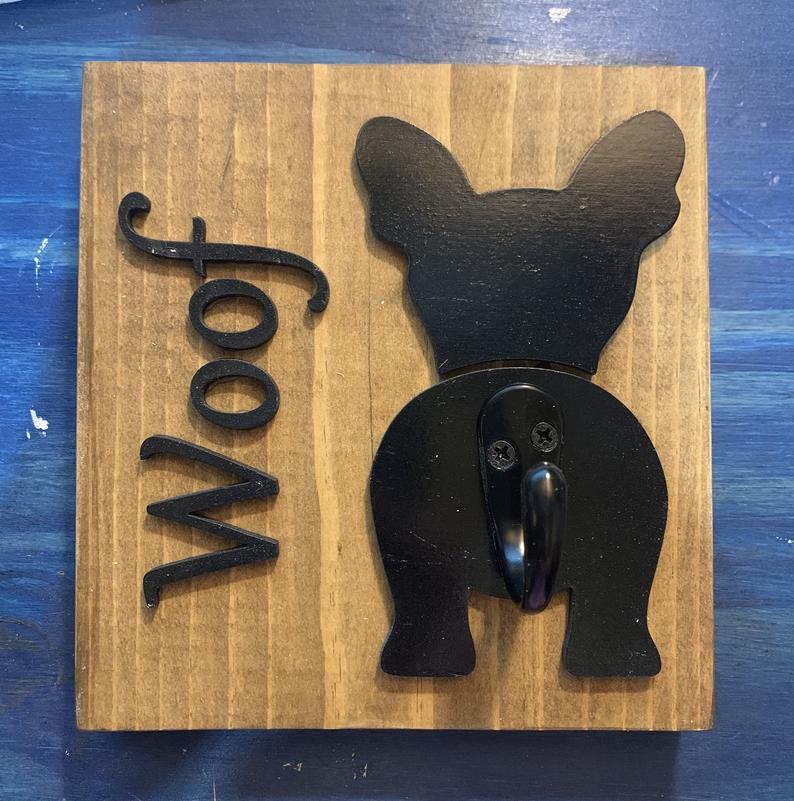 This "cheeky" item is sure to draw laughs. While it's a fully functional leash holder with a sawtooth hanger attached to the back, it's also shaped like a French Bulldog showing its backside, and its tail is the leash hook! For extra fun, you can choose the color of the wood finish and customize it with a name or a short, generic phrase like "woof." It's sure to be a hilarious addition to your foyer that draws a lot of admiration from guests.
---
---
11. French Bulldog A5 Notebook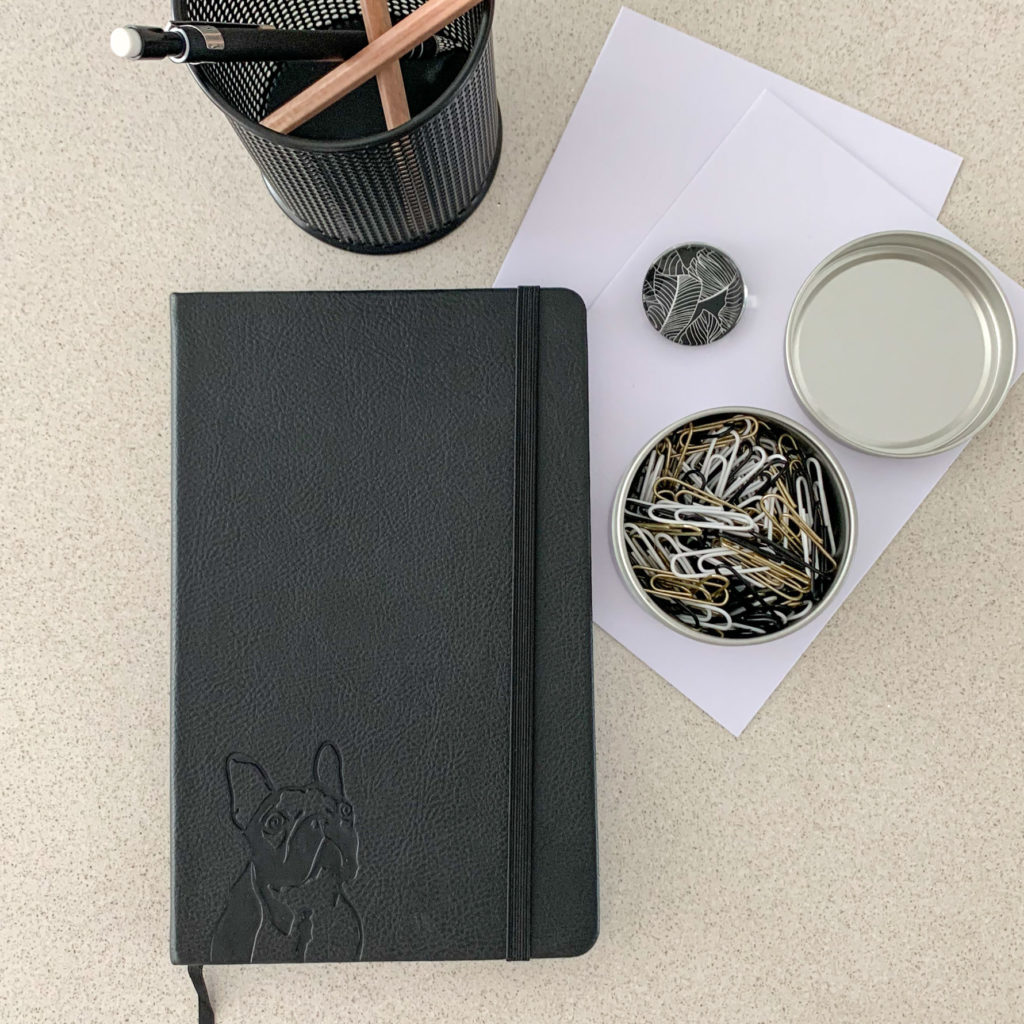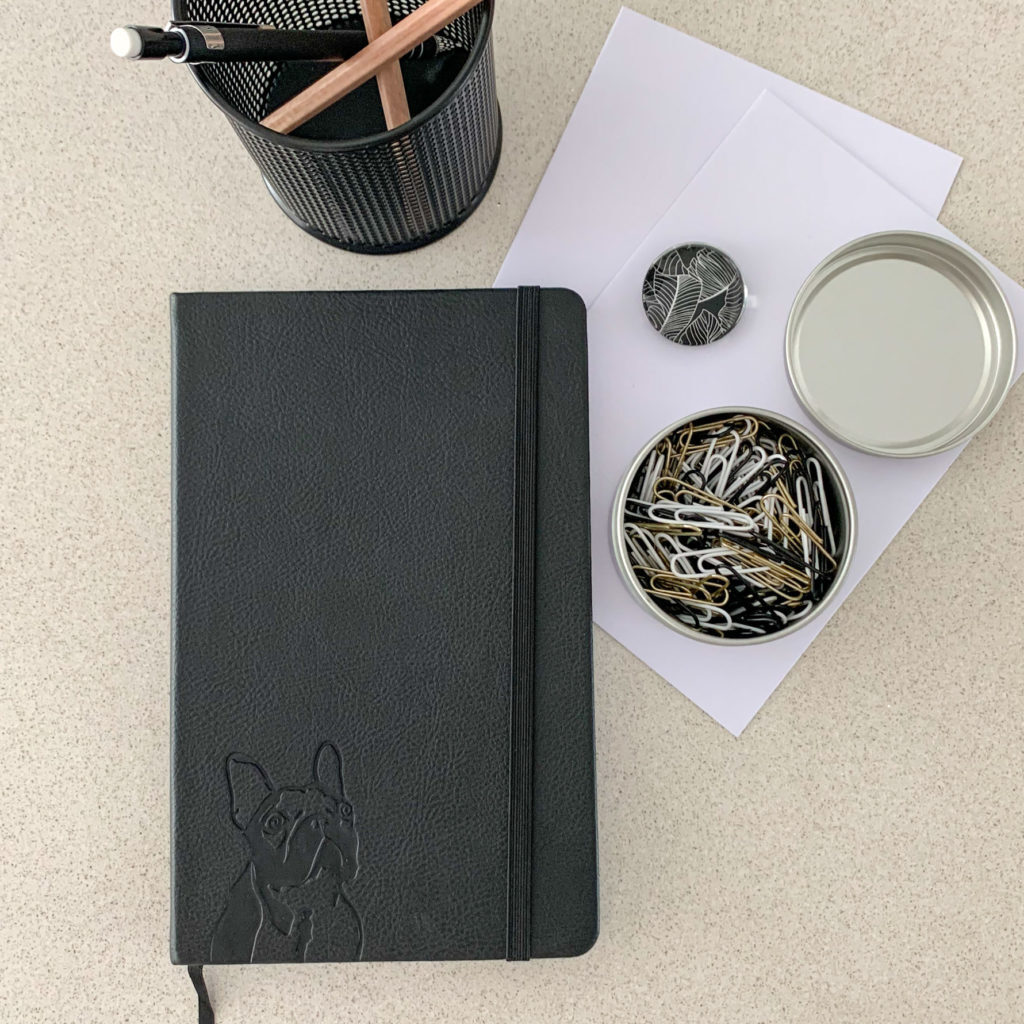 With a debossed Frenchie on its sleek black (or beige) cover, this notebook is stylish enough to take anywhere, including offices, boardrooms, and other places of work. It will showcase your personality as a dog lover while still serving its purpose as an organizational tool. Its lined pages will support all kinds of writing, planning, listing and brainstorming!
---
---
12. French Bulldog Straw Topper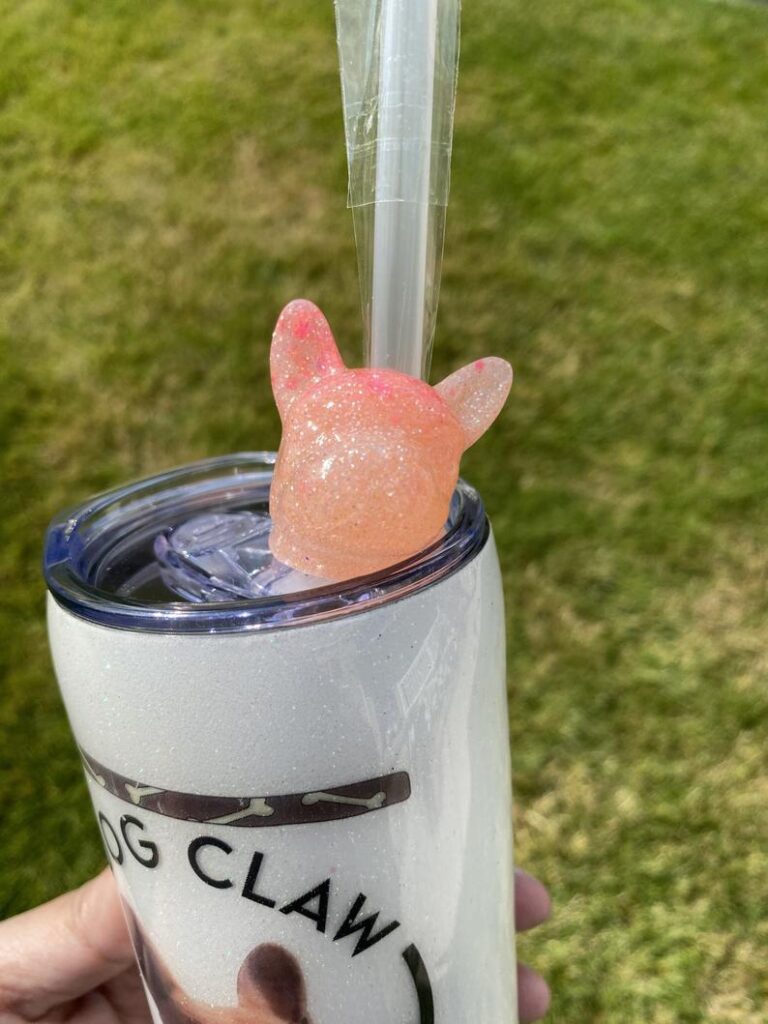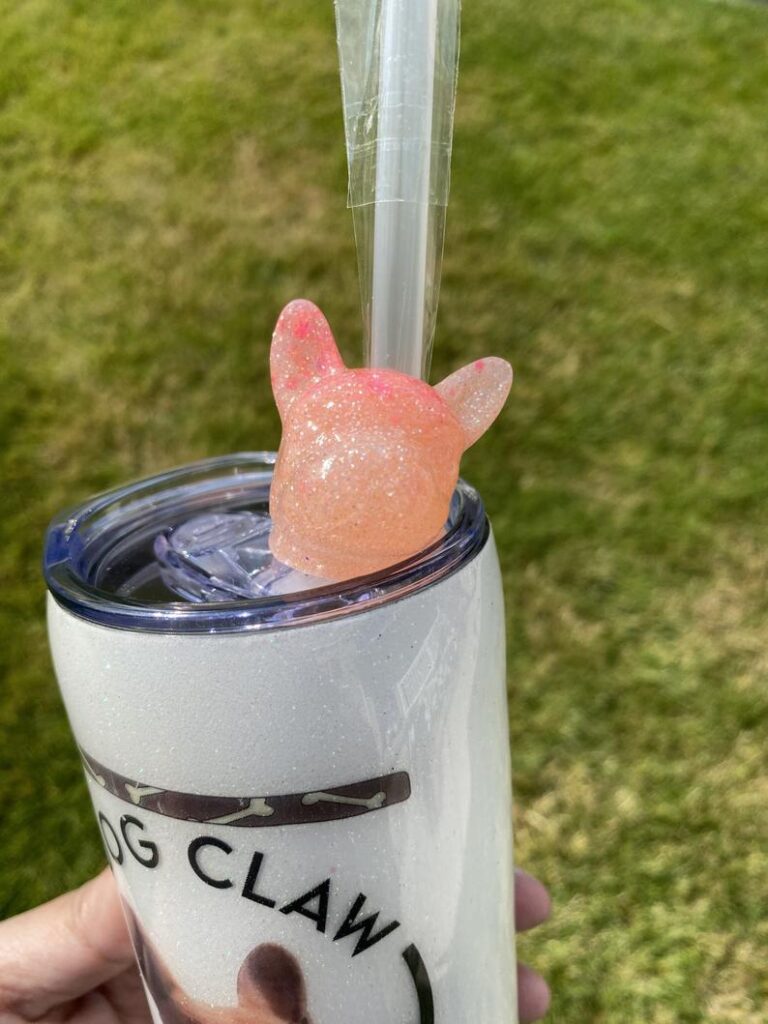 Last but not least, if you're on the lookout for fun and unique items to add to your collection of French Bulldog goodies, consider this straw topper. It's shaped like a 3D Frenchie head and is available in colors that range from plain white to glittery rainbow. It'll fit most standard-size tumbler straws, so it's just a matter of matching the topper shade to your favorite thermos!
---
---
These are just a few French Bulldog items to bring some cheer into your life. Whether you're looking for sleek office accessories or campy kitsch items for your apartment, let these ideas inspire you on your journey to a full-blown French Bulldog obsession!
Will is the proud co-owner of Frankie, a Female Brindle French Bulldog, with his wife Michelle. We share our Frenchie experiences with the world to help health-conscious French Bulldog owners who want a happy, healthy, and long-living dog.