Affectionate. Bright. Playful. All associations attached to the French Bulldog, and maybe even, your own living space.
Nothing brings more life to your surroundings than this particular depiction of man's best friend. Preserved and bred since the mid-1800s, the French Bulldog, or Frenchie, has become a beloved and cherished companion around the world. They are most unique for their bat ears which set them apart from other breeds, along with their smart and fun attitude.
Here are 6 of our favorite French Bulldog Drawings to spice up your living space!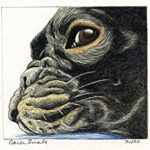 Did you know that Frenchies don't really bark all that much? It's true, they can sometimes be quiet observers which makes them excellent guard dogs. This original drawing captures that energy perfectly and can be the best wall art to hang if you want your living space to evoke an emotional response. And after all, it's cute. Who wouldn't want this little black Frenchie watching over the house while you're away?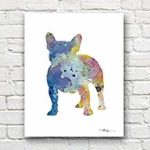 Amongst their other traits, Frenchies can be easygoing, alert, sociable and very bright. They definitely have more to them than meets the eye and might even appear to have their own little colorful personalities. If you're the type of person who thinks colors are fun, then check out this wall art by DJ Rogers as it's abstract and has no defining lines other than the colors that are represented. But don't forget about those unique bat ears! A sure sign that this is some quality conceptual artwork of our favorite little dog breed.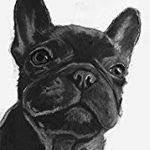 Let's not forget the Frenchie's most adorable trait: it's adorableness! No matter what your opinion on the breed is, this drawing of a black Frenchie by Oscar Jetson is a pretty good safe yet bold choice. The subject (the cute Frenchie) in the drawing is very distinct and contrasts perfectly against the white background. There is nothing to distract you from what you are seeing so it makes the perfect wall art in a room where you might be lacking decor or signature furniture pieces.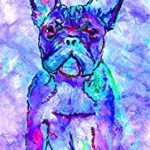 Another one by Oscar Jetson, this kneeling French Bulldog is cast in a beautiful array of turquoises, magentas, and aquamarines that will definitely tickle your optic senses. The colors make for a very vibrant viewing experience (try saying that five times fast) and bring a bit of light and buoyancy to the atmosphere where needed.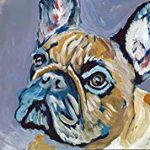 Do you remember the unique identifier that sets Frenchies apart from their bulldog counterparts (other than their size)? It is their large bat-ears, as well as their half-domed faces. This wall art shows the features of a French Bulldog in a very well proportioned and respectful way that can spice up just about any home with a touch of "Hmm… interesting."
Wrap
Remember that the Frenchie is a worldwide trend so you can't go wrong either way as it is versatile decor and can be used to express a multitude of emotions and aesthetics. Therefore, there is no other symbol greater than the loved-throughout-history French Bulldog to bring that familiar sense of nostalgia and style to your living space.
Will is the proud co-owner of Frankie, a Female Brindle French Bulldog, with his wife Michelle. We share our Frenchie experiences with the world to help health-conscious French Bulldog owners who want a happy, healthy, and long-living dog.