French Bulldogs are a short-haired and small dog breed.
According to the American Veterinary Association, this puts them at a higher risk of getting cold faster than long-haired and/or bigger breeds. This is because they carry less body fat and lack a thick undercoat to keep them warm.
Another reason French Bulldogs are more susceptible to the cold lies in their brachycephalic noses or short snouts. Their short nasal passages are not quite long enough to warm up the cold air they breathe in, meaning they will get very cold, very fast when left to breathe in a bunch of cold air.
We recommend putting a coat or sweater on your Frenchie during the cold months to protect them from the elements. Which is why we've put together this list of 6 French Bulldog coats to help your pup stay warm as the colder weather approaches.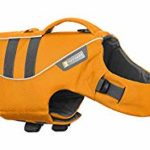 This life float jacket for the water is great for the adventuring Frenchie. It has abrasion resistant webbing and foam panels for comfortability while your pup swims.
It features a telescoping neck closure for size adjustability, a sturdy handle for you to grab onto, secure sheltered side buckles, and a reflective trim lining for safety in the dark.
You can also buy Ruffwear's beacon light for added visibility during nighttime explorations with your fur baby. Even though Frenchies are not adapted to swimming, due to their squatty bodies and bigger heads, this float jacket will work great for them when playing in shallow waters.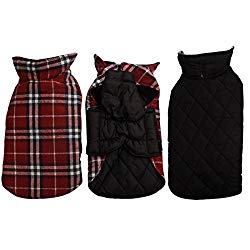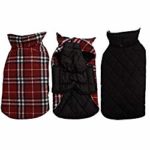 Made by JoyDaog, this coat for dogs is designed for cold weather. It is waterproof and wind resistant on the outside, with a warm polyester/terylene/cotton fiber material on the inside.
The reversible plaid design doesn't skimp on style and it is also very lightweight. There are adjustable straps on both the neck area and the chest for comfortable adjustment.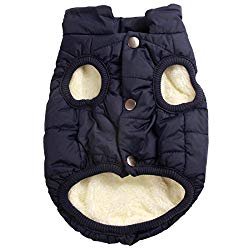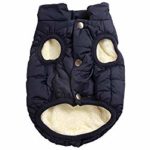 Another cold weather doggie jacket by JayDaog, this one is windproof and ultra warm, with two layers of fleece lining and a polyester fabric. It allows for a simple take-on and take-off with its strong stitching and easy metal snap buttons. There are elastic edges on the foot and waist areas for stretch and comfort, as well as a leash access hole on the neck.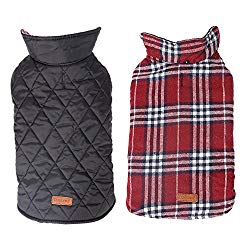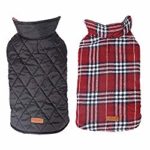 This cold weather dog jacket by the Yaheeda company is made with a water-resistant outer layer, a warm polyester fiber, cotton/terylene inner layer, and a fleece lining. It is lightweight and windproof, has very durable stitching, and a velcro closure strap for simplicity.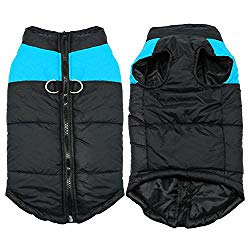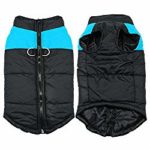 Designed with autumn and winter in mind, this dog jacket is waterproof and windproof. It has a sleek blue and black design and contains 100% cotton material. Two leash holes are located on the upper back and an easy zipper extends down the front, on the chest and belly area.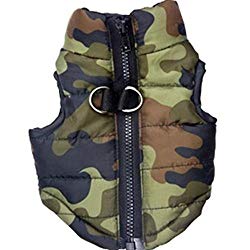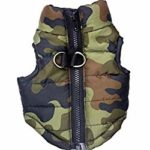 This one is actually both a camouflage jacket and a costume for your Frenchie to wear! It is made with environmentally friendly cotton material that is not only soft and breathable but also easy to clean. A sturdy zipper runs down the front of your pup's chest and belly, with leash holes making it great for walks.
Wrap
Some people might think dog clothes look silly, but they are an essential item for smaller breeds!
Our tiny short-haired Frenchies don't do well without some extra protection in colder conditions. They were bred to be companion dogs and don't need all that much exercise. However, when you do go outside in the cold with them, make sure you provide some extra layers!
Will is the proud co-owner of Frankie, a Female Brindle French Bulldog, with his wife Michelle. We share our Frenchie experiences with the world to help health-conscious French Bulldog owners who want a happy, healthy, and long-living dog.