Ready to Frenchie-up your Christmas this year?
We've got some good news for you. This holiday season, there is a huge range of French Bulldog Christmas decorations to choose from, and we've created a list of our 7 favorites!
If you want to decorate your tree with a miniature replica of your beloved Frenchie or spice up your fireplace with a French Bulldog themed stocking, you'll love these decorative options.
French Bulldog Ornaments
The French Bulldog Christmas decorations listed here are full of personality. You'll find at least one ornament to include on your tree this year. Four of our favorites are listed below.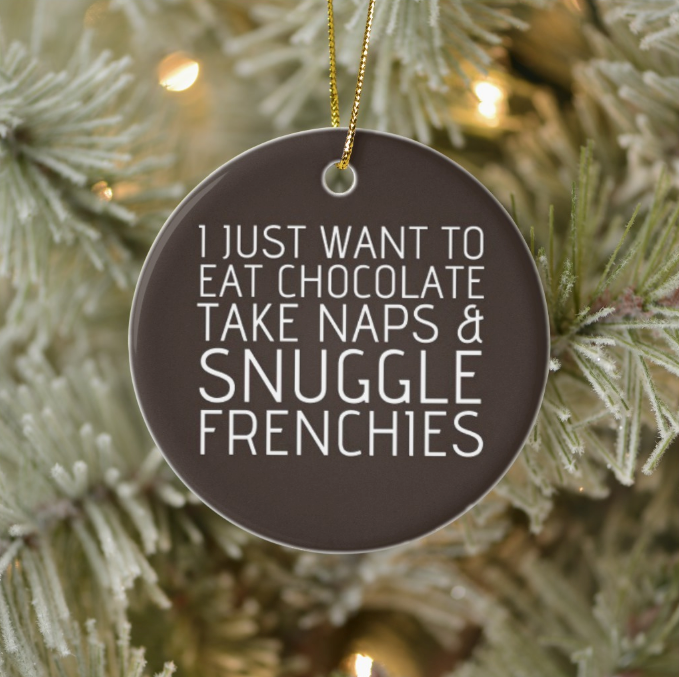 #TRUTH! Who can't relate to the message included on this ornament? It reads, "I Just Want to Eat Chocolate, Take Naps & Snuggle Frenchies." Brown in color with a simple circular design is all it takes to make this statement one that is heard loud and clear. This ornament is just too cute not to include on your tree this year.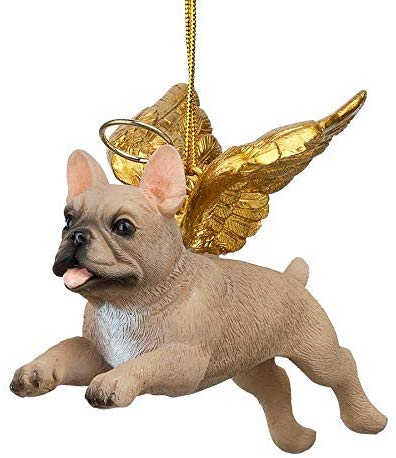 What could be more delightful than visualizing your perfect angel frolicking through the yard without a care in the world? With this crushed stone and resin ornament, it's easy to imagine your French Bulldog having the time of their life. It doesn't matter if your four-legged friend is Heaven-bound or Heaven-sent. You'll honor your Frenchie with a larger-than-life replica of them.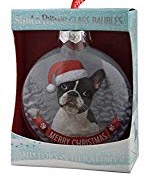 Glass ornaments are classic in design. They look beautiful on every type of tree, too! This French Bulldog ornament is full of personality. Bearing the image of a very happy Frenchie, it's easy to see why people want this bauble for their trees. It's cute, comforting, and perfect for the holidays. It even says, "Merry Christmas" across the front of it!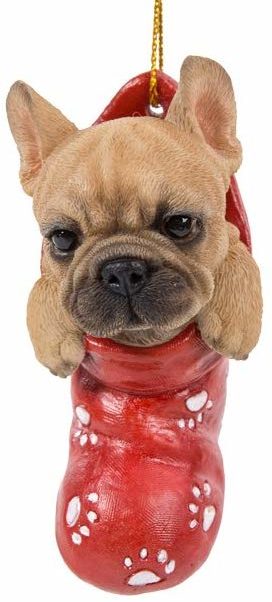 Pawsitively adorable, this French Bulldog in a holiday stocking is truly eye-catching. It's the type of ornament that puts a smile across people's faces and gets them into the Christmas spirit immediately. Made of the best quality composite designer resin and hand-painted carefully, it's the type of ornament you'll love hanging up for years.
French Bulldog Stockings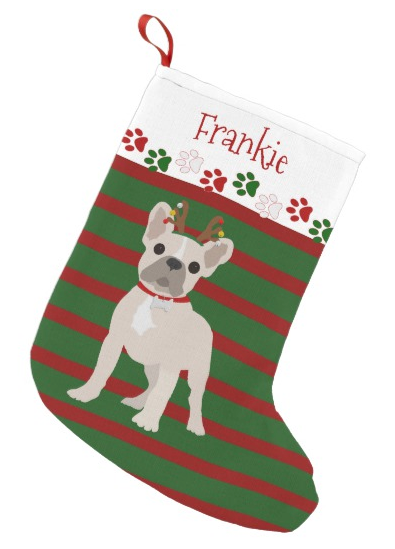 Nothing's more festive than a bulldog embellished stocking complete with paw prints, candy cane stripes, and a custom name across the top. It's a great way to provide small gifts such as jewelry and gift cards. The small stocking measures 9″ by 16″ and is 100 percent polyester.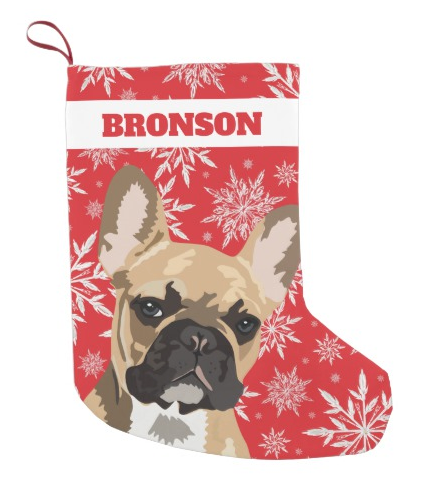 Highly illustrative, this depiction of a French bulldog is downright amazing. The portrait of the pet stands out against its snowflake-lined background. You can customize it with whatever name you want, too. Measuring 9″ by 16″, it's another excellent example of a creative way to display and present smaller gifts. Hang it on the fireplace until you're ready to give your gift to its recipient.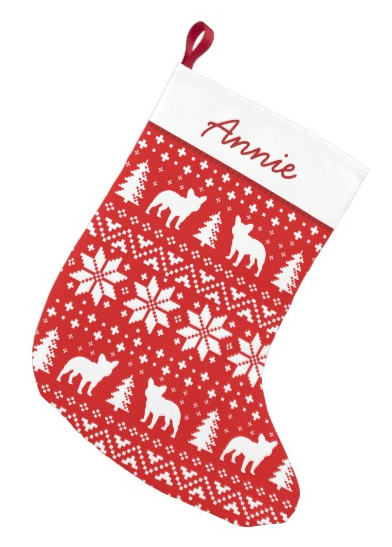 Featuring a Christmas sweater design in red and white with French Bulldog silhouettes, this decoration is one you'll love to have on hand for the holidays. You can personalize it with the name of your choice and it's small enough that you can hang it on the tree. It measures 9″ by 16″ and is also 100 percent polyester. This French Bulldog Christmas decoration is plenty big enough for a small treat for your pup or even a toy.
Wrapping up
You can't go wrong with this list of French Bulldog Christmas decorations. They're perfect for the holidays because they're easy to hang and display on a tree or mantle. When you look through the list of suggestions above, choose a few to add to your collection. You can never have too many Frenchies on your tree or hanging by the fireplace!


Will is the proud co-owner of Frankie, a Female Brindle French Bulldog, with his wife Michelle. We share our Frenchie experiences with the world to help health-conscious French Bulldog owners who want a happy, healthy, and long-living dog.