Whether she's a mom, sister, girlfriend, or second aunt's favorite cousin's colleague, you'll have plenty of options for French Bulldog gifts for her. There are millions out there suited to every occasion and every relationship. Let's talk about some of the best!
1. Golden Ceramic French Bulldog Piggy Bank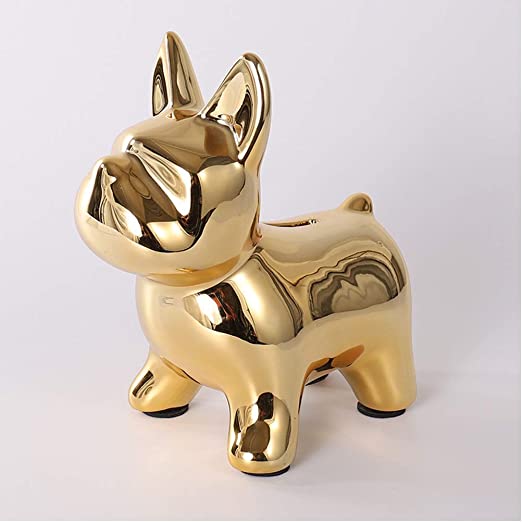 Made with shiny golden ceramic, this French Bulldog statue will add a touch of luxury to any living space. It isn't just ornamental, either; it's a piggy bank with a coin slot on the spine and a rubber stopper on the stomach. She'll be able to cultivate wealth in more ways than one when she has an elegant home accessory like this.
---
---
2. Fluffy Pompom French Bulldog Key Chains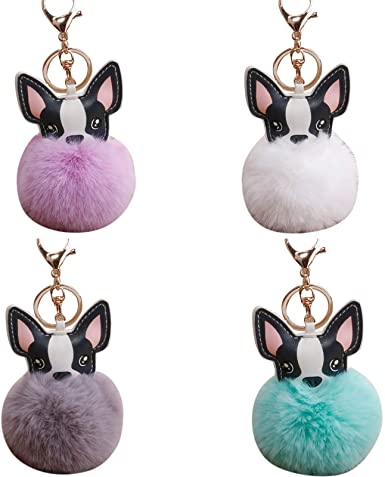 She'll never misplace her keys again! These fluffy pompom key chains are meant to be noticed. Each one has a black-and-white French Bulldog pendant attached to a colorful fuzzball, and they're all secured on a removable ring. Some of the pompoms are soft pastels; others are bold and vivid tones. They come in packs of four, so she can use them as everything from key chains and phone charms to bag straps or water bottle hangers.
---
---
3. French Bulldog Journal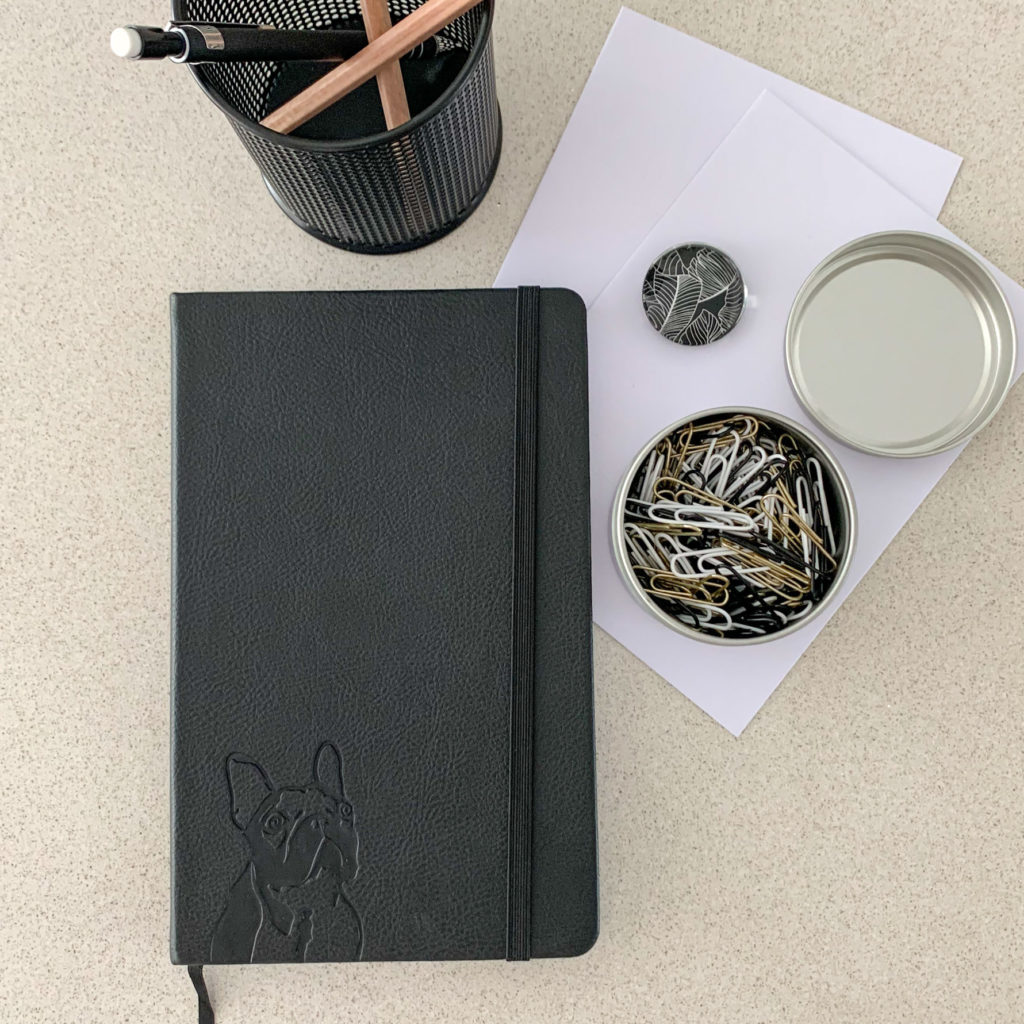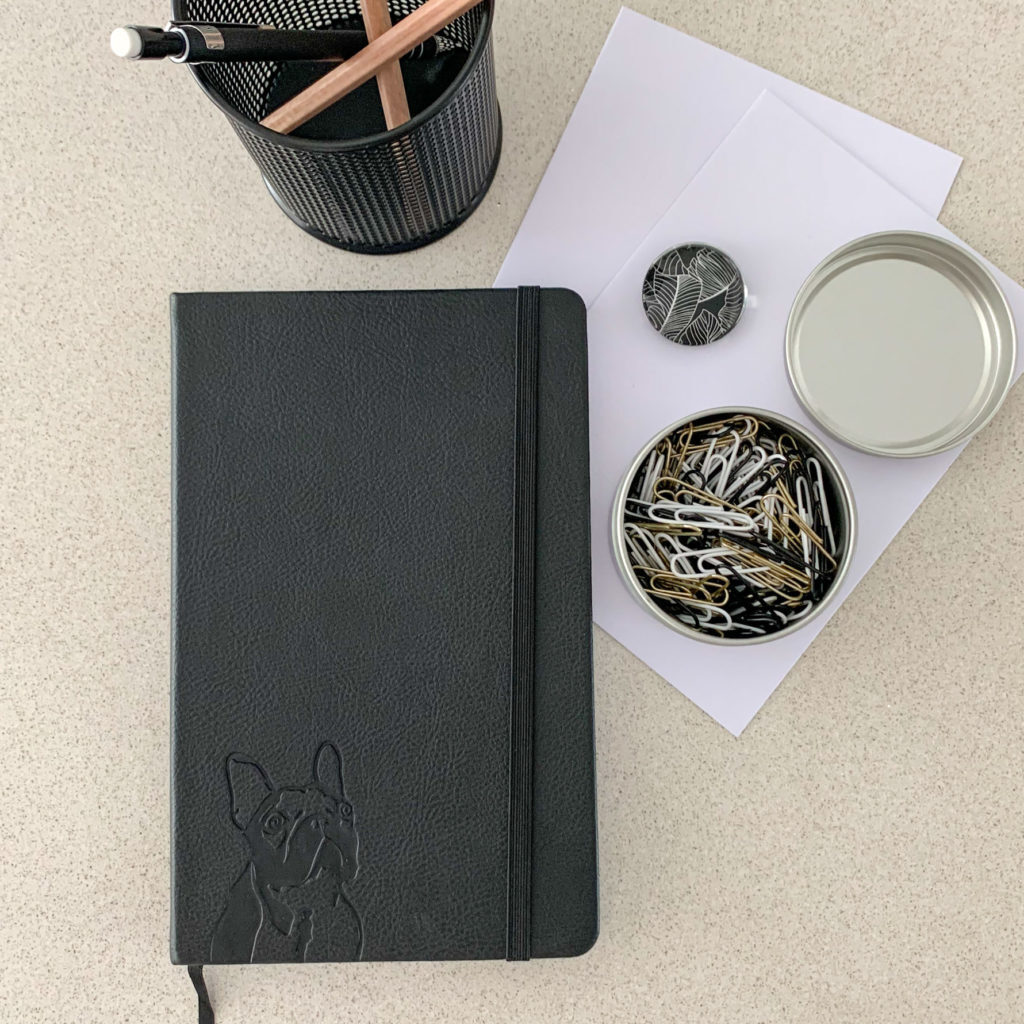 Available in both black and beige, this notebook will be a gorgeous addition to her stationery desk. It has a stylish matte faux-leather hardcover and an attached bookmark to keep her place as she writes, draws, doodles and dreams. An embossed Frenchie is on the front cover. Whether she's an office worker or just a listmaker and notetaker in real life, this notebook will get the job done.
---
---
4. Matching French Bulldog and Owner Peach Cardigan Set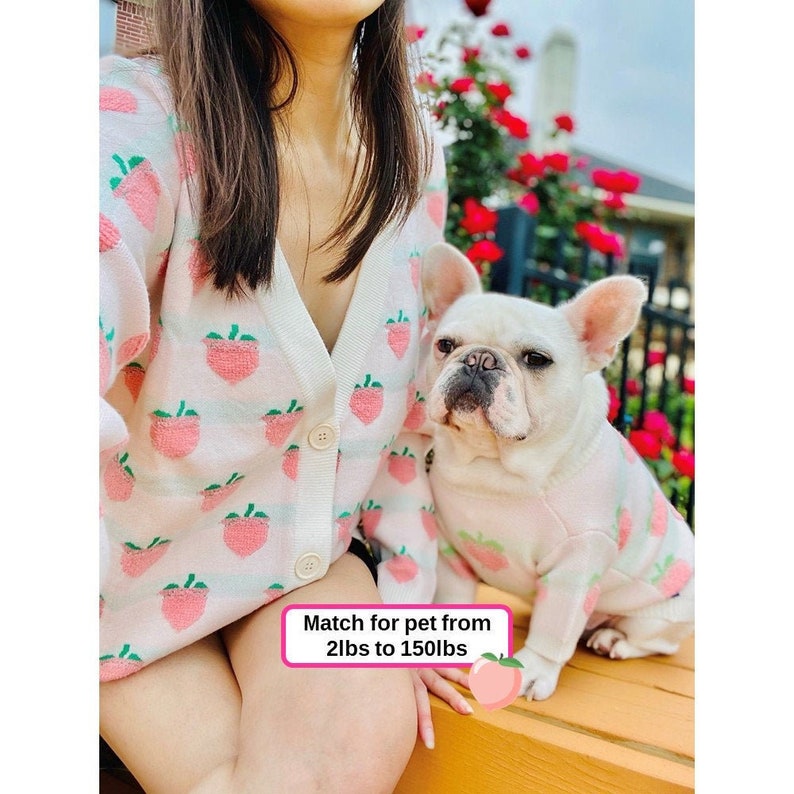 Is there anything cuter than a French Bulldog in a sweater? How about an owner dressed in the same sweater? This matching outfit set offers both a human- and dog-sized cardigan printed with soft colors and a sweet peach pattern. It'll be just as cozy as it is adorable, and if your friend is on social media at all, the photos are sure to get lots of likes.
---
---
5. French Bulldog Floral Dog Lunch Bag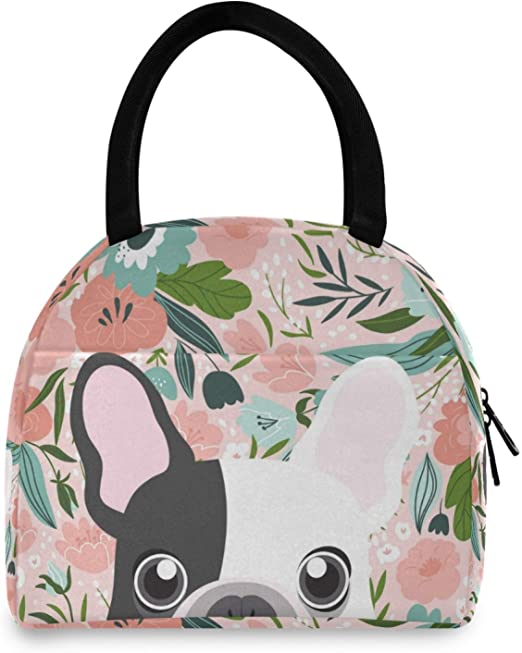 This lunch bag is sure to get her lots of compliments. Its wide-eyed French Bulldog is so cute that it'll make you coo, and it's also decorated with a beautifully soft springtime print with ferns, flowers, and falling petals. Waterproof fabric will keep any food or drink from leaking while an aluminum-lined interior will help with temperature control. Lunch has never looked this stylish!
---
---
6. Mini Frenchie Desktop Planter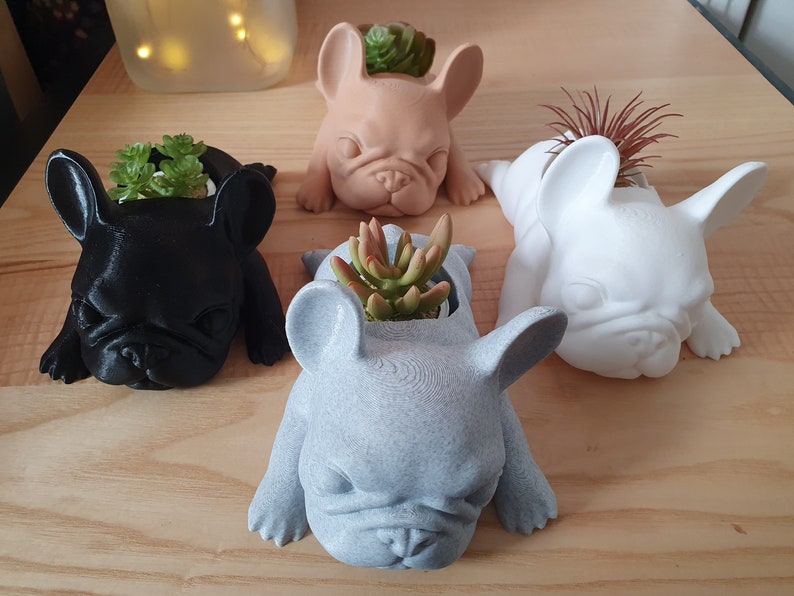 Perfect for succulents and other small, indoor flowers, this planter will combine her love of nature with her love of Frenchies. Each one is shaped like a sleeping pooch, and despite their affordable plastic material, the finish makes them look like ceramic or marble. They're also available in multiple colors, so you can order everything from "raw white" to "galaxy black" to "texturized granite." You could even order multiples to help her start a collection!
---
---
7. French Bulldog Stretched Canvas Wall Art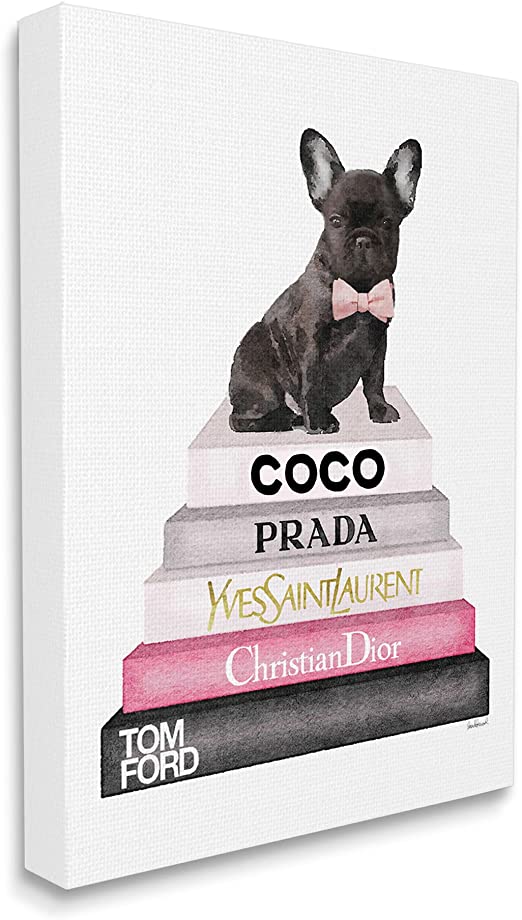 The Frenchie Wears Prada in this adorable piece of canvas wall art. It features a small black puppy wearing a pink bow tie as it sits atop a stack of fashion-themed books with labels like Coco, Tom Ford, and Christian Dior. It'll be a great piece of artwork for the feature or gallery wall of a fashion-loving friend.
---
---
8. French Bulldog Patterned Phone Cases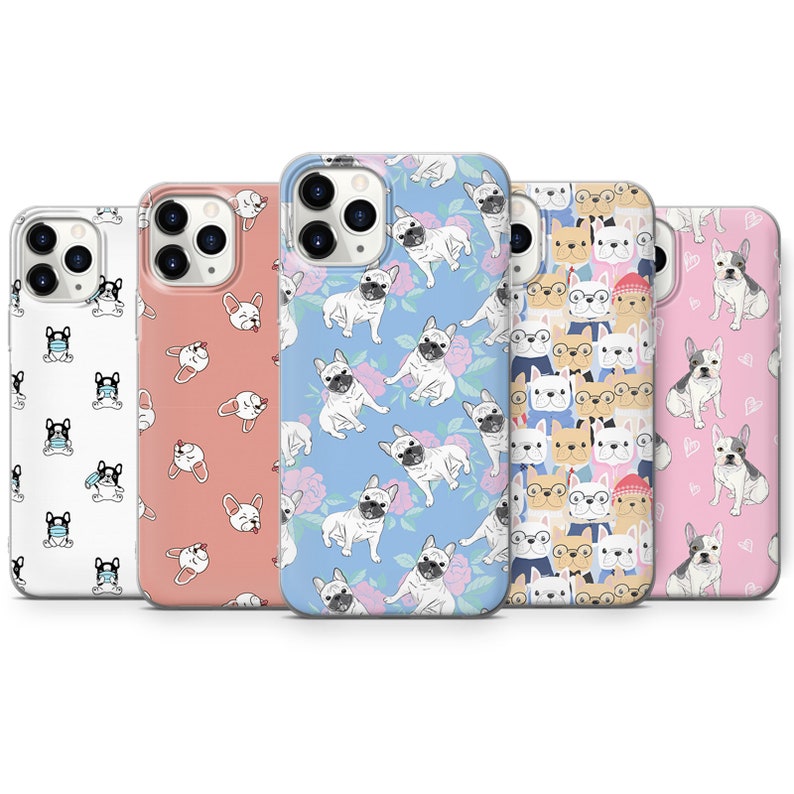 Give her phone an upgrade with these brightly patterned cases. There are five to choose from, and they range from funny Frenchies sticking their tongues out to studious, glasses-wearing Frenchies who will cheer her on through her exams. They'll be great for dog lovers of all ages and backgrounds. Additionally, since they're available for iPhones and Androids, you won't have to play guessing games to ensure the right fit!
---
---
9. Frenchie Mama 20-Ounce Steel Tumbler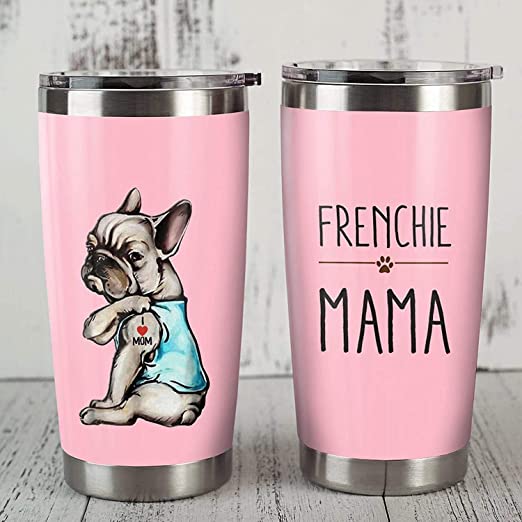 This gift is for the Frenchie mama who works hard to give her dog a better life. It's a stainless steel tumbler with all of the usual features, but it's decorated with a flexing Frenchie with an "I Heart Mom" tattoo, so it adds some toughness to the femininity. She might be gooey and gentle with her fur baby, but she can still be hardcore overall!
---
---
10. 24 Karat Gold-Plated French Bulldog Earrings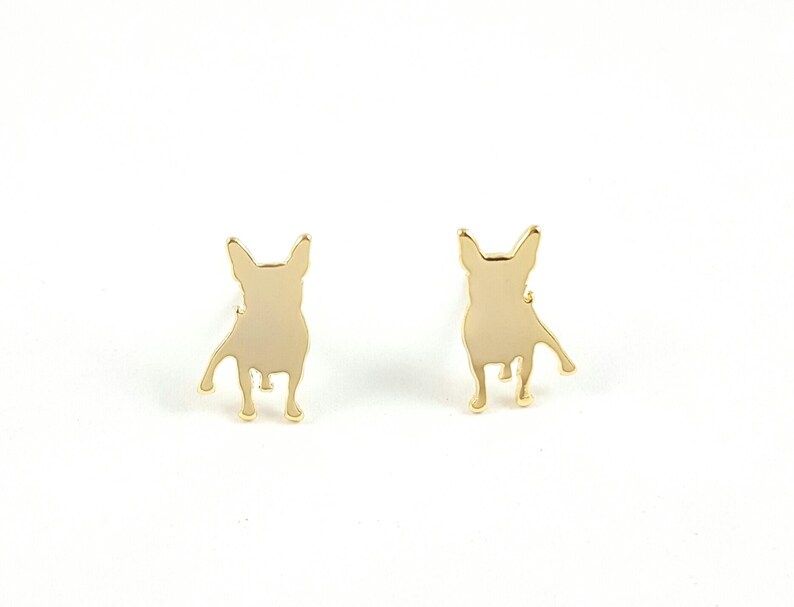 These earrings are gorgeous without being ostentatious, so they'll be perfect for the woman who likes subtle flair in her wardrobe. They're made with 24K gold-plated stainless steel, and each stud is shaped like a tiny French Bulldog. Expect small variations in every order since they're handmade to be as unique as the person wearing them.
---
---
11. Custom French Bulldog Address Stamp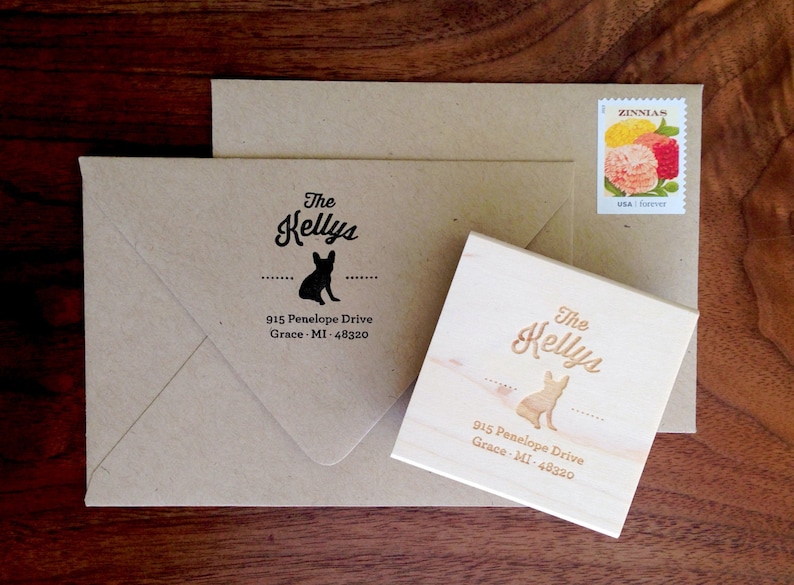 Some of the best gifts are personalized ones, so if you're looking for a one-of-a-kind present this year, consider a custom-made letter stamp. It can be laser-etched with her name and address framing the cute form of a French Bulldog. As a bonus, since it's printed on natural maple wood with renewably resourced red rubber, it'll be eco-friendly as well as uniquely crafted.
---
---
A special woman deserves a special gift. Consider some of these French Bulldog gifts for her if you're looking to create a memorable occasion with a lovely lady in your life.
Will is the proud co-owner of Frankie, a Female Brindle French Bulldog, with his wife Michelle. We share our Frenchie experiences with the world to help health-conscious French Bulldog owners who want a happy, healthy, and long-living dog.