Note: This is a guest post written by Christie from Hey, Djangles. Thanks Christie!
They're cute, they're smooshie and oh so lovable. There's no denying it – French Bulldogs are having a moment!
And why not? They're one of the world's most popular small-dog breeds after all.
A quick scroll through Instagram will also attest, they're an absolute hit with celebrities, too.
From actors to entrepreneurs, musicians and Olympians, the list of celebrity Frenchie fanciers is seemingly endless. Check out 30+ celebrities with French Bulldogs below (including their cute-as-hell Frenchie names!).
30+ Celebrities With French Bulldogs
#1. Reese Witherspoon – Pepper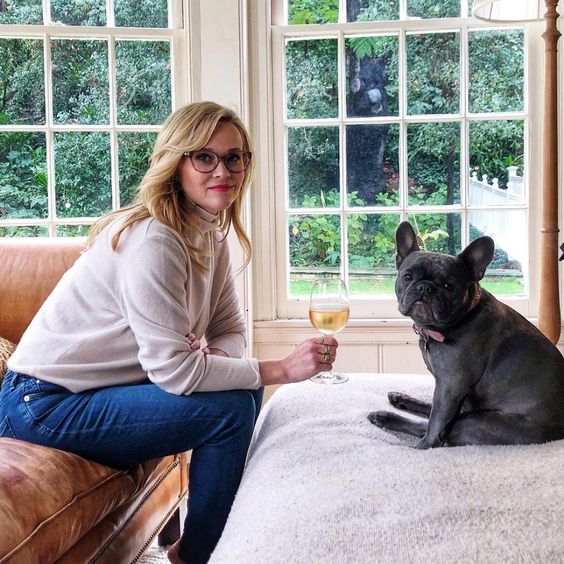 Source: Instagram @reesewitherspoon
Probably one of the most well-known celebrity Frenchie fanciers, Reese Witherspoon's blue Frenchie, Pepper, features regularly on the star's Instagram along with fur-sibling, Lou the English Bulldog.
#2. Hugh Jackman – Dali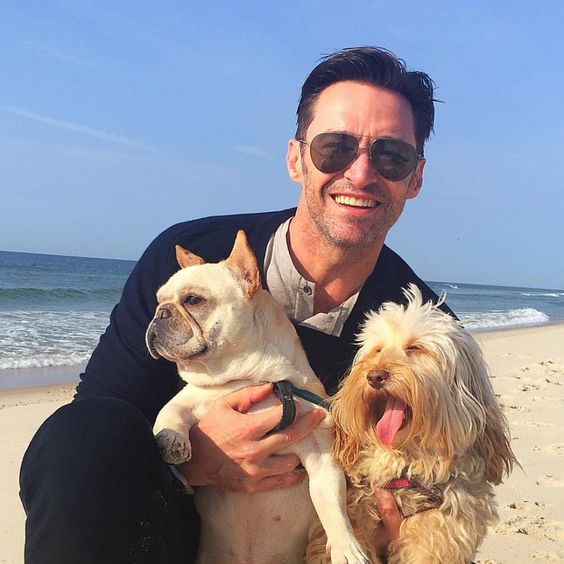 Source: Instagram @thehughjackman
Even The Wolverine himself can't resist the smoosh! Check out Hugh Jackman's fawn boy, Dali, with Poodle-mix sis, Allegra.
#3. Hilary Duff – Peaches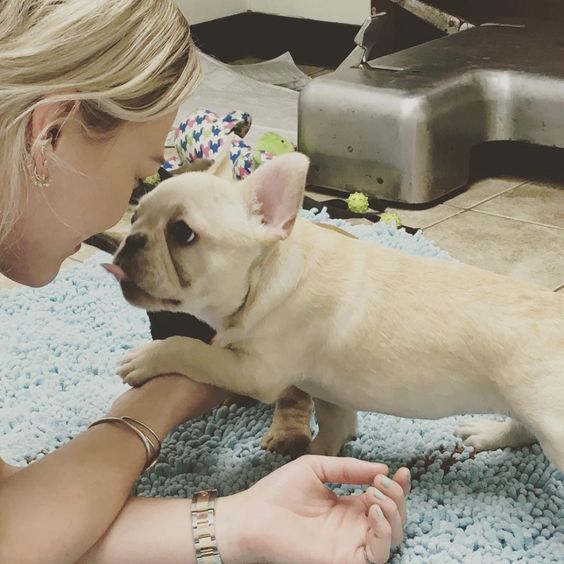 Source: Instagram @hilaryduff
A dog-lover from way back, Hilary Duff adopted a Frenchie named Peaches back in January of 2016, after the sad loss of Frenchie brother, Beau.
#4. Chrissy Teigan and John Legend – Pippa and Penny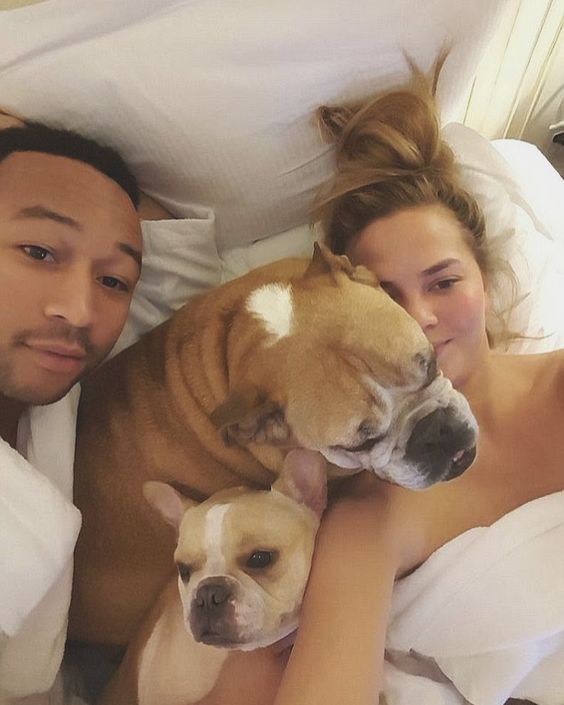 Source: Instagram @johnandchrissy
A bulldog family if we ever saw one! Model Chrissy Teigan and Musician John Legend are fur-parents to three lovable Bulldogs – fawn Frenchie girl, Pippa, 3-legged Frenchie girl, Penny and English Bulldog, Paul. Chrissy is so smitten with the breed that they even appear in her Cravings homewares range at Target in the US.
#5. Lady Gaga – Miss Asia, Koji and Gustavo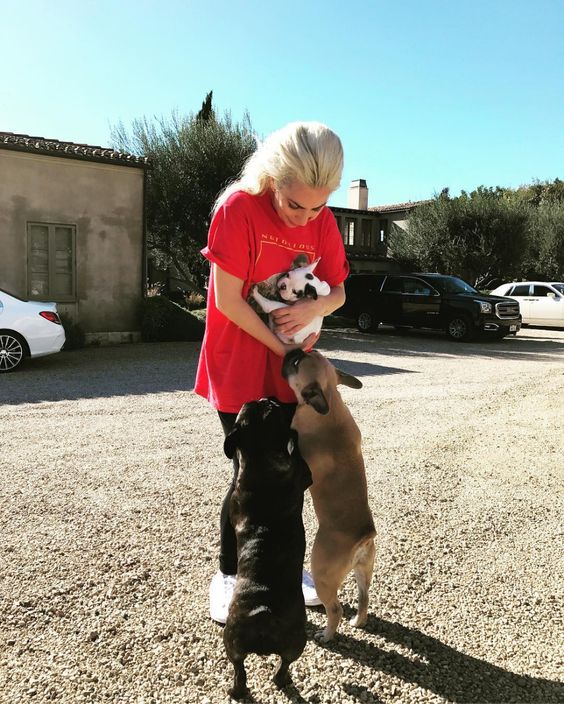 Source: Instagram @ladygaga
Self-confessed Frenchie fanatic, Lady Gaga is a proud fur-momma to French Bulldogs Miss Asia, Koji, and Gustavo. Miss Asia is so popular that she's amassed a whopping 232k followers on Insta and has scored a modeling contract with Coach!
#6. Martha Stewart – Crème Brulee and Bette Noir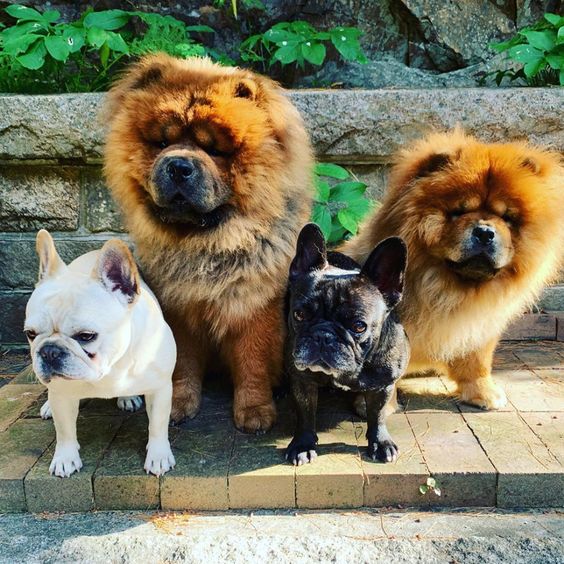 Source: Instagram @marthastewart48
Entrepreneur extraordinaire and domestic lifestyle mogul, Martha Stewart is an avid French Bulldog advocate and currently has two of her own, Crème Brulee and Bette Noir, pictured above with her two Chows, Emperor Han and Empress Qin.
#7. Travis Barker – Fudge, Blue, Biggy, and Elvis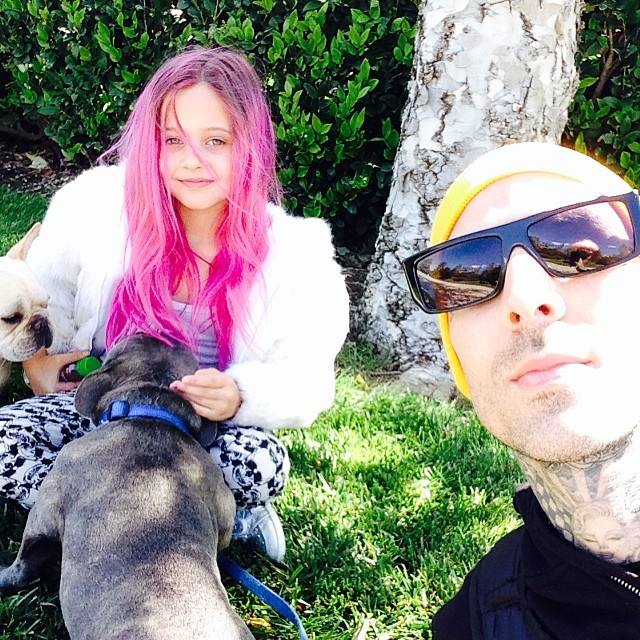 Source: Facebook /travisbarkerofficial
Another Frenchie family, Blink182 drummer, Travis Barker is fur-dad to four French Bulldogs – Fudge, Blue, Biggy, and Elvis. According to an interview Barker did with Hollywire, they all have Instagram accounts too!
#8. Eva Longoria – Popeye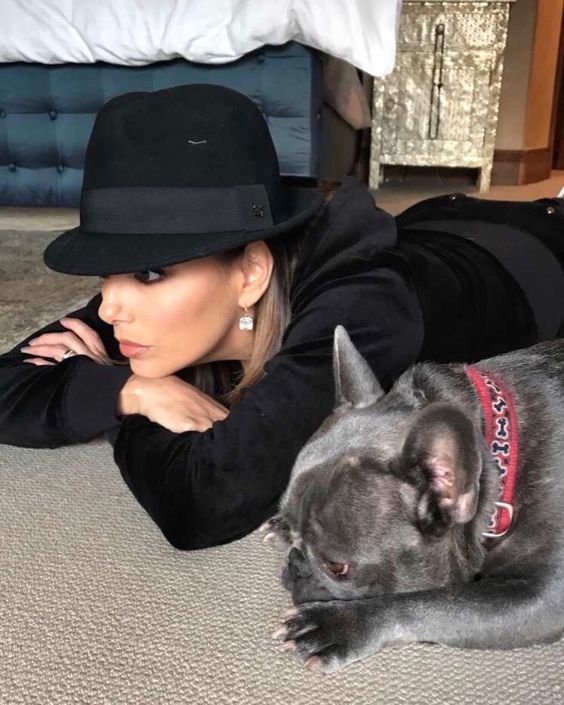 Source: Instagram @evalongoria
Desperate Housewives star, Eva Longoria is a proud Frenchie mom to blue Frenchie boy, Popeye.
#9. Dwayne 'The Rock' Johnson – Hobbs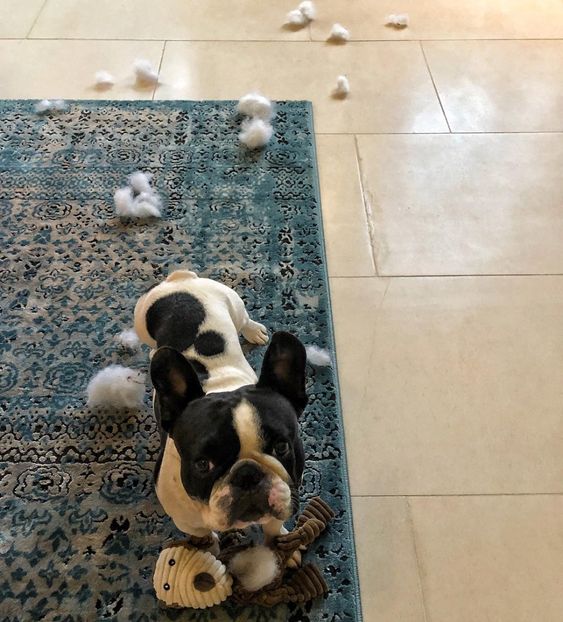 Source: Instagram @therock
Three years ago Dwayne 'The Rock' Johnson adopted two French Bulldog pups, Brutus and Hobbs. Tragically they lost Brutus a few months later in a pool accident, but triumphantly Hobbs lives on. He even starred in The Rock's latest film, Hobbs and Shaw!
#10. Leonardo Dicaprio – Django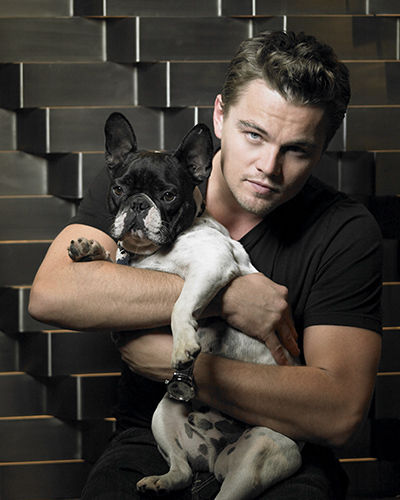 Source: Buzzsharer
Super star actor, producer and environmentalist Leonard Dicaprio pictured with his French Bulldog, Django.
#11. David and Victoria Beckham – Scarlet
Before the birth of Harper in 2011, the Beckhams adopted an adorable fawn Frenchie by the name of Scarlet, Scarlet was later joined by a Bully named Coco, a Shar-Pei named Barnaby and Cocker Spaniels Fig and Olive.
#12. Jonah Hill – Carmella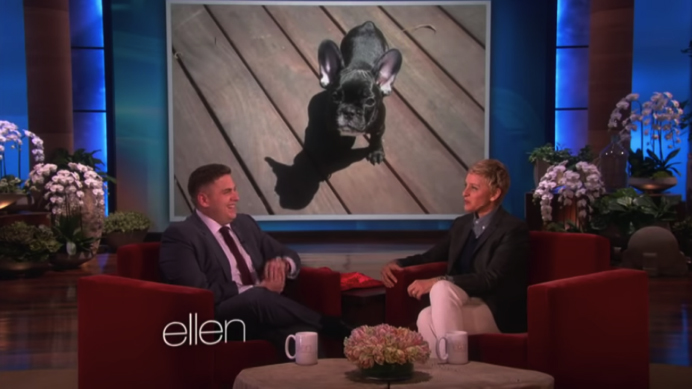 Source: YouTube – TheEllenShow
American actor, director, producer, screenwriter, and comedian Jonah Hill gushes about his "adoptive daughter", French Bulldog girl, Carmela, in an interview with Ellen in 2014.
#13. Marcus Rashford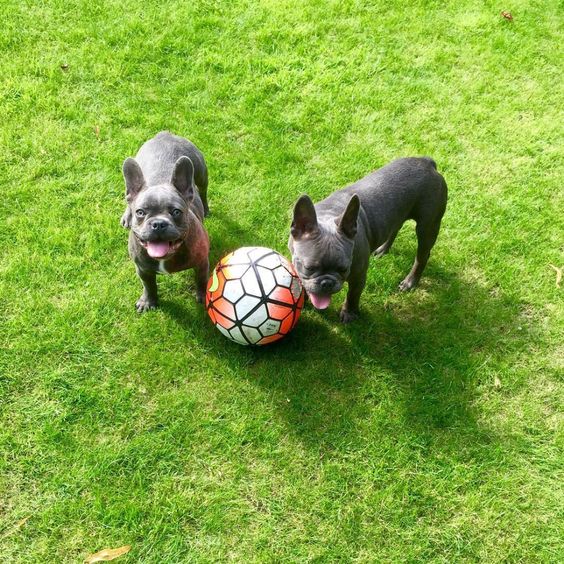 Source: Instagram @marcusrashford
Manchester United striker, Marcus Rashford adopted two blue Frenchies back in 2016. Rashford also has a Cane Corso by the name of Saint.
#14. Madonna – Gypsy Rosa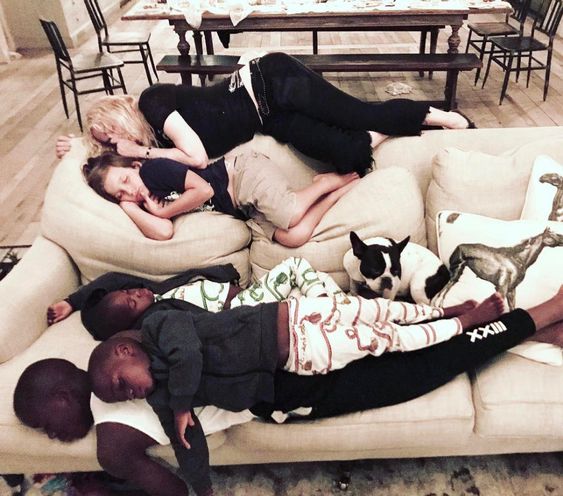 Source: Instagram @madonna
Even the Material Girl herself, Madonna is a lover of Frenchies! Check out white and black girl, Gypsy Rosa, pictured with Madge and the fam.
#15. Michael Phelps – Juno and Legend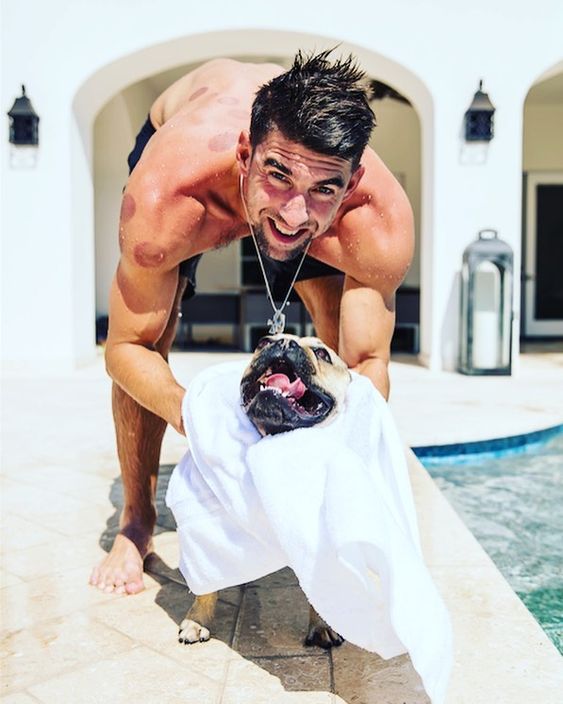 Source: Instagram @m_phelps00
Long-time dog-lover and Olympic swimmer Michael Phelps and his family have two lovable French Bulldogs by the names of Juno and Legend. The adorable duo even has their own Insta account. You can find them at msjunoandlegend.
#16. Rachel Bilson – Thurman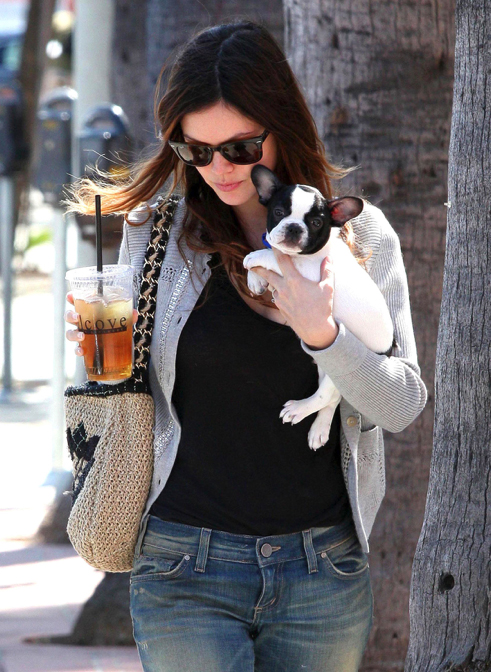 Source: Flynet Pictures via Us Weekly
Hart of Dixie actress, Rachel Bilson snapped with her Frenchie pup, Thurman, back in 2010.
#17. Zach Braff – Scooter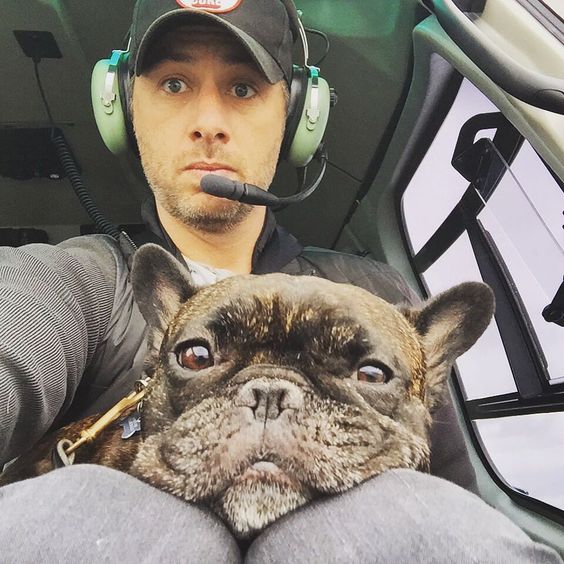 Source: Instagram @zachbraff
Scrubs star, director, screenwriter and producer, Zach Braff with his brindle French Bulldog, Scooter.
#18. Jack Osbourne – Bruce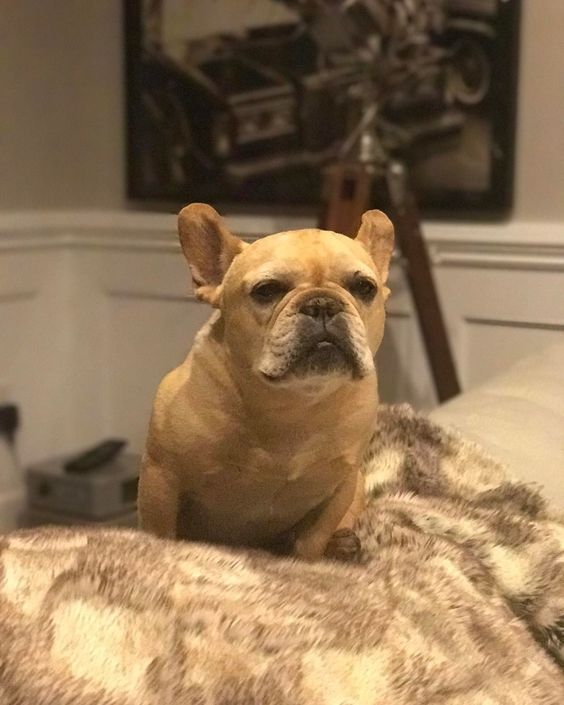 Source: Instagram @jackosbourne
Bulldog lover and the son of The Prince of Darkness, Jack Osbourne referred to his fawn Frenchie boy, Bruce, as his "ride or die homie". Before Bruce, Osbourne had an English Bulldog by the name of Lola. Currently, Jack and his adorable family have an Aussie Shepherd girl by the name of Ruby.
#19. Denise Richards – Leo and Hank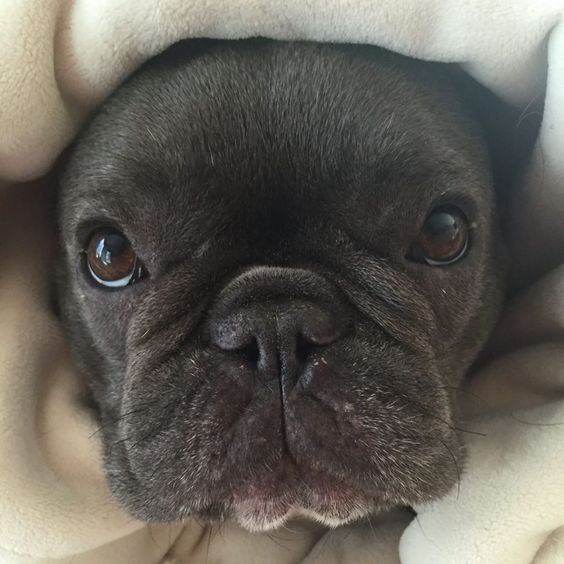 Source: @deniserichards
American actress and long-time dog lover, Denise Richards is another celeb Frenchie fancier. Having been dog-mom to two gorgeous French Bulldogs in the past, Leo and Hank.
#20. Eli Roth – Monkey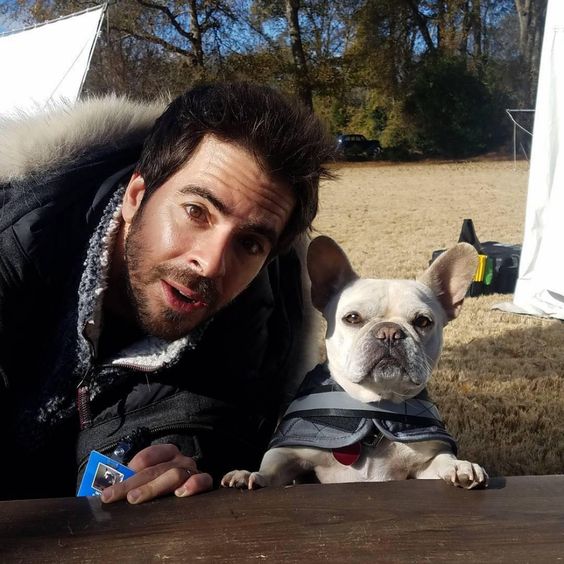 Source: @realeliroth
American film director, producer, writer and actor pictured with his fawn Frenchie side-kick, Monkey.
#21. Ashlee Simpson Ross – Alabama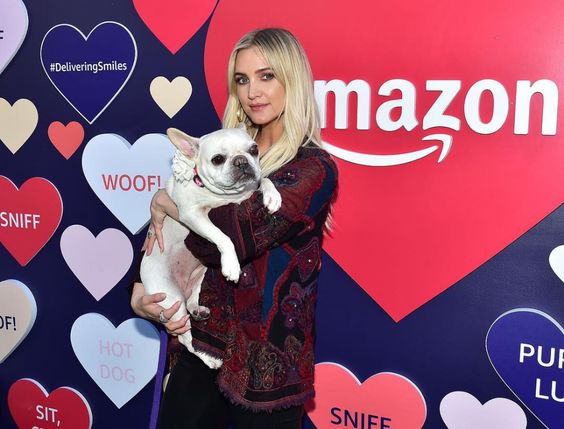 Source: @ashleesimpsonross
Ashlee Simpson Ross and her cute French Bulldog, Alabama, pictured above at the Amazon pup-up event in February of this year.
#22. Snoop Dogg – Juelz Broadus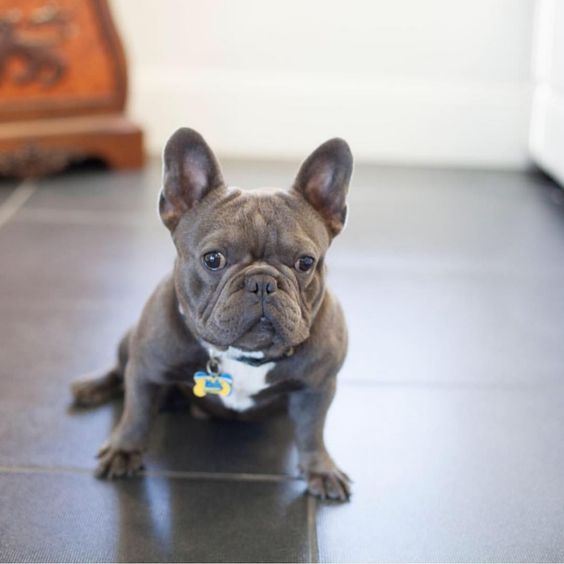 Source: @snoopdogg
Even The Doggfather himself is smitten with the breed! Snoop Dogg pictured with his French Bulldog, Juelz Broadus. Of course, Juelz has his own Insta too: @juelzbroadus
#23. Jason Schwartzman – Arrow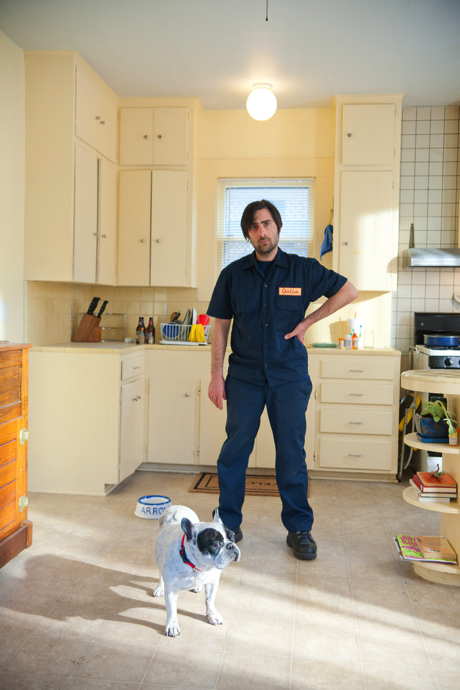 Source: Indiewire
Actor Jason Schwartzman and his French Bulldog, Arrow, both starred in 2015 American comedy film, 7 Chinese Brothers together!
#24. Reagan Agee – Blu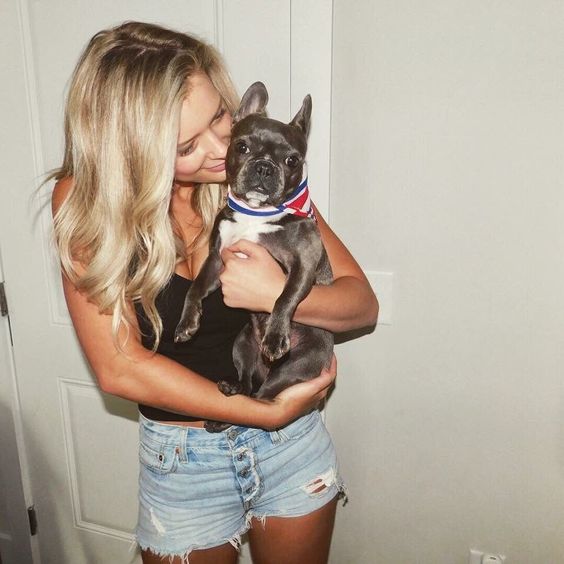 Source: @ayyrearea
Reality star Reagan Agee of E! Channel's Very Cavallari, pictured with her cute blue French Bulldog, aptly named Blu.
#25. Jeremy Piven – Bubba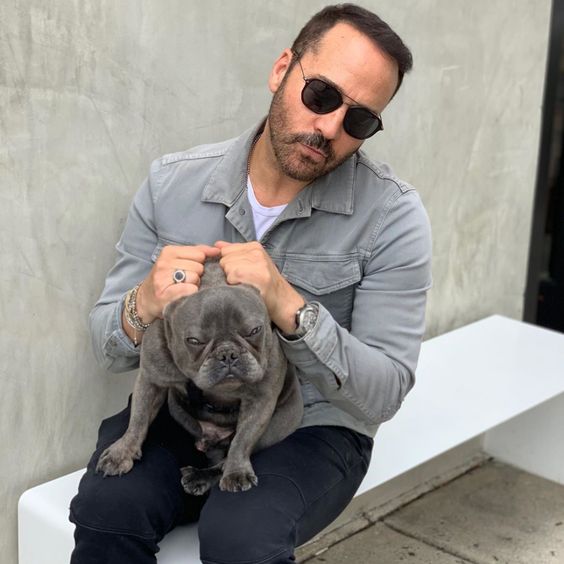 Source: @jeremypiven
American actor, comedian, and producer, Jeremy Piven's blue Frenchie boy, Bubba, accompanies him both on the road and on-stage! Go Bubba!
#26. Mario Lopez – Julio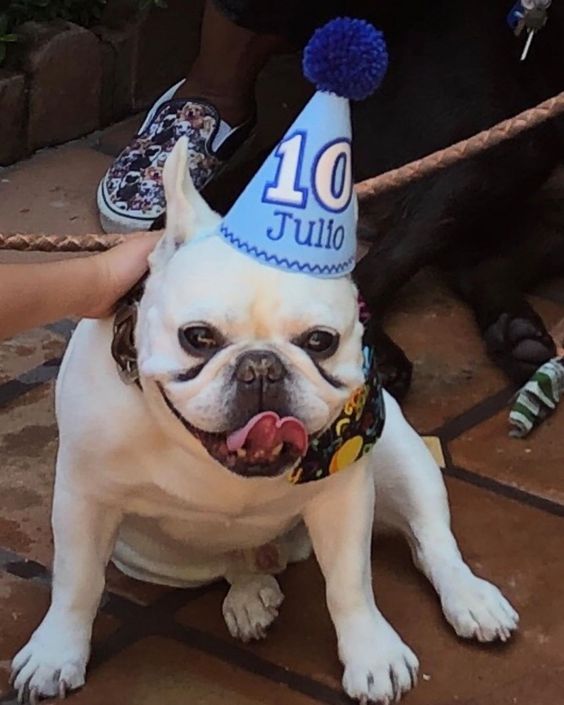 Source: @mariolopez
American actor and entertainment journalist, Mario Lopez's Frenchie boy, Julio Cesar Chavez Lopez, recently celebrated his 10th birthday in style with a super cute puppy party. HB Julio!
#27. Taraji P. Henson – K-Ball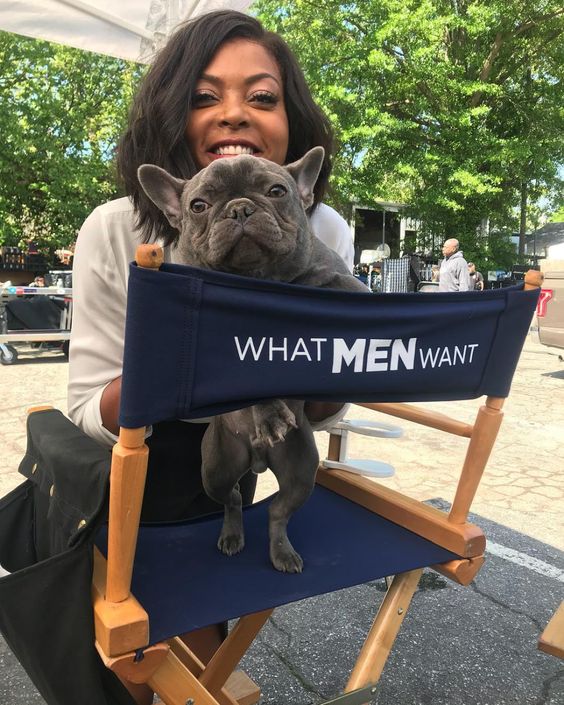 Source: @kballhenson
American actress and author, Taraji P. Henson pictured with her adorable Frenchie boy, K-Ball. K-Ball has his own Insta account with 39.8k followers.
#28. Kris Allen – Zorro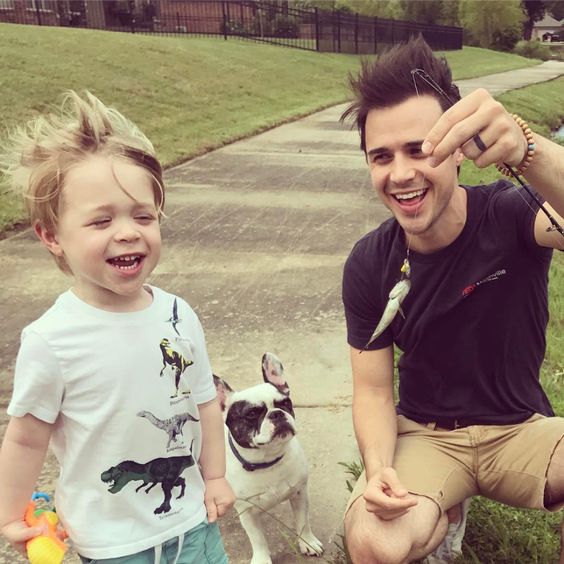 Source: @kris_allen
Singer-Songwriter, Kris Allen with his adorable son and French Bulldog, Zorro (ANOTHER celeb Frenchie pup with his own Insta – @thezorropup).
#29. 2 Chainz – Trappy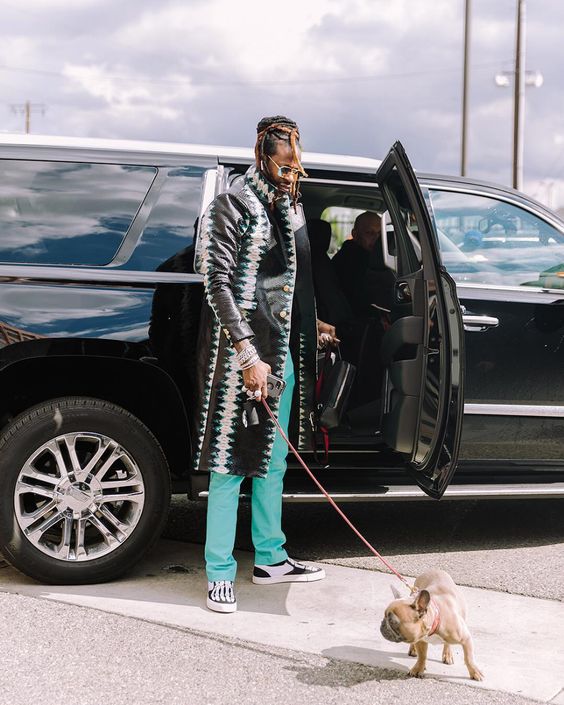 Source: @trappygoyard
2 Chainz's French Bulldog, Trappy, made his music video debut in July 2016, when he starred in the rapper's "Not Invited" video clip. A star in his own right. Trappy has 78.9k followers on the 'gram.
#30. Dieter Schmitz – Wellington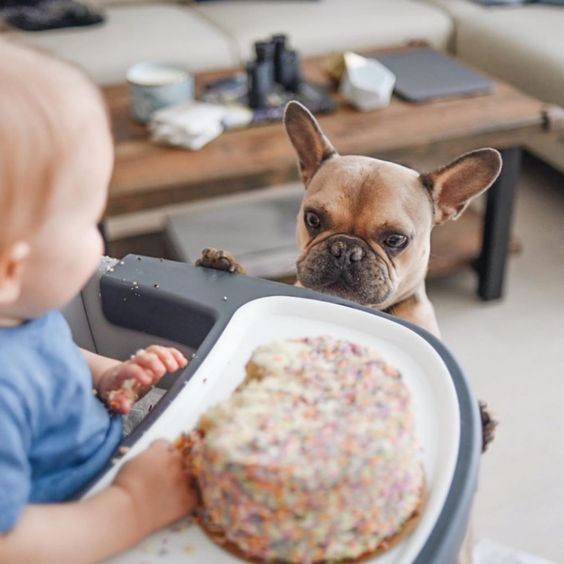 Source: @wellingtonthefrenchie
Reality TV's Laguna Beach, Dieter Schmitz's super sweet fawn Frenchie, Wellington, pictured with Schmitz's cute bub. "… May you never learn how to eat cleanly." Make the most of it while you can Welly!
Even more celebrities with French Bulldogs
In case you hadn't had enough, check out more celeb Frenchie fanciers below:
Jason Priestly (previously owed a Frenchie named Swifty)
Shaun White (previously owned Frenchies named Steve and Rambo)
Michelle Trachtenberg (previously owned a Frenchie named Mya)
The late Carrie Fisher (previously owned a Frenchie named Gary)
Cara Delevingne (previously owned a Frenchie named Mouse)
Mila Kunis (previously owned a Frenchie named Audrey)
Christina Perri (previously owned a Frenchie named Pistachio)
Nicola Peltz (Banksy).
About the author:
Christie is a self-confessed crazy dog lady, humble spaniel servant and founder of Hey, Djangles., a lifestyle website for dog-lovers. Christie has a background in Marketing and Companion Animal Services and loves nothing more than spending time with her two crazy Cockers, Ollie and Django.